Each year, Cracking the Cover compiles a list of books that make great gifts. The following are young adult books published in and/or reviewed by Jessica in 2019. Synopsis are written by Jessica unless otherwise noted. Scroll down for the complete list or click or tap the following links to directly visit a section. FAIRY TALE • FANTASY • SCI-FI • HISTORICAL 
FAIRY TALE
Prince Rhen, the heir to Emberfall, is cursed by a powerful enchantress to repeat the autumn of his eighteenth year over and over. And at the end of each autumn, he turns into a vicious beast hell-bent on destruction. 

Nothing has ever been easy for Harper. She's constantly underestimated because of her cerebral palsy. But when she tries to save someone else on the streets of Washington, DC, she's instead somehow sucked into Rhen's cursed world.

Harper doesn't know where she is or what to believe. But as she spends time with Rhen in this enchanted land, she begins to understand what's at stake. Powerful forces are standing against Emberfall . . . and it will take more than a broken curse to save Harper, Rhen, and his people from utter ruin. —Synopsis provided by Bloosmbury YA
A Curse So Dark and Lonely is the third novel I've read from author Brigid Kemmerer, and it's a departure from her contemporary books. The one thing that runs throughout all, though, is Brigid's attention to plot and smooth prose. A Curse So Dark and Lonely is one of the stronger fairytale reimaginings I've come across lately.
STEPSISTER, by Jennifer Donnelly , Scholastic Press, May 14, 2019, Hardcover, $17.99 (young adult)
Stepsister follows Isabelle, one of Ella's stepsisters, in the aftermath of the slipper debacle. A la Aschenputtel, by the Brothers Grimm, Isabelle cuts off her toes to fit into the shoe. We know what happens next — Isabelle (and her sister who cut off her heal) are found out, and Ella wins the prince.

Now crippled and an outcast, Isabelle is struggling just to get by. Had she any looks, Isabelle would have been settled long ago, but she's a smart, plain girl with no fortune. And now that she's maimed, Isabelle's an easy target, too.

Isabelle is desperate to become pretty. It's her heart's greatest desire. And with that single broken wish, she has the chance to change the trajectory of her life.
One of the things I really dislike about Cinderella, particularly the Disney version, is the delineation of pretty = good and ugly = bad. Telling children that you are defined by looks, which are arbitrary in the first place, is not the message I want my daughter learning. As with most things, beauty is not clear-cut.
Jennifer Donnelly is a bestselling author, and it's not hard to understand why. Stepsister takes a familiar story and flips it sideways. Jennifer's writing is enjoyable and accessible while challenging and thought provoking. Stepsister is hands down one of my favorite YA reads of 2019.
There once were 12 sisters who roamed the halls of Highmoor, an isolated island estate. They once were envied by all who saw them. But the death of their mother followed by the deaths of the four eldest sisters has left people talking for the wrong reasons. Rumor is, the girls are cursed by the gods, with each death more awful than the last — the plague, a plummeting fall, a drowning and a slippery plunge.

Born sixth in the family, Annaleigh never expected to become one of the eldest, but now she finds herself caring for the little ones and watching out for her ailing stepmother. Even as she steps into her new role, she starts to seeing terrifying visions of her late sisters. As the visions evolve, Annaleigh begins to suspect her sisters' deaths were not the result of a curse or accidents.

In an effort to escape their dismal lives, the girls begin sneaking out at night. They cross through a magical portal into worlds of glittering balls, silk dresses and fairy shoes. When Annaleigh meets an enigmatic stranger with secrets of his own, she finds a friend who might just help her save her family from the darkness that has settled over her family.
Erin A. Craig's House of Salt and Sorrows pays homage to The Twelve Dancing Princesses while standing completely on its own. In fact, the nods to source material create a sense of familiarity without telegraphing.
House of Salt and Sorrows is a gothic read that reaches out and pulls you in from the start. It's one of the most engrossing novels I've read this year. It's deliciously dark tempered with light notes throughout, and the plot twists are surprising and enjoyable. I read this in digital ARC form, and I plan on buying a physical copy to add to my personal library.
Return to Top
---
FANTASY
THE DECEIVER'S HEART, by Jennifer A. Nielsen, Scholastic, Feb. 26, 2019, Hardcover, $17.99 (young adult)
In 2018, Jennifer A. Nielsen introduced readers to a new heroine in The Traitor's Game. Kestra Dallistor returned to readers' consciousness in 2019 inThe Deceiver's Heart.

In The Traitor's Game, you meet Kestra Dallisor who is being used as a pawn by Lord Endrick and a band of rebels who want to see Endrick overthrown. Kestra has spent three years exiled to the Lava Fields. When Lord Endrick summons her home, Kestra has no choice but return.

The rebels kidnap Kestra as she journeys home, and they give her a choice — help them or she and her servants die. The kidnappers want her to retrieve the lost Olden Blade, the only object that can destroy Endrick. Kestra reluctantly agrees, and then works to undermine the kidnappers.

In The Deceiver's Heart, Kestra attempts to destroy Lord Endrick with the Olden Blade. Despite her strength, Kestra fails and falls under the king's control. Lord Endrick strips Kestra of her memory and forces her to obey him. On the other side of things, Simon is desperate to restore Kestra to the girl he fell in love with, even if that means going against everyone and everything he's ever cared about.
The Deceiver's Heart is definitely worth your time. I do wish that I had reread The Traitor's Game prior to reading its sequel. As always, Jennifer's prose and pacing are spot on. Her world building is strong and her characters are well developed. I'm genuinely looking forward to the next book in this series.
THE ANTIDOTE, by Shelley Sackier , HarperTeen, Feb. 5, 2019, Hardcover, $17.99 (young adult)
In the world of healers, there is no room for magic. Fee knows this, just as certainly as she knows that her magic must be kept secret.

But the crown prince Xavi, Fee's best friend and only source of comfort, is sick. So sick, that Fee can barely contain the magic lying dormant inside her. She could use it, just a little, to heal him. But magic comes at a deadly cost — and attracts those who would seek to snuff it out forever.

A wisp of a spell later, Fee finds herself caught in a whirl of secret motivations and dark pasts, where no one is who — or what — they appear to be. And saving her best friend means delving deeper into the tempting and treacherous world whose call she's long resisted — uncovering a secret that will change everything. —Synopsis provided by HarperTeen
When I read The Antidote, I did not want to put it down. One of The Antidote's strengths is the relationship between Fee and Xavi. The two are so close, they're almost brother and sister. There's no love story here, just a deep friendship that's a breath of fresh air. There are a lot of twists and turns throughout The Antidote, making it feel like a mystery set in a new world. There are magical elements, though not as heavily as some might want.
The Everlasting Rose is the second book in the Belles series. In it, Camellia Beaureguard once again takes center stage.

Camille, the former favorite Belle, must race against time to find the ailing Princess Charlotte, who has disappeared without a trace. The evil queen Sophia's imperial forces will stop at nothing to keep Camille, her sister Edel, and her loyal guard, Rémy, from returning Charlotte to the palace and her rightful place as queen. With the help of an underground resistance movement called the Iron Ladies — a society that rejects beauty treatments entirely — and the backing of alternative newspaper the Spider's Web, Camille uses her powers, her connections, and her cunning to outwit her greatest nemesis, Sophia, and attempt to restore peace to Orléans. But enemies lurk in the most unexpected places, forcing Camille to decide just how much she's willing to sacrifice to save her people. —Synopsis provided by Freeform
When I read The Belles last year, I came away feeling confused, angry, enchanted and exhausted. The book tells the story of the Belles, young women who physically alter the people of Orleans, who are all born gray, so that they are pretty. And for some, no treatment (including reshaping bones) goes too far.
Again, it's helpful to reread The Belles before picking up The Everlasting Rose. There's not much by way of recap, and a lot of the nuances are lost by sheer lack of memory. You are expected to remember Orleans, and because of the nature of what's going on, the book, world building and character development all feel a bit insular.
That's not to say that The Everlasting Rose isn't worth reading. It is. Just be prepared for a drastic shift. The book, too, leaves with things in Orleans a little unsettled, but also feels like less of a cliffhanger than you'd expect for the second book in a series.
SPIN THE DAWN, by Elizabeth Lim , Knopf Books for Young Readers, July 9, 2019, Hardcover, $18.99 (young adult)
Maia Tamarin is a skilled tailor, but that doesn't matter. She can dream as much as she wants of becoming the greatest tailor in the land, but as a girl, she knows that will never happen. Marriage is all she can look forward to.

That all changes when a royal messenger arrives to take her father to court. The emperor is looking for a new imperial tailor. Now ailing, Maia's father is in no shape to make the journey, let alone compete for the job. So Maia cuts her hair, assumes a limp, and goes in her father's place.

It isn't until Maia arrives at the palace that she realizes she isn't just being handed the job. She must compete against 11 other tailors, and the challenges are not going to be easy. Not only are the tailors insanely talented, but the person they must impress the most — the emperor's reluctant bride-to-be — want nothing more than to see all of them fail.

As you'd expect, the competition is full of backstabbing and lies. And when Maia draws the attention of the court enchanter, Edan, things get even more complicated. Through it all, Maia holds strong, but nothing can prepare her for the final task — sewing three magic gowns from the laughter of the sun, the tears of the moon, and the blood of stars.
Author Elizabeth Lim has mastered the age-old task of showing rather than telling. You feel as though you are sitting next to Maia as she creates her masterpieces, which seem to almost sing off the page. As the story progresses, so does Lim's world-building. I tasted sand in my mouth and felt it in my eyes as Maia traveled to the desert; felt the biting wind and ice as she summits a mountain; and felt the depths of longing and despair as she faced unimaginable foes.
The only drawback to Spin the Dawn is that you'll have to wait for the next book in the series. In the meantime, though, you can read Lim's other book, Reflection: A Twisted Tale from Disney-Hyperion, that follows Mulan as she travels to the Underworld on a quest to save Shang.
Fatima lives in the city of Noor, a thriving stop along the Silk Road. There the music of myriad languages fills the air, and people of all faiths weave their lives together. However, the city bears scars of its recent past, when the chaotic tribe of Shayateen djinn slaughtered its entire population — except for Fatima and two other humans. Now ruled by a new maharajah, Noor is protected from the Shayateen by the Ifrit, djinn of order and reason, and by their commander, Zulfikar.

But when one of the most potent of the Ifrit dies, Fatima is changed in ways she cannot fathom, ways that scare even those who love her. Oud in hand, Fatima is drawn into the intrigues of the maharajah and his sister, the affairs of Zulfikar and the djinn, and the dangers of a magical battlefield. — Synopsis provided by Scholastic
The Candle and the Flame is Nafiza Azad's debut, but it reads like something more. Her prose is that of a seasoned author — smooth and immersive. Her world-building is top-notch and her characters — specifically Fatima — are well-developed.
I devoured The Candle and the Flame in one day, and I already want to go back an reread it again. It's a great option for an end-of-summer or back-to-school read.
The fantasy world of J. R. R. Tolkien's Middle-earth contains a rich assortment of people, cities, and creatures—as well as a deep, intertwined history that spans thousands of years. In this beautifully illustrated, leather-bound volume, best-selling author and Tolkien scholar David Day presents four decades of research and writing on the lands and inhabitants Middle-earth. Sections of this A-to-Z dictionary are devoted to discussion of the battles, history, beasts, and heroes of Tolkien's stories, and are accompanied by black-and-white illustrations. This comprehensive volume on Tolkien's world also includes an appendix of three primary legends that served as sources for Tolkien's creations—the Volsunga saga, the Nibelungenlied, and Richard Wagner's Ring Cycle—and more than 200 black-and-white illustrations —Synopsis provided by Canterbury Classics
Though this encyclopedia is not authorized by the Tolkien Estate or HarperCollins Publishers, it's clear that a lot of time and effort went into it. This well-researched book is informative and beautifully illustrated. It's a great option for Tolkien fans.
Return to Top
---
SCI-FI
LAST OF HER NAME, by Jessica Khoury , Scholastic Press, Feb. 26, 2019, Hardcover, $17.99 (young adult)
The Last of Her Name takes place in the galaxy known as the Belt of Jewels. Sixteen years ago, a rebellion removed the Leonov royal family from power. All were murdered, including the youngest child, Princess Anya. With the Leonov's gone, the Union government came to power.

Stacia spends her days rambling her father's vineyard with her friends, Clio and Pol. She doesn't think much about politics until a Union ship appears in the sky. That alone is strange, but when the leader of the Union, the Direktor Eminent himself, arrives and declares there are empire loyalists living in Stacia's village, things get dangerous. The Direktor claims that Princess Anya Leonova is alive — and Stacia is the lost princess.

Before Stacia knows what hits her, Pol smuggles Stacia to a hidden escape ship. Leaving Clio and Stacia's parents behind, the two head to an unknown destination. It seems everyone has a plan for Stacia, but all Stacia wants is to save her best friend, and she'll stop at nothing to accomplish her goal.
Last of Her Name quickly became one of my favorite books this year. From the beginning, I found myself swept into Khoury's world. The unknown has an underlying current of familiarity that brings the book to life. It's like a sci-fi, historical fiction, fantasy mash up that unfolds almost cinematically. Khoury's pacing is on point. She excels in balancing Stacia's inner turmoil, her outer struggles and the world building she experiences it all within. Last of Her Name is one novel I plan on rereading more than once.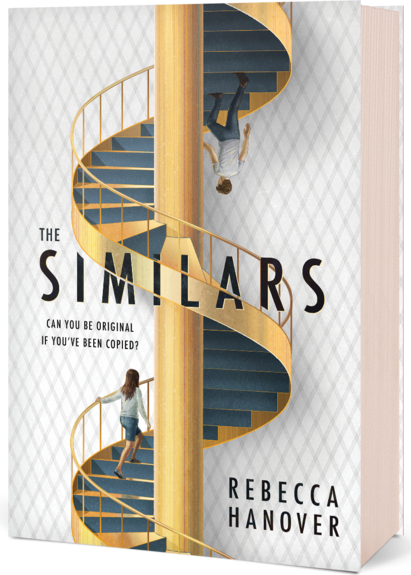 THE SIMILARS, by Rebecca Hanover, Sourcebooks Fire, Jan. 1, 2019, Hardcover, $17.99 (young adult)
This fall, six new students are joining the junior class at the elite Darkwood Academy. But they aren't your regular over-achieving teens. They're clones. And the "similar" teens are joining the class alongside their originals.

The Similars are all anyone can talk about. Emmaline Chance couldn't care less. Her best friend, Oliver, died over the summer and it's all she can do to get through each day without him. Then she comes face-to-heartbreaking-face with Levi, Oliver's exact DNA copy and one of the Similars.

Emma wants nothing to do with the Similars, but she keeps getting pulled deeper into their clique. She can't escape the dark truths about the clones or her prestigious school. No one can be trusted, not even the boy she is falling for with Oliver's face. —Synopsis provided by Sourcebooks Fire
I found The Similars surprising in a number of ways. When it opens, Emma is so lost in her grief; you, as the reader, are immediately plunged into small, closed-off world. As the book progresses and Emma's world expands, so, too, does your view. It's an interesting experience that wouldn't work if Rebecca Hanover's writing weren't as strong as it is. Too much more of Emma's early apathetic tendencies would be off-putting, but Hanover has found the right balance.
I love books that make me think beyond the story, and this aspect of The Similars did just that. Of course, there's more to The Similars than just the Similars. The mystery of how they came to be and how more than one person is subtly — or not so subtly — pulling the strings in the background makes for an intense storyline that ends primed for a sequel.
Return to Top
---
HISTORICAL
IN THE NEIGHBORHOOD OF TRUE, by Susan Kaplan Carlton, Algonquin Young Readers, April 9, 2019, Hardcover, $17.95 (young adult)
The story takes place in 1958 Atlanta. Following the sudden death of her father, Ruth Robb, her mom and younger sister move to the South from New York City. Their new home — the pool house in her grandparents' backyard — is just one of many changes thrust upon Ruth.

Friendless in a new town, Ruth decides to follow the family tradition of becoming a deb, joining the "pastel posse" and their little pink book of manners. Ruth quickly falls for Davis and soon finds herself in a world of etiquette, ball gowns and country clubs.

Part of fitting in means fitting a mold, and Ruth doesn't. So she decides to hide her Jewish heritage and her attendance at Sabbath services. But as much as Ruth wants to look the other way, in a segregated Atlanta, that's just not a choice. When a hate crime hits close to home, Ruth must decide once and for all where she belongs.
In the Neighborhood of True is rooted in some deeply personal experiences in Carlton's own life. Her family moved to Atlanta and joined a synagogue. As Carlton developed the story, the author realized Ruth's various lies and omission about her religion rang true in other ways.
Knowing about the seeds of In the Neighborhood of True gives the story weight. Their scope adds to the already present authenticity. Ruth can, at times, appear a little shallow, but the further you read, the more complex she becomes, especially in relation to her "friends."
THE DOWNSTAIRS GIRL, by Stacey Lee G.P. Putnam's Sons Books for Young Readers, Aug. 13, 2019, Hardcover, $17.99 (young adult)
At the center of The Downstairs Girl is 17-year-old Jo Kuan. Jo works as a lady's made for the daughter of one of the wealthiest men in Atlanta. It's a decent job, but Jo feels trapped. In the late-1800s South, you are either black or white. Jo is neither.

As a Chinese woman, Jo lives in the grey area which affords her some rights and not others. When Jo notices the opportunity to make change in her life, she goes for it. Jo becomes Miss Sweetie, the pseudonymous author of a newspaper advice column for the genteel Southern lady.

Dear Miss Sweetie quickly becomes popular, and Jo finds herself using her new position as a way to challenge ideas of gender and race. This doesn't sit well with people who prefer the status quo, and Jo soon finds herself facing the choice of remaining invisible or stepping out into the light.
The historical aspects are fascinating. I've never really heard of Chinese Americans living in the South during this time period — and I was a history minor in college. Most Asian history covered from this time period covers the building of the railroad and the West Coast.
While its historical elements drew me in, it's the fictional story in The Downstairs Girl that draws you in. Jo is a character you want to cheer for. She's smart and determined and everything you'd want your daughter to grow up to be. And the complex relationships she navigates highlight her strength and ingenuity. The Downstairs Girl is an engaging read you won't want to put down.
THE FOUNTAINS OF SILENCE, by Ruta Sepetys, Philomel Books, Oct. 1, 2019, Hardcover, $18.99, (young adult)
The Fountains of Silence opens in 1957 Madrid. The country has been opened up to tourists and American businessmen. Opulence is the name of the game, but it's really just a game of smoke and mirrors. If you change your lens, a different Spain emerges.

Eighteen-year-old Daniel Matheson wants to be a photojournalist. He's a finalist for prestigious award and is hoping his images will not only win him top honors, but a scholarship to journalism school. The son of a Texas oil tycoon, Daniel has only known a life of privilege, but when he puts his camera to his eye, he sees beyond all that glitters.

When Daniel arrives in Madrid with his parents, his goals are simple — connect with the country of his mother's birth through the lens of his camera.

It's through that lens that he meets Ana, a maid in his hotel who knows just how far Franco's rule reaches. Ana and her family were on the wrong side of the Spanish Civil War and, years later, continue to feel the effects.

As Daniel and Ana grow closer, Daniel's questions about Spain grow larger. Daniel finds himself walking a tightrope that's likely to break at any moment.
While The Fountains of Silence is historical fiction, it is based on truths, and those truths are haunting. Ruta Sepetys has a gift for setting a scene: The author easily transported me to the lobby of Castellana Hilton or in Ana's humble home in Vallecas. I felt the Spanish sun on my face and the darkness of night settle in.
Daniel and Ana are equal players, here. Both strong and likeable. Daniel is an open book. Ana, not so much. It's not the starring players that make the book, though, it's the supporting ones that give it heart — Ana's brother and cousin; a young man who dreams of becoming a bullfighter; a crotchety newspaperman who takes Daniel under his wing; and even a mysterious nun make The Fountains of Silence feel alive.
The Fountains of Silence is one of my favorite YA reads of 2019, and ranks in my Top 10 historical fiction overall. As a bonus, the book includes vintage media interstitials, oral history commentary, photos and more.
BUTTERFLY YELLOW, by Thanhha Lai, HarperCollins, Sept. 3, 2019, Hardcover, $17.99 (young adult)
Butterfly Yellow looks at the aftermath of the Vietnam War. At the center of the story is Hằng, a young girl in Vietnam who takes her little brother, Linh, the airport in the final days of the war. Hằng is determined to find a way to get them both to America. But while Linh qualifies for the trip, Hằng is deemed too old and left behind.

It takes six years, but Hằng finally makes it to Texas as a refugee. She's determined to find her lost brother with only a worn business card as a clue. Her luck changes when Hằng meets LeeRoy, a city boy who dreams of becoming a rodeo star.

With LeeRoy's help, Hằng finds her brother, but Linh doesn't remember her. Hằng won't give up, though, and has a few tricks up her sleeve. After six years of anguish and a brutal journey from Vietnam, Hằng will stop at nothing to make Linh remember.
Butterfly Yellow packs an emotional punch, one that you might not expect from the outset. It starts out mirroring its characters with a sort of an austere almost cold feel to it. As the characters evolve, warmth takes hold, and by the end it feels as if the entire novel is embraced by it.
Hằng and LeeRoy are opposite sides of the coin that truly balance each other. Butterfly Yellow would not work without either of them. In particular, LeeRoy's ability to translate Hằng's Vietnamese English helps not only the reader but the other characters move forward.
Return to Top