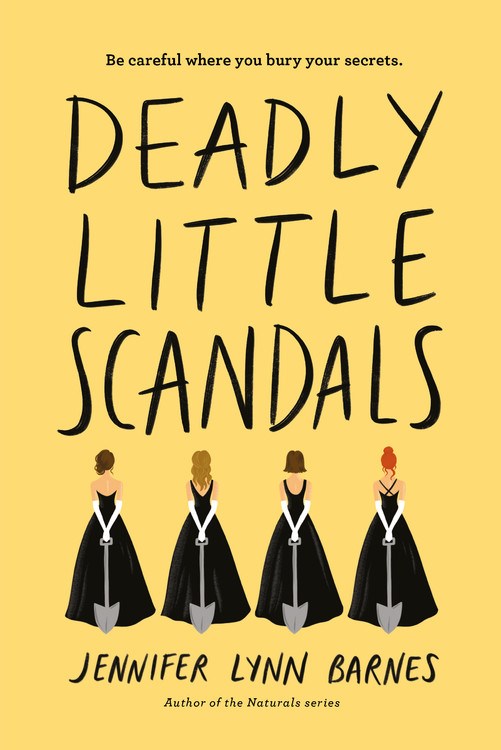 DEADLY LITTLE SCANDALS, by Jennifer Lynn Barnes , Freeform, Nov. 5, 2019, Hardcover, $17.99 (young adult)
If you are looking for a fast-paced mystery with juicy, and somewhat absurd but entertaining details, then Jennifer Lynn Barnes' Debutantes books are a must read. The first book, Little White Lies, introduces readers to Sawyer Taft, and 18-year-old mechanic who suddenly finds herself in the middle of Southern high society. Deadly Little Scandals picks up where Little White Lies leaves off.
Reluctant debutante Sawyer Taft joined Southern high society for one reason and one reason alone: to identify and locate her biological father. But the answers Sawyer found during her debutante year only left her with more questions and one potentially life-ruining secret. When her cousin Lily ropes her into pledging a mysterious, elite, and all-female secret society called the White Gloves, Sawyer soon discovers that someone in the group's ranks may have the answers she's looking for. Things are looking up… until Sawyer and the White Gloves make a disturbing discover near the family's summer home — and uncover a twisted secret, decades in the making. —Synopsis provided by Freeform
Does anyone remember the ABC series Revenge? Remember all the twists and turns and ridiculousness of those with more money than should be legal? Jennifer Lynn Barnes gives that show a run for its money with her Debutantes books.
And while Little White Lies features plenty of surprises, Deadly Little Scandals takes things to a new level altogether. There is so much going on here, that if you're not familiar with the players, you'll get lost, so…. Read Book 1 First!
Barnes does a fantastic job of writing characters that you want to read about. Even under all the money, there's more than the typical trope that can make a story one note. Honestly, a lot of what happens in Deadly Little Scandals seems ludicrous, but that's what makes it and its predecessor so much fun. I gobbled up both books in one day each. They're so addicting, I'm looking forward to rereading them multiple times.
© 2020, Cracking the Cover. All rights reserved. Unless otherwise noted, all books — digital and physical — have been provided for free by publishers in exchange for honest and unbiased reviews. All thoughts and opinions are those of the reviewer.