THE WISH AND THE PEACOCK, by Wendy S. Swore, Shadow Mountain, Feb. 4, 2020, Hardcover, $16.99 (ages 8-12)
A girl tries to save her family farm while simultaneously dealing with the loss of her father in The Wish and the Peacock, by Wendy S. Swore (A Monster Like Me).
Paige lives on the small vegetable farm that has been in her family for generations. Her family has faced tough times before, but nothing quite as devastating as the past year. After losing her father to a horrific accident, she now faces losing the farm he loved so much.
With financial and logistical challenges stacking up, there's nothing Paige's mom can do but sell the farm. But Paige doesn't see those problems. All she sees is mom shutting down and locking herself in her room. If she would just help, Paige is sure she can take care of the rest.
Desperate to retain her home, Paige decides to stop a sale from going through. But putting makeup on the cows so they look sickly to potential buyers, and pranking the Realtor don't stop the inevitable. It's not a question of if the farm will sell but to whom.
In the midst of everything, an injured peacock mysteriously arrives in their barn, and a slick-looking reporter from the city shows up to write a human-interest story about their farming community. Through it all, Paige keeps looking for a solution that will help everyone, even if it means changing the definition of home.
The Wish and the Peacock is the story of a girl who equates her father's love with her beloved farm. To lose the second after already losing the first is devastating. It's an emotional read that packs an immediate punch.
Paige's farm is located on an Idaho reservation, a situation that author Wendy S. Swore knows a thing or two about. She's spent the past 20 years farming on the Sho-Ban Reservation where her husband and children were born and raised. This intimate knowledge of both the Shoshone-Bannock and farming communities adds an authenticity to A Wish and the Peacock.
The cast of supporting characters — little brother Scotty, friends Matteo and Kimana, Paige's mom and grandfather, and their trusty farm dog, T-Rex — are what takes The Wish and the Peacock to a different level. They add a brightness that lifts the entire book.
The Wish and the Peacock is a study of grief and the resiliency that can be born from it. Swore is to be commended for her balance of humor and sadness. And like all Shadow Mountain novels, the book tightly edited. I only found one mistake in my advanced copy, and I used to work as a copy editor for a living.
My one hang-up with the book comes at the end, which feels a bit rushed and perhaps a little too tidy. Still, it's filled with hope, and there's nothing wrong with that.
---
A Wish and a Peacock is available for pre-order and hits shelves Tuesday, Feb. 4.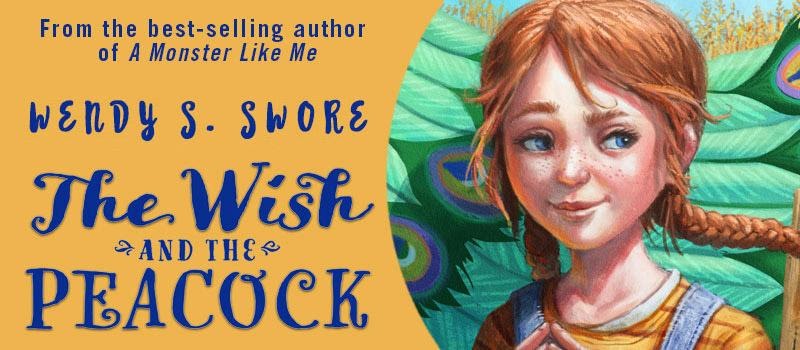 © 2020, Cracking the Cover. All rights reserved. Unless otherwise noted, all books — digital and physical — have been provided for free by publishers in exchange for honest and unbiased reviews. All thoughts and opinions are those of the reviewer.