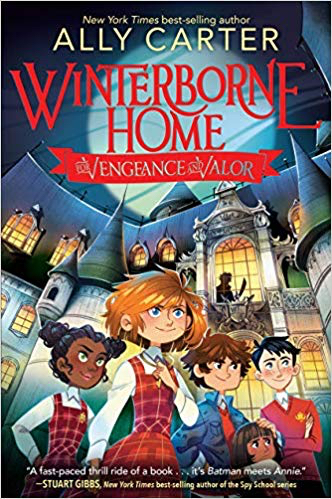 WINTERBORNE HOME FOR VENGEANCE AND VALOR, by Ally Carter, HMH Books for Young Readers, March 3, 2020, $16.99 (ages 10-12)
I'm always on the lookout for middle-grade novels with broad appeal. Ally Carter's Winterborne Home for Vengeance and Valor fits the bill.
April had absolutely no intention of becoming the only person who knows that Gabriel Winterborne, the missing-and-presumed-dead billionaire, is actually living in the basement of Winterborne House, sharpening his swords and looking for vengeance.

Now it's up to April to keep him alive. But there's only so much a twelve-year-old girl can do, so April must turn to the other orphans for help. Together, they'll have to unravel the riddle of a missing heir and a creepy legend, and find a secret key, before the only home they've ever known is lost to them forever. — Synopsis provided by HMH Books for Young Readers
If you've ever read any of Ally Carter's books, then you already have an inkling on how Winterborne Home for Vengeance and Valor is going to play out. The New York Times best-selling author's middle-grade novel is full of mystery and adventure.
Carter's writing is cinematic, making you feel as if you are crawling through a fire or stepping on glass with April. It's like you're watching things unfold directly in front of your eyes while you're simultaneously reading them on the page.
The best part of Winterborne Home for Vengeance and Valor, though, is Ally's characters. April and the other orphans are all intriguing and really offer something for all kinds of readers. The interplay between children and adults is also a highlight. Here, it's less about telling someone what to do and more about them living up to their potential.
Winterborne Home for Vengeance and Valor is a fast-paced novel with plenty of twists and a doozy of a finale that will have you binge reading for sure. The end is satisfying but leaves room for more books in this world.