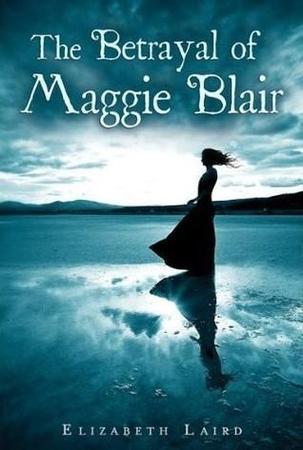 "THE BETRAYAL OF MAGGIE BLAIR," by Elizabeth Laird, Houghton Mifflin Books for Children, April 18, 2011, $16.99 (young adult)
If ever a book cover called out to me, it would be that of Elizabeth Laird's "The Betrayal of Maggie Blair." From the icy blue sky and water to the dark silhouette of a woman with her dress and hair blowing in the wind, it's perfection. And it sets the tone for a tale that delves into religion and witchcraft in the 17th century.
Maggie Blair lives with her grandmother in a small village in Scotland. She's never been far from their cottage near the sea, and she doesn't have any aspirations of leaving. But after the 16-year-old is accused of being a witch, she doesn't have a choice. She escapes, but her grandmother is hung and burned in the process.
Maggie has barely a living relative and has no choice but to go to her father's brother and hope he'll take her in. In many ways, life at Uncle Blair's is the complete opposite from life with Granny.
Where Granny followed her own path and often muttered spells and curses, Uncle Blair is a Presbyterian Covenanter — one of many Scots in that time who were against the King's reform of the Christian church.
There are more rules for Maggie to follow, but the living conditions are also better. Maggie starts to feel connected to her new family, but when an enemy from her past appears, things start to unravel — again.
When Uncle Blair is arrested for treason and his family left as paupers, Maggie sets out to make things right. Maggie struggles to bring her family back together while trying to work out her own feelings and ideas about loyalty and religion.
Elizabeth Laird has a gift for creating a mood. From her very first lines to the last sentence on the last page, I felt the rolling nature of her prose. It was as if a narrator with a Scottish brogue was inside my head. Consider this excerpt from her first page:
It was a cold day in December, the sun barely risen, and I'd pulled my shawl tightly round my head and shoulders, but it wasn't only the chill of the wet sand beneath my bare feet that made me shiver. There was a strangeness in the air. The early mist was clearing. Across the water I could already make out the Isle of Arran, rearing up out of the sea, the tops of its mountains hidden as usual in a crown of clouds. I'd seen Arran a dozen times a day, every day of my life, each time I'd stepped out of the door of my grandmother's cottage. I knew it so well that I hardly ever noticed it.
But tone isn't everything. Laird is a strong writer and "The Betrayal of Maggie Blair" is an intriguing story. But the first part is very slow moving. So slow, I almost put it down. Then, all of the sudden, it just flowed better. It almost felt as if the sections were written at a different time, with a different purpose.
I find myself a little ambivalent about Laird's ending, as well. Some things are resolved, and some are not. However, I think that was a conscious decision on the author's part. Without giving too much away, I took it as a the author telling us certain characters would continue to evolve and change beyond the pages of this book.
I'm glad I didn't put "The Betrayal of Maggie Blair" down. Halfway through I found I was fully committed to the story. Maggie is a strong female character without a love interest to prop her up. It's not often you fins such a character set in that time period.