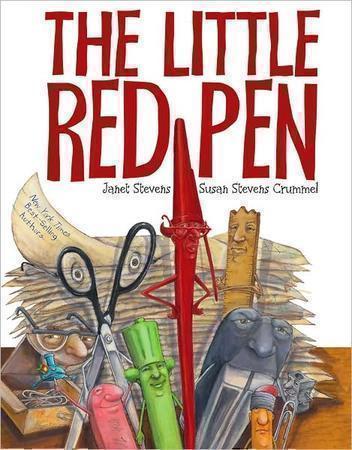 "THE LITTLE RED PEN," by Janet Stevens and Susan Stevens Crummel, Harcourt Children's Books, April 18, 2011, $16.99 (ages 4-8)
There's nothing quite like a paper all marked up with red. Slashes here, dashes there, swirls and spelling corrections coming to life on an otherwise black-and-white page. And it's all done with a red pen.
I love red pens. I mean really love red pens. You see, in my other life I work as a copy editor and red pens are tools of the trade. I think that's why when "The Little Red Pen" by Janet Stevens and Susan Stevens Crummel first came to my attention, I knew I had to have it.

There's work to be done, and the Little Red Pen is ready to get started, but her helpers — Stapler, Scissors, Pencil, Eraser, Pushpin and Highlighter — are no where to be seen. If they don't help her, the school papers won't get graded and "It might be the end of the world!"
Little Red Pen's helpers are tired and worn out and afraid of being sent to "The Pit of No Return." They refuse to help so she tries to do it all on her own. When the helpers go up to check on Pen, she's gone. The papers must be graded, so they try, but it's no good. They need help. If only the Little Red Pen were around to help…
"The Little Red Pen" is a great reminder of how working together, many tasks can be accomplished. It's great fun to see regular office supplies take on personalities. Of course Pen would have horn-rimmed glasses. How could she not? Stapler with his big front teeth and Highlighter with his fuzzy hair are also fun. Illustrations perfectly match the moods of the objects as well, truly bringing them to life.
I may be a bit biased by my red-pen envy, but if I were to grade "The Little Red Pen," it would get an A+.
In conjunction with the book's release, Harcourt Children's Books is offering an online activity kit. You can access it here.