Book reviewers are often supplied with either digital or physical copies of books from publishers. One of the last packages of physical books I received in this new COVID world (nearly all publishers have switched to digital only) was from Candlewick Press.
The picture books all have March and April release dates, and most focus on nature in some way. Each book is worthy of its own post. They are truly fantastic. But as I was going through them, the same thought kept popping up in my mind: I could use these to teach, without "teaching."
That's right, the following books are ones where your children can learn without feeling like they're learning. They encourage thought without being prodded. In short — if you and your kids have had enough with "home school," one, or all, of these might be a good middle ground for your family.
Synopses are provided by Candlewick and are in grey. My own thoughts follow the synopses.
AGES 3 & UP
CREATURE FEATURES, by Natasha Durley, Big Picture Press, March 10, 2020, Hardcover, $17.99 (ages 3-7)
Vibrantly illustrated by new talent Natasha Durley, this is an animal book with a difference. Each page is bursting with unusual creatures united by a common characteristic. From enormous ears to humongous horns, from elephants to earwigs, this eclectic collection celebrates the diversity and the commonality of the animal kingdom. And with something to look for on every page, it's guaranteed to fascinate young animal lovers.
Creature Features is sort of a picture book / board book hybrid. Heavy duty pages make this perfect for little readers who aren't as careful as their older counterparts. Bright illustrations, straight-forward text and engaging questions make for lots of interactive fun.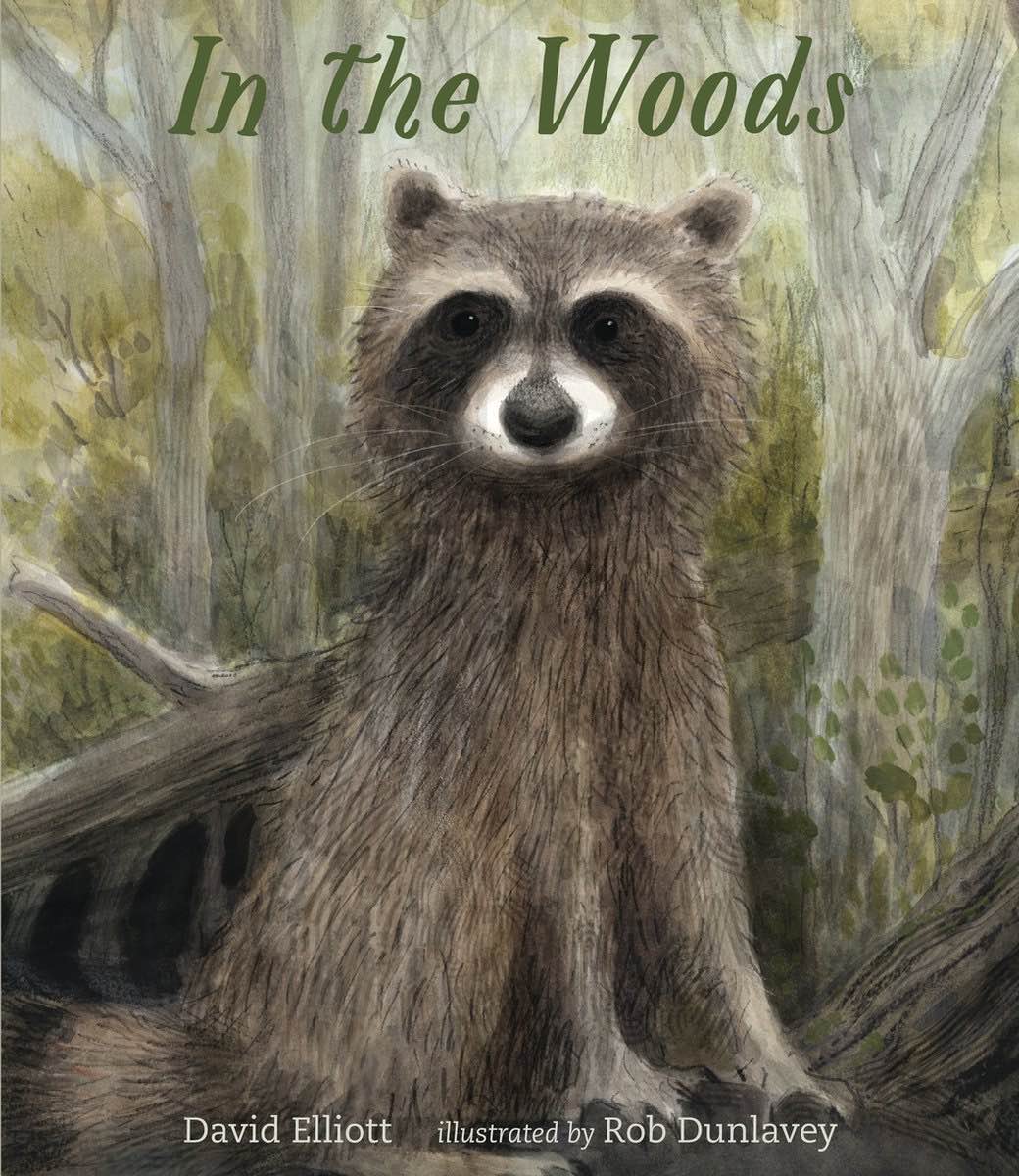 IN THE WOODS, by David Elliott and Rob Dunlavey, Candlewick, April 7, 2020, Hardcover, $17.99 (ages 3-7)
The animals in the dark woods are secretive, their inner lives a mystery. The stealthy bobcat, the inquisitive raccoon, and the dignified bear waking up from his winter nap are just a few of the glorious animals featured in this clever collection of poems and woodland scenes.
 This companion to In the Sea, In the Wild, and On the Farm is the first collaboration between David Elliott and Rob Dunlavey. Here, the two pair charmingly unique poems with impressionistic illustrations that children will savor time and time again.
---
AGES 4 & UP
In the rhyming style of "The House That Jack Built," this poem about the care and specificity that Carolina wrens put into building a nest is at once tender and true to life. Papa and Mama Wren gather treasures of the forest, from soft moss for a lining to snakeskin for warding off predators. Randi Sonenshine's lilting stanzas, woven with accurate and unexpected details about Carolina wrens, and Anne Hunter's gentle, inviting illustrations reveal the mysterious lives of these birds and impart an appreciation for the wonder of the life cycles around us. Back matter includes a glossary and additional interesting facts about wrens.
When you look at the cover of The Nest That Wren Built, you know you want to read the book. Inviting illustrations paired with rhythmic text make this book a joy to read. At our house, we've easily drawn comparisons to the at-least seven mama robins who are nesting near our house.
---
AGES 5 & UP
Young Benjamin Franklin wants to be a sailor, but his father won't hear of it. The other trades he tries — candle maker, joiner, boot closer, turner — bore him through and through. Curious and inventive, Ben prefers to read, swim, fly his kite, and fly his kite while swimming. But each time he fails to find a profession, he takes some important bit of knowledge with him. That tendency is exactly what leads him to become the astonishingly versatile genius we remember today.
A Ben of All Trades was inspired by Franklin's own autobiography, which he wrote at age 65. Franklin's book didn't provide many details or description, and that's where author Michael J. Rosen stepped in. His witty text and detailed illustrations by Matt Tavares make the famous Founding Father not only relatable but real. Two pages of end notes add greater depth and allow for further exploration.
---
AGES 6 & UP
BENEATH THE WAVES, by Lily Murray and Helen Ahpornsiri, Big Picture Press, May 12, 2020, Hardcover, $22 (ages 6-9)
Come along on a journey through the oceans of the world in this beautiful book with illustrations made entirely from hand-pressed plants. Artist Helen Ahpornsiri transforms silky seaweeds, feathery algae, and bright coastal blooms into playful penguins, scuttling crabs, and schools of silvery sharks. Turn the page to explore each corner of the ocean, from hidden rock pools to the darkest depths. Marvel as plants transform into marvelous creatures, and discover the magic and beauty that lies beneath the waves.
You might remember Helen Ahpornsiri from 2018's Drawn from Nature. I consider Beneath the Waves to be an equally beautiful companion book. Again, each illustration is created from preserved flora and fauna. In this case, the art is made from seaweed, coastal flowers and a few garden plants. This book is one both grownups and children will be drawn to.
BUGS EVERYWHERE, by Lily Murray and Britta Teckentrup, Big Picture Press, April 7, 2020, Hardcover, $16.99 (ages 6-9)
There are bugs everywhere! Some of them live in jungles, some of them underwater, and some certainly live in your house. And all of them are fascinating! Britta Teckentrup's work will enthral budding entomologists. This nonfiction volume from a much-loved illustrator is filled with weird and wonderful facts about all kinds of creepy-crawlies.
 From its gold-embossed ladybug cover to its ant-lined back and front covers, Bugs Everywhere is a delight. Detailed drawings of insects are sure to draw readers in, and the fascinating facts are sure to keep them coming back. I had to hide this book from my daughter so I could review it before she took it as her own.
THE VILLAGE BLACKSMITH, by Henry Wadsworth Longfellow and G. Brian Karas, Candlewick, April 3, 2020, Hardcover, $16.99 (ages 6-9)
The neighborhood blacksmith is a quiet and unassuming presence, tucked in his smithy under the chestnut tree. Sturdy, generous, and with sadness of his own, he toils through the day, passing on the tools of his trade, and come evening, takes a well-deserved rest.
Brian Karas brings Longfellow's poem to life with his detailed and contemporary art. Readers are immediately immersed in the craftsman's world. And Longfellow's words roll off the tongue, making the book a true joy to read aloud. A brief, but intriguing afterword, explains the tools and trade of blacksmithing.
Ariel is a spirit of the air who can fly, ride on clouds, and glow bright as fire. When his master, the magician Prospero, is overthrown by his brother as the Duke of Milan, Ariel joins Prospero and his baby daughter on a journey that will bring them to a beautiful island ruled by the monstrous Caliban — and to a series of events that lead to a vengeful storm, confounding spells, true romance, and a master who is persuaded to give his transgressors a second chance.
Shakespeare's work can feel very foreign to young readers. The language and time so different from our own. But in this version, the story remains true, but the text more accessible. The true star of this book, though, are Jane Ray's amazing illustrations. Their stylized beauty feel like sets for a stage. This one is a delight.
---
AGES 7 & UP
BONES: AN INSIDE LOOK AT THE ANIMAL KINGDOM, by Jules Howard and Chervelle Fryer, Big Picture Press, April 7, 2020, Hardcover, $19.99 (ages 3-7)
Bones: An Inside Look at the Animal Kingdom takes the reader on a fascinating journey through the biological history of the skeletal system in the animal kingdom. With sections focusing on different abilities and features, from biting and flying to jaws, tails, and more, this exciting collection explains how animals' amazing bodies have adapted to allow them to do so many different things.
This is another one of those "wow" books. As an adult, I can't help but linger over each spread, taking in the detailed illustrations and fascinating text. This is a great option for readers who are always asking how things work.
AGES 10 & UP
Everyone knows Charles Darwin, the famous naturalist who proposed a theory of evolution. But not everyone knows the story of Alfred Russel Wallace, Darwin's friend and rival who simultaneously discovered the process of natural selection. This book tells Wallace's story, from his humble beginnings to his adventures in the Amazon rain forest and Malay Archipelago, and demonstrates the great contribution he made to one of the most important scientific discoveries of all time
Now, more than ever, it's important to celebrate scientists and the work they do. As you follow Wallace's travels you not only gain a greater appreciation of his mind and drive but of the diversity of the Earth's creatures as well.