THE JANE AUSTEN SOCIETY, by Natalie Jenner, St. Martin's Press, May 26, 2020, Hardcover, $26.99 (YA/ New Adult/ Adult)
Eight people find themselves forever changed by their shared love of Jane Austen and the books she created in Natalie Jenner's debut novel, The Jane Austen Society.
Just after the Second World War, in the small English village of Chawton, an unusual but like-minded group of people band together to attempt something remarkable.

One hundred and fifty years ago, Chawton was the final home of Jane Austen, one of England's finest novelists. Now it's home to a few distant relatives and their diminishing estate. With the last bit of Austen's legacy threatened, a group of disparate individuals come together to preserve both Jane Austen's home and her legacy. These people ― a laborer, a young widow, the local doctor, and a movie star, among others ― could not be more different and yet they are united in their love for the works and words of Austen. As each of them endures their own quiet struggle with loss and trauma, some from the recent war, others from more distant tragedies, they rally together to create the Jane Austen Society. —Synopsis provided by St. Martin's Press
Though Cracking the Cover's main purpose is covering books for young readers, occasionally I will include books that are meant for an "older" audience but have crossover appeal. I remember searching the fiction stacks at my library as a teen, and I know that there are many voracious young readers out there who do the same.
Natalie Jenner's The Jane Austen Society is a good example of this, with characters ranging in age from teen to older adult and all bound together by Austen, a perennial favorite for readers of all ages.
It took me almost 100 pages to really "get into" The Jane Austen Society. Those first 100 pages are mostly introducing the characters and their backstories and setting the scene for what's to come. There's a bit of jumping around, and it's initially unclear — other than the obvious assumption that they'll all become a part of the Jane Austen Society — what these people have to do with each other.
Once it does become clear, however, the pace — and interest — picks up immensely. Because Jenner spends so much time with each of the players, they are all well developed and compelling in their own ways. And as the characters interact more and more, you do get a sense that an Austenophile had the author's works in mind when crafting this one.
Even the characters themselves compare their actions to Emma, Elizabeth Bennett, Mr. Darcy, Henry Crawford and the like. They are keen to point out how their flaws and behaviors seem to mirror more than one.
The Jane Austen Society is a quiet, introspective read that emulates Austen without pandering. It's a book I could easily see playing out on the big screen sometime in the future. Though I did struggle with it at the beginning, I'm glad I stuck with it. The pacing isn't going to click with everyone, but it should be of interest to Jane Austen fans.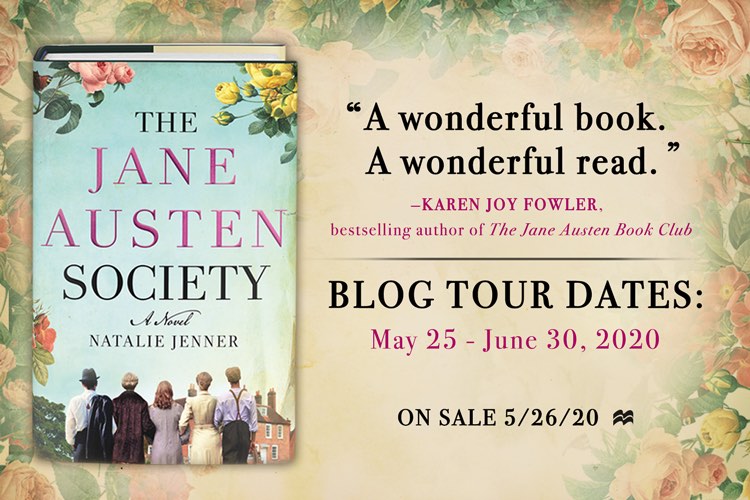 ---
In addition to print and digital formats, The Jane Austen Society is also available as an audiobook. The audiobook features English film, television, theatre and voice actor Richard Armitage, who is known for his performances as John Thornton in the BBC television adaptation of North and South (2004), Thorin Oakenshield in Peter Jackson's film trilogy adaptation of The Hobbit (2012 – 2014). You can listen to an audiobook excerpt below.
© 2020, Cracking the Cover. All rights reserved. Unless otherwise noted, all books — digital and physical — have been provided for free by publishers in exchange for honest and unbiased reviews. All thoughts and opinions are those of the reviewer.