JOEY: THE STORY OF JOE BIDEN, by Jill Biden, Kathleen Krull, et al., Simon & Schuster/Paula Wiseman Books, June 30, 2020, Hardcover, $19.99 (ages 4-8)
Whether you like him or not, Joe Biden is the Democratic nominee for president of the Untied States. He was the 47th vice president under Barack Obama, and he could become the 46th U.S. president in 2021 Joey: The Story of Joe Biden explores his childhood.
Biden's family faced ups and downs through the years, but Joey's parents encouraged him to be keep going and be strong: "Bravery resides in every heart, and yours is fierce and clear," his mom said.
Joey grew up with a stutter. It was as if his mouth couldn't keep up with his mind. He was bullied but never let that keep him down. He learned to plan ahead, memorizing passages in class before his turn to read aloud and having some sort of small talk ready for neighbors. He spent many hours memorizing poems and studying his facial movements, trying to keep his muscles from tensing. Practice seemed to help.
As he grew older, Joe's hard work paid off. He became a basketball and football star and was elected junior and senior class president. By the time Joe graduated, his stuttering was gone, and he discovered he actually liked public speaking.
In college, Joe once again found himself in leadership positions. In 1972, 29-year-old Joe threw himself into public service and ran to become a senator from Delaware. Not only did he win, but he was reelected five times. He followed that up with an eight-year stint as U.S. vice president, and in 2019 announced his candidacy for U.S. president.
Written by Jill Biden, Joe Biden's wife, Joey has a personal feel. The book includes family stories that are heartfelt and ring true. The book is less about politics and more about the events that shaped the presidential hopeful.
Amy June Bates' watercolor, gouache and pencil illustrations are beautiful. Their soft lines convey emotion and add another layer to the overall book. Family photos, a timeline and "Bidenisms" complete the package.
As we head into what's likely the most contentious election season, Joey offers a respite for children and their parents. It's a story of family and overcoming obstacles that everyone can relate to.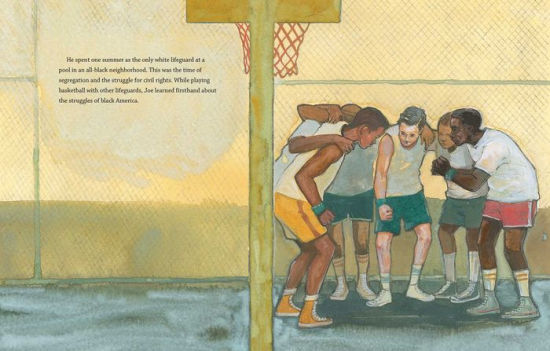 © 2020, Cracking the Cover. All rights reserved. Unless otherwise noted, all books — digital and physical — have been provided for free by publishers in exchange for honest and unbiased reviews. All thoughts and opinions are those of the reviewer.