Exquisite: The poetry and Life of Gwendolyn Brooks is a picture book biography of the first Black person to win the Pulitzer prize.
Gwendolyn Brooks (1917–2000) is known for her poems about "real life." She wrote about love, loneliness, family, and poverty — showing readers how just about anything could become a beautiful poem. Exquisite follows Gwendolyn from early girlhood into her adult life, showcasing her desire to write poetry from a very young age. This picture-book biography explores the intersections of race, gender, and the ubiquitous poverty of the Great Depression. Gwendolyn Brooks was the first Black person to win the Pulitzer Prize, receiving the award for poetry in 1950. And in 1958, she was named the poet laureate of Illinois. —Synopsis provided by Abrams Books for Young Readers
Truth be told, I knew very little about Gwendolyn Brooks prior to reading Exquisite. I knew of her but I didn't "know" her.
Gwendolyn grew up in a house of books, of poetry, of family. At 7, she was writing poems of her own. She would dream about her future, and words were always there. At 11, her poetry was printed in the newspaper and then a magazine.
By high school, Gwendolyn was struggling to find her place. She felt invisible, but her words weren't. She was told to keep writing, and that's what she did, even though poems would not pay the bills.
As a parent, Gwendolyn wrote about her life in South Side Chicago. She won a contest and was published in a poetry journal. She kept dreaming. Her poems about soldiers, equal rights and understanding your identity became a book, A Street in Bronzeville. Her second book, Annie Allen — about living in a place where people judged others by the color of their skin — won the Pulitzer. She went on to write 14 more books.
Gwendolyn Brooks' story is a strong reminder that the hopes and dreams of yesterday are the same ones of today. Her perseverance is beautifully represented in Exquisite. Cozbi A. Cabrera's beautiful acrylic illustrations are pitch perfect. And Suzanne's Slade's text balances calm with just the right amount of urgency.
In 1956, Gwendolyn's book Bronzeville Boys and Girls for children was published. I'm planning on purchasing it and reading it and Exquisite with my 6-year-old.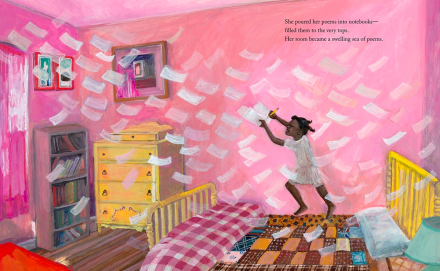 © 2020, Cracking the Cover. All rights reserved. Unless otherwise noted, all books — digital and physical — have been provided for free by publishers in exchange for honest and unbiased reviews. All thoughts and opinions are those of the reviewer.