THE LAST LIE, by Patricia Forde, Sourcebooks Young Readers, Aug. 1, 2020, Hardcover, $16.99 (ages 10-14)
Usually sequels come in fast succession, but it's been three years since Patricia Forde's award-winning The List was published. Now, the second book of the duology, The Last Lie, is available, and it was worth the wait.
The List is a dystopian novel that follows 12-year-old Letta the Wordsmith of Ark. After the Melting destroys most of the world, those who live in Ark live a more simplified lifestyle. That includes language. There, everyone must speak List, a language made up of only 500 words.
As Wordsmith, it's Letta's job to collect and catalog words for a time when they might be used again. It's a great responsibility and one she takes seriously. When Noa, the leader of Ark decides to cut even more words from List, Letta begins to question Noa's true intentions.
What ensues, is a battle that changes everything and nothing. List is still spoken. It's still shrinking. But trust in leadership has eroded.
The Last Lie opens shortly after the battle.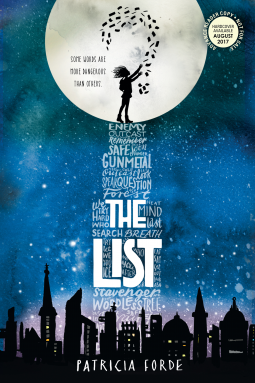 Letta has joined the rebels and spends her day teaching young children non-List words. It's fulfilling but dangerous work. Ark's new ruler is keen to keep the people under her thumb, and she has a plan: If babies never hear a single word then language will die once and for all.
Going into The Last Lie, I was concerned that it had been too long since reading The List. The thing is about The List, though, is that it sticks with you. A quick glance at my previous review, and I was back in Forde's world.
As a person who works with words professionally, The List was hugely impactful. And, as a parent, the idea of not speaking to my child at all is horrifying. I imagine the intended audience — ages 10-14 — will be equally as disturbed, especially because of current political and societal events. It's what makes this duology ring true.
The Last Lie is a compelling read that moves at a compelling pace. The main characters — and most — supporting players are well fleshed out. Although there is one, who never feels fully realized. Obvious foretelling takes away from some of the drama, but some nice twists keep it fresh.
I read The Last Lie in less than 24 hours. And now that I've finished, I would like to reread both the books consecutively, because I'm sure I've missed some of the nuances. This is a strong duology that will appeal to a large cross-section of readers.
© 2020, Cracking the Cover. All rights reserved. Unless otherwise noted, all books — digital and physical — have been provided for free by publishers in exchange for honest and unbiased reviews. All thoughts and opinions are those of the reviewer.