Pop-Up Volcano! by Fleur Daugey, Tom Vaillant, Bernard Duisit., Thames & Hudson; Illustrated edition, Aug. 4, 2020, Hardcover, $29.95 (ages 6-8)
Volcanoes explode into your living room in the bold Pop-Up Volcano! by author Fleur Daugey, illustrator Tom Vaillant, and paper engineer Bernard Duisit
The book unfolds with alternating pop-up and more heavily illustrated spreads.
For example, the first pop-up —a look at Earth's layers — goes into the basics. Earth is a living planet with magma at its core. As magma pushes through the gaps in the Earth's crust and bursts through to the surface, a volcano is formed.
That's followed up with a gloriously illustrated section on Vesuvius.
Volcano Danger! features an explosion popping right off the pages.
Volcanoes of the past; studying volcanoes; living with volcanoes; and volcanoes under the sea give readers a sense of how eruptions have changed the shape of our planet and how we live on it.
Bold color throughout draws readers in, especially the neon orange utilized in the pop-ups.
I had to hide my advanced copy of Pop-Up Volcano! when it first arrived. I had a feeling my 6-year-old would be enamored.
I was right.
Her response with each turned page: "Cool!" "Ooh!" "Wow!" "This is amazing!"
As you can tell, she didn't want to let it go, and I only got permission to take it back for review purposes if I promised to return it at my earliest convenience.
Pop-Up Volcano! is one of the coolest pop-up books I've come across. Not only are the 3D images detailed and exciting, the accompanying text is informative and engaging. This is yet another good supplement for homeschool where kids can learn without feeling like their "learning."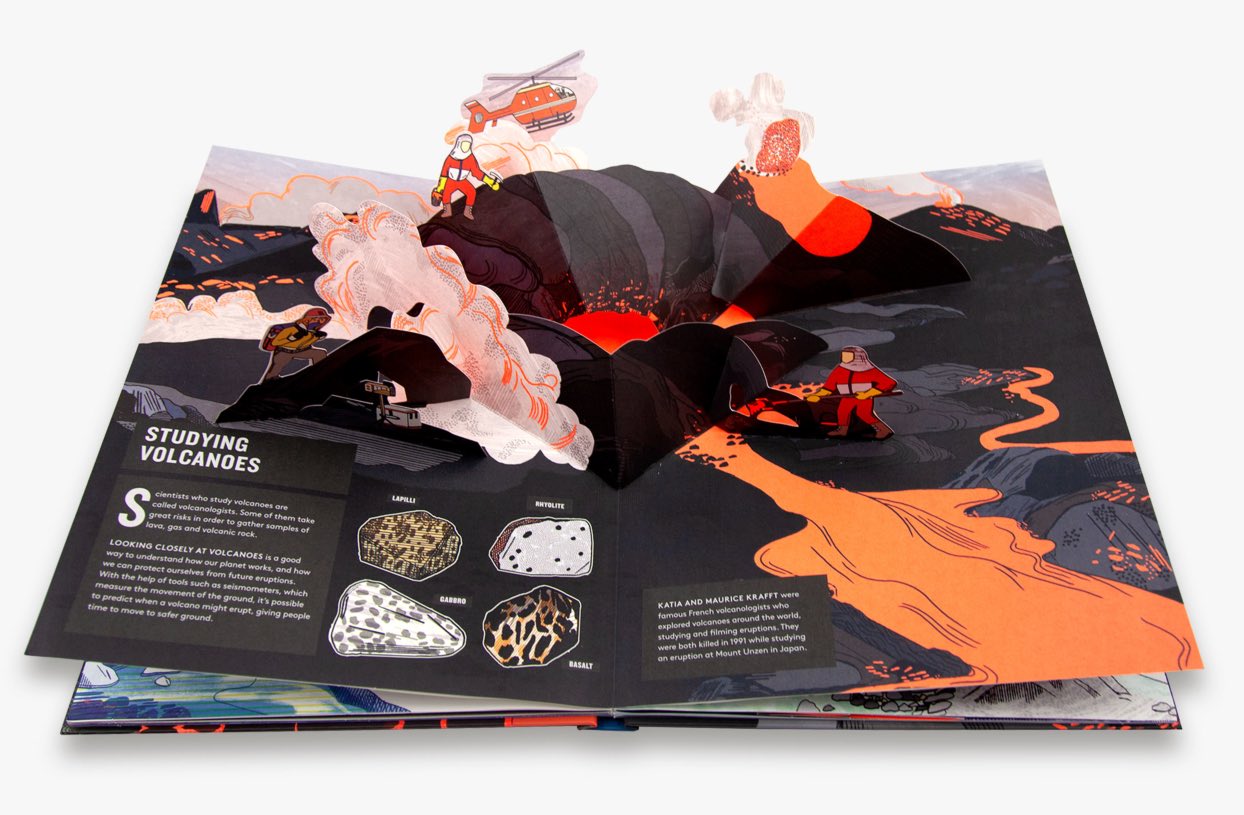 © 2020, Cracking the Cover. All rights reserved. Unless otherwise noted, all books — digital and physical — have been provided for free by publishers in exchange for honest and unbiased reviews. All thoughts and opinions are those of the reviewer.