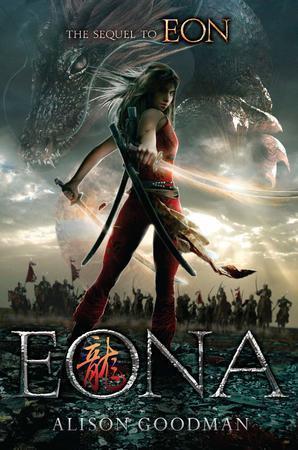 "EONA," by Alison Goodman, Viking Juvenile, April 19, 2011, $19.99 (young adult)
I have to admit, when I found out Alison Goodman's "Eona" was finally coming out, I had a major geek-out. Its predecessor, "Eon," came out in 2008 and was one of my favorite books of the year.
"Eon" is the story of Eon, who is in training to become one of 12 Dragoneyes, the human link to an energy dragon's power. Even though he's crippled and unable to move quickly or without a heavy limp, Eon has a strong connection to the energy dragons.
But Eon isn't only hindered by his lame leg; he has a potentially deadly secret — that he is really a she named Eona. Eona soon finds herself thrust into the world of imperial politics and the battle for control of the throne.
The rest of the story plays out in "Eona," where the title character's gender is now known. Eona is the first female Dragoneye in hundreds of years, and now she's also the hope of a empire split in two.
High Lord Sethon has assumed the leadership, but the next in line is really Kygo, the young Pearl Emperor. Eona is on the run from Sethon and is desperately searching for Kygo. Kygo needs Eona's power to regain the throne. The two must work together to save the empire, but that adds to an already complicated situation.
Kygo and Eona both have secrets and little reason to trust others. But if they're going to survive this battle, they're going to have to learn to trust each other.
Eona is a strong female character. But what makes her so appealing isn't necessarily her strength — it's her flaws that make you want to read more. In many ways Eona is still a young woman trying to find her path. And her path is unlike any other. She is not whom society expects and neither, it turns out, is Kygo.
"Eona" is full of action with sword fighting, torture and other acts of violence. Though it never gets to the gross-out gore level. But there are also quiet moments here, as well, balancing the story out and giving it added depth.
"Eona" is like a lot of other popular books in that it's a one-sit read. In other words, you'll want to sit down, start reading and not stop until you're finished. At more than 600 pages, there's some heft to this book, and it took me about five hours from start to finish. I'm a fast reader, and I was reading under deadline. If I were to go reread "Eona" I would probably take more time, savoring the story rather than pushing through.
And I have to say the likelihood of me rereading "Eona" is high. Although I'll reread "Eon" before it. It's been more than two years since reading "Eon" and I did find myself a little lost jumping straight into its sequel. I would suggest reading the two books together for an optimal experience.