"Be a nuisance… Never give up." —Marjory Stoneman Douglas
Marjory Saves the Everglades: The Story of Marjory Stoneman Douglas tells the story of a woman who didn't start out to be an activist, but ended up saving one of the most diverse environments in the United States.
When Marjory visited Florida as a child, she had no idea what an important role she would play in its future.
Marjory didn't intend to write about the Everglades but when she returned to Florida from World War I, she hardly recognized the place that was her home. The Florida that Marjory knew was rapidly disappearing —t he rare orchids, magnificent birds, and massive trees disappearing with it.

Marjory couldn't sit back and watch her home be destroyed — she had to do something. Thanks to Marjory, a part of the Everglades became a national park and the first park not created for sightseeing, but for the benefit of animals and plants. Without Marjory, the part of her home that she loved so much would have been destroyed instead of the protected wildlife reserve it has become today. —Synopsis provided by Simon & Schuster
Marjory Saves the Everglades is exactly why I love picture book biographies. They expose children — and adults — to amazing individuals who serve as important role models.
I knew of Marjory Stoneman Douglas prior to reading Marjory Saves the Everglades, but I didn't really know about her. Wow! What a life. What an inspiration. Not only did Marjory find what she loved, but she dedicated her life to it.
Author Sandra Neil Wallace's writing has an almost conversational tone to it, making it easy to read and easy to understand. She deftly moves through time while hitting on and emphasizing key moments in Marjory's life.
Illustrator Rebecca Gibbon's style perfectly captures moments in time with a stylized vibrancy that practically pops off the page.
Marjory Saves the Everglades is a fantastic look at an amazing life. I can't wait to share this one with my 6-year-old.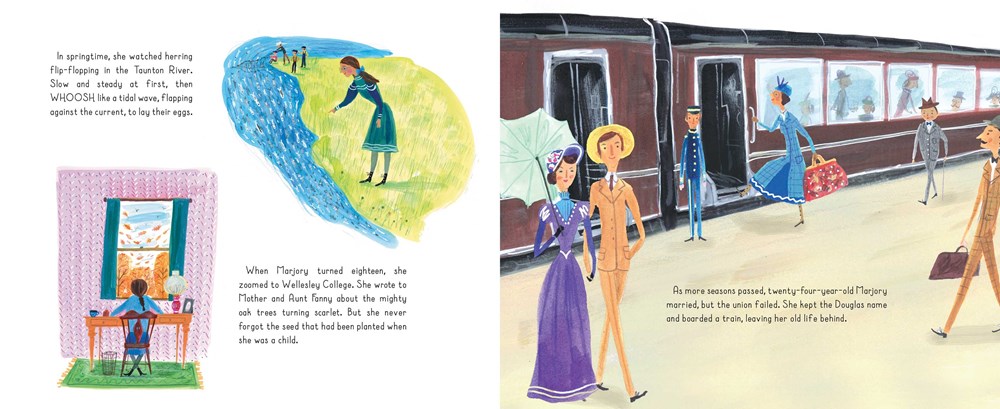 ---
To learn more about Marjory Saves the Everglades, and to download free activity kits and other resources, visit SandraNeilWallace.com.
© 2020, Cracking the Cover. All rights reserved. Unless otherwise noted, all books — digital and physical — have been provided for free by publishers in exchange for honest and unbiased reviews. All thoughts and opinions are those of the reviewer.