Each year, Cracking the Cover compiles a list of books that make great gifts. The following are picture books published and/or reviewed in 2020. Scroll down for the complete list or click or tap the following links to directly visit a section. Synopses in gray boxes are provided by publishers.  BOARD BOOKS • AGES 2 AND UP • AGES 3 AND UP • AGES 4 AND UP • AGES 5 AND UP • AGES 6 AND UP • AGES 7 AND UP • AGES 8 AND UP • GAMES AND PUZZLES
BOARD BOOKS
We're Going on a Bear Hunt comes to life for even the smallest of readers in My First ABC and My First 123.
These two adorable board books are no brainers for fans of We're Going on a Bear Hunt. We love the book and the movie at our house. And as soon as my 6-year-old saw these two books, she wanted to read them. She's way beyond needing them, but loves them nonetheless.
I'd happily give these books, along with the inspiration book, as a baby shower, first birthday or holiday gift.
---
A Montessori-inspired series of board books for your baby's first year, specifically designed to nurture infant visual development using black, white, and red shapes. Combining the latest science with Montessori theory, this illustrated series follows babies as they grow and change during their first year of life. Each book in the set—Big or Small?, The Garden, Animals, and Follow Me!—explores a different theme using shapes and colors friendly to babies' developing eyes and minds. Children from 0 to 12 months can discover plants and animals, learn to distinguish objects by size, and practice tracing paths with their fingers.
My little girl would have loved these books as a baby/toddler. There are no words, just shapes and patterns. Though the suggested age is 0-12 months, I would expect kids up to 2 would enjoy them. These are a great option for newborns.
---
HELLO HELLO, by Brendan Wenzel, Chronicle Books, Aug. 25, 2020, Hardcover, $9.99 (ages 0-3)
Now available in a board book edition for the very youngest readers to enjoy, Hello Hello explores all aspects of seeing and appreciating nature. Starting with color and pattern and moving on size, shape, sound, and more, this board book is perfect for introducing the youngest readers to important visual concepts. It's easy to see how the animals in this book are different from one another, but can you tell what makes them the same?
This deceptively simple picture book features bright colors, engaging animals and simple text that prompts further exploration.
---
Where does Baby Fox play? How does Baby Racoon find a snack? Follow along with these cute baby animals as they experience the world, from playtime to bedtime. Each volume offers parents and children a fun, interactive way to play and read as they build a lifelong love of books together. With an adorable finger puppet and warm illustrations about the rhythms of the day, this board book is perfect for the very youngest readers.
My 6-year-old is way beyond these books, but that didn't stop her from picking them up, playing with an reading them. These interactive books are great for interaction between parents, kids and siblings.
---
THIS IS A BOOK OF SHAPES, by Kenneth Kraegel, Candlewick; Illustrated edition, Sept. 8, 2020, Board Book, $8.99 (ages 2-5)
First comes the circle. Then the square and the triangle. Then the . . . emu pushing a pancake wagon down a hill? What begins as a concept book about everyone's geometric favorites soon defies expectations with a series of funny and imaginative twists. Award-winning author-illustrator Kenneth Kraegel pairs a deadpan text with simple wood-grained shapes, interspersed with vibrant illustrations of animals engaged in absurd pastimes.
This seemingly simple board book features hilarious scenes that had even my 6-year-old giggling.
---
TouchThinkLearn: Build is a tactile board book with removable—and movable—characters and elements. The movable pieces invite and involve the reader in this story of building not only a home, but a family as well.
This board book features simple shapes and bright colors that play well with building. The interactive elements are great for working on small motor skills.

---
MAKE ME A ROBOT, by Mark Rogalski, Chronicle Books, Nov. 10, 2020, Board Book, $14.99 (ages 3-5)
Make Me a Robot is an interactive board book for young readers and lovers of robots. Build this mechanical playmate by lifting 15 flaps—from handy gadgets to jet-like wings—until the book is fully transformed.
This fun book grabs attention from the beginning. Its futuristic look combined with fun instructions.
---
AGES 2 AND UP
IT'S A GREAT, BIG COLORFUL WORLD, by Tom Schamp, Prestel Junior, March 17, 2020, Hardcover, $19.95 (ages 2-5)
One morning, a cat named Otto wakes up to a gloomy day. At first, all Otto can see is gray, but when his friend Leon the chameleon steps in, Otto begins to see just how many colors there are in the world.
Gray, white, black, yellow, orange, red, pink, blue, green and brown are all featured, with gray, white and black taking a total four pages and the rest of the colors consuming four pages each.
In many ways, It's a Great, Big Colorful World reminds me of Richard Scarry's work — Busy, Busy World; Best Word Book Ever; Funniest Storybook Ever; etc. Each spread is grand and rich with content.
---
AGES 3 AND UP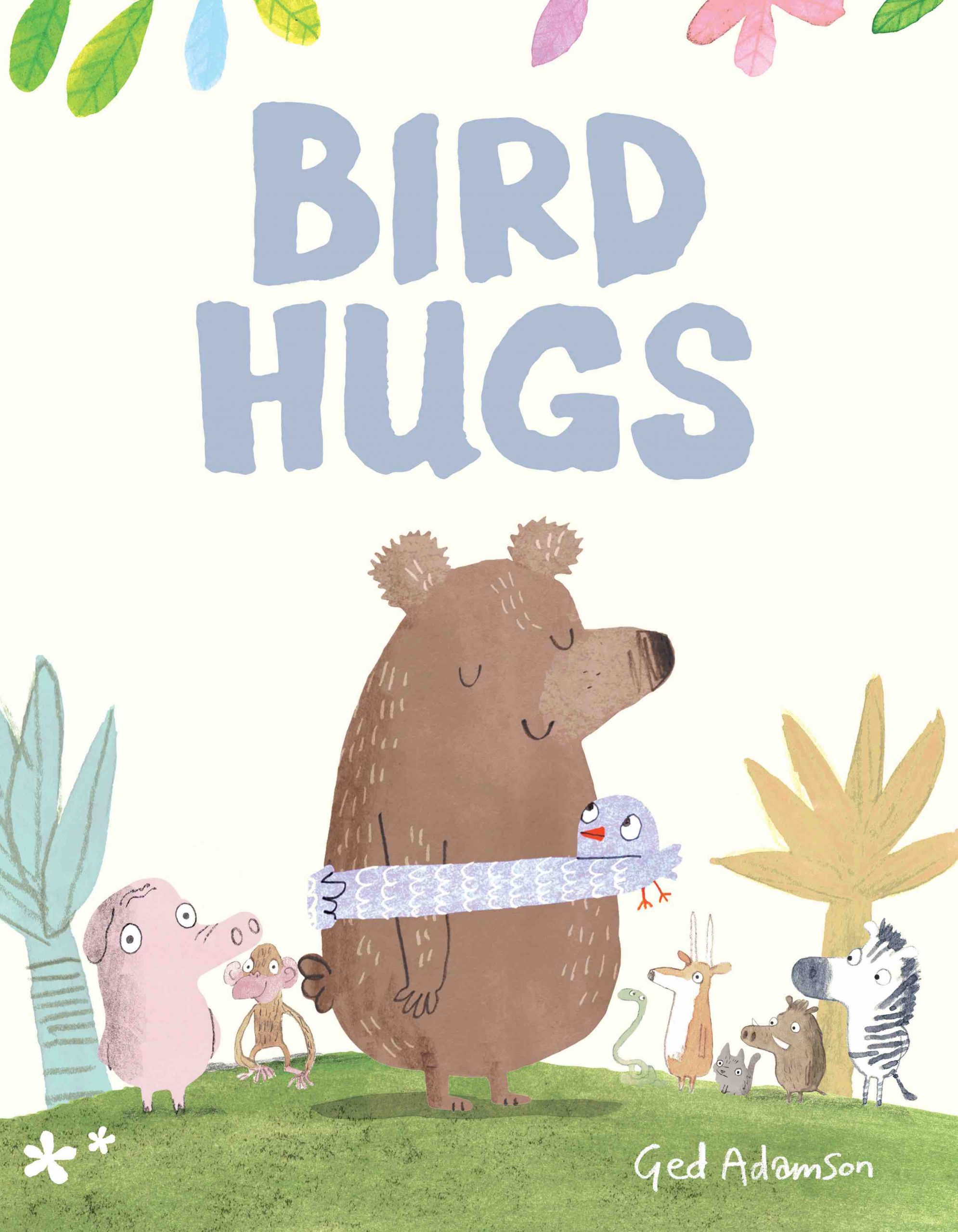 BIRD HUGS, by Ged Adamson, Two Lions, Feb. 1, 2020, Hardcover, $17.99 (ages 3-7)
A bird realizes his differences can be an asset in Ged Adamson's Bird Hugs.
Bernard isn't like other birds. As hard as he tries, even with help, every attempt ends with a crash landing. Dejected, Bernard finds a lonely tree branch and makes himself at home. Then one night, he hears someone who's even more depressed than he is. Without thinking, Bernard jumps in and gives the orangutan the one thing he's perfectly made for — a big hug. Maybe, just maybe, what makes Bernard distinctive is worth embracing.
Bird Hugs is a sweet picture book. Ged Adamson's charming characters pair perfectly with simple, but effective, text. The messages of compassion and understanding are spot-on for preschoolers. It may be too young for 6- and 7-year-olds on its own, but would be a great option for older siblings reading to younger.
---
Each of the children in Dream Big, Little Scientists love a different branch of science with each bedroom decorated to reflect their interests. On its face, Dream Big, Little Scientists is fairly simple, but the book is a bit deceiving, which is why the suggested age range from 3-7 works.
The basic text is perfect for the youngest audience members. A "Think Like a Scientist" section at the end offers more detail on each of the different disciplines for the middle age group. And for the oldest readers, a sort of treasure hunt awaits. Each spread features pictures of actual scientists that encourage further research.
---
THE SEEDLING THAT DIDN'T WANT TO GROW, by Britta Teckentrup, Prestel Junior, March 24, 2020, Hardcover, $14.95 (ages 3-7)
Follow a seedling's adventure from sprout to full-flowered plant in Britta Teckentrup's beautiful The Seedling That Didn't Want to Grow.
It's early spring and below the earth's surface seeds are just starting to sprout. One by one they stretch through the dirt and towards the sun, extending their shoots and leaves and growing tall. All except for one seedling, who isn't quite ready. Each page demonstrates how some of us are different. As most of the seeds transform into strong flowers, they block out the sun from the one left behind. But the little seedling persists, twisting and turning until, with the help of bird and insect friends, it finds its own place to grow and blossom. In the end, this little seed turns into a flower that's just as beautiful and healthy as all the others.
Teckentrup's illustrations are, as usual, gorgeous. And in this case, they have a sort of immersive feel to them. As a reader, you become a fellow insect following the seedling as it weaves its way through stems in search of sunlight. It's a lovely book to read aloud that has become a mainstay in our library.
---
CREATURE FEATURES, by Natasha Durley, Big Picture Press, March 10, 2020, Hardcover, $17.99 (ages 3-7)
Vibrantly illustrated by new talent Natasha Durley, this is an animal book with a difference. Each page is bursting with unusual creatures united by a common characteristic. From enormous ears to humongous horns, from elephants to earwigs, this eclectic collection celebrates the diversity and the commonality of the animal kingdom. And with something to look for on every page, it's guaranteed to fascinate young animal lovers.
Creature Features is sort of a picture book / board book hybrid. Heavy duty pages make this perfect for little readers who aren't as careful as their older counterparts. Bright illustrations, straight-forward text and engaging questions make for lots of interactive fun.
---
THE SONG FOR EVERYONE, by Lucy Morris, Bloomsbury Children's Books; Illustrated Edition, Oct. 6, 2020, Hardcover, $18.99 (ages 3-6)
A cat, a boy, an elderly woman, and a line of students may appear to have little in common, but when they pass under the same window, each are swept up and transformed in different ways by the magical music that streams toward them and buoys their weary spirits. But one day, the music stops, and the town must work together to save the music that they grew to love.
The Song for Everyone is on its face a simple book, but it is so much more than first appearances. From the gentle text to the swirls, flowers and leaves of the music, this book is special. Lucy Morris' beautiful illustrations immediately catch your eye. Her integration of the music into everyday things and activities is thoughtful and playful at the same time. Her use of space is to be commended, as well.
---
Follow a magnificent polar bear through a fantastic world of snow and shockingly blue sea. Over the ice, through the water, past Arctic animals and even a human . . . where is he going? What does he want?
Reading A Polar Bear in the Snow the first time with a child is a magical experience. Mac Barnett's simple, but effective, text is paired with Shawn Harris' amazing torn paper illustrations. It's a book that makes you think and it's one that makes you want to go out and explore.
---
DAVID ROBERTS' DELIGHTFULLY DIFFERENT FAIRY TALES, by David Roberts and Lynn Roberts-Maloney, Pavilion Children's, Oct. 6, 2020, Hardcover, $19.95 (ages 3-7)
Star illustrator David Roberts joins forces with his author sister, Lynn, for the retelling of three classic tales: Cinderella, Sleeping Beauty, and Rapunzel. These stories have a feminist twist with leading ladies full of personality. David Roberts and Lynn Roberts-Maloney introduce Cinderella as a 1920s flapper girl who spends an evening in a beautiful art deco ballroom; Sleeping Beauty as a 1950s sci-fi nerd who pricks her finger on a record player and is woken by a resourceful young historian; and Rapunzel as a groovy 1970s chick who lives in a tower block! These are classic fairy tales for a modern audience.
This lovely twist on classic fairy tales is bound to become a classic as well. The stories are great fun, and David Roberts' illustrations are full of movement and whimsy.
---
WAYS TO SAY I LOVE YOU, by Marilyn Singer and Alette Straathof, words & pictures; Illustrated edition, Oct. 20, 2020, Hardcover, $18.85 (ages 3-5)
From snuggling garter snakes to big, cozy bear hugs, this book in verse shares how animals we'd expect, and some we wouldn't, express affection for each other. Each animal interaction is compared with a similar human one, in blended illustrations showing that we are not so different from our animal neighbors.
Simple text paired with stylized illustrations make this a charming read.
---
THE WORLD MADE A RAINBOW, by Michelle Robinson and Emily Hamilton, Bloomsbury Children's Books, Oct. 13, 2020, Hardcover, $17.99 (ages 3-6)
Inspired by the rainbows that children across the world have been creating and displaying in their windows, The World Made a Rainbow is beautiful story with a hopeful message of staying connected to the people we love. A donation for every hardcover copy sold will be made to Save the Children (R).

The World Made a Rainbow is a story to remind us that light can't shine without dark, rainbows can't color the sky without rain, and the world is always full of hope and possibility, even when we feel lost and alone.
This sweet book helps little ones identify and understand emotions.
---
KEEP AN EYE ON IVY, by Barroux, Thames & Hudson; 1st edition, Nov. 10, 2020, Hardcover, $18.95 (ages 3 and up)
Sometimes we are lucky enough to receive a gift that exceeds all the rest and Ivy is one of those gifts! Ivy is a plant, but not just any a plant, an exotic one that needs care and attention every day. Hopefully, on Monday when the family is away, our sister can take care of Ivy. On Tuesday, our sister has disappeared, and our grandfather takes care of Ivy. On Wednesday, when our sister and grandfather have both disappeared, our grandmother takes care of Ivy. Day after day, Ivy grows bigger and bigger, while the house becomes more and more empty . . .
Bold colors and a surprise pop-up make this one a treat.
---
AGES 4 AND UP
As a young girl, Frances Perkins was very shy and quiet. But her grandmother encouraged Frances to always challenge herself. Frances realized she had to make her voice heard, even when speaking made her uncomfortable, and use it to fight injustice and build programs to protect people across the nation. So when newly-elected President Franklin Delano Roosevelt finally asked Frances to be the first female Secretary of Labor and help pull the nation out of the Great Depression, she knew she had to walk through that open door and forward into history.
I had never heard of Frances Perkins prior to reading this book. She was an amazing woman who accomplished so much in a time when women were supposed to stay at home and be quiet. Beautiful illustrations are paired with smooth text in this fantastic picture book.
---
Anna Smith Strong (1740–1812) was a fearless woman who acted as a spy for George Washington during the Revolutionary War. Recruited by Washington's spymaster, Major Benjamin Tallmadge, she joined the Culper Ring, a group of American spies. General Washington placed a huge amount of trust in his spies, and Anna helped pass him important messages at a great risk to herself and her family. One of her cleverer devices was to hang laundry on the line in a planned fashion so that other spies could read the "message." The book includes an author's note, a bibliography, an index, and a spy code so kids can get involved in the action.
This fascinating picture book is an enjoyable read that brings to life a little-known piece of American history. Vibrant illustrations are full of movement and emotion.
---
WHAT MISS MITCHELL SAW, by Hayley Barrett and Diana Sudyka,  Beach Lane Books, Sept. 3, 2019, Hardcover, $17.99 (ages 4-8)
Every evening, from the time she was a child, Maria Mitchell stood on her rooftop with her telescope and swept the sky. And then one night she saw something unusual—a comet no one had ever seen before! Miss Mitchell's extraordinary discovery made her famous the world over and paved the way for her to become America's first professional female astronomer.
This is a WOW book. Diana Sudya's amazing illustrations — particularly those spreads of Miss Mitchell in the night sky — immediately draw you in. It's a pleasure to read aloud and a joy to look at.
---
THE BIG BOOK OF BLOOMS (THE BIG BOOK SERIES), by Yuval Zommer, Elisa Biondi, et al., Thames & Hudson; 1 edition, May 5, 2020, Hardcover, $19.95 (ages 4 and up)
The Big Book of Blooms introduces children — and the adults in their lives — to flowering plants from around the world.
The book opens with sections on flower families, flower anatomy, pollinators, flower colors, and flower powers. What follows are full-page spreads featuring flora and their various habitats. It also covers endangered flowers and carnivorous and poisonous flowers. And hidden in 15 places throughout the book is a golden bulb.
You may recognize Yuval Zommer's distinct style from The other books in Thames & Hudson's The Big Book Series (The Big Book of Blue; The Big Book of Bugs; The Big Book of Birds). And like Zommer's other books, The Big Book of Blooms is bold, brilliant and beautiful. Glorious illustrations are paired with snippets of informative text sprinkled throughout, making it a joy for readers young and old.
---
A tiny moth aspires to big dreams in Duncan Beedie's Molly's Moon Mission.
Molly the moth loves her home and her family, but she yearns for adventure. So by day Molly helps her mother, and by night she prepares for her space mission — to the moon! But nobody Molly meets believes that a little moth can make it all the way to the moon. It's no easy feat for a moth to fly so far, but luckily Molly has no intention of giving up on her dream! 
Molly's Moon Mission is a lovely story that encourages readers to not only have dreams but to work toward making them a reality. Beedie's illustrations are both endearing and humorous, making this book an overall treat.
---
In the rhyming style of "The House That Jack Built," this poem about the care and specificity that Carolina wrens put into building a nest is at once tender and true to life. Papa and Mama Wren gather treasures of the forest, from soft moss for a lining to snakeskin for warding off predators. Randi Sonenshine's lilting stanzas, woven with accurate and unexpected details about Carolina wrens, and Anne Hunter's gentle, inviting illustrations reveal the mysterious lives of these birds and impart an appreciation for the wonder of the life cycles around us. Back matter includes a glossary and additional interesting facts about wrens.
When you look at the cover of The Nest That Wren Built, you know you want to read the book. Inviting illustrations paired with rhythmic text make this book a joy to read. At our house, we've easily drawn comparisons to the at-least seven mama robins who are nesting near our house.
---
JOEY: THE STORY OF JOE BIDEN, by Jill Biden, Kathleen Krull, et al., Simon & Schuster/Paula Wiseman Books, June 30, 2020, Hardcover, $19.99 (ages 4-8)
Joe Biden will become the 46th U.S. president in 2021 Joey: The Story of Joe Biden explores his childhood.
Joey grew up with a stutter. It was as if his mouth couldn't keep up with his mind. He was bullied but never let that keep him down. He learned to plan ahead, memorizing passages in class before his turn to read aloud and having some sort of small talk ready for neighbors.
As he grew older, Joe's hard work paid off. In college, Joe once again found himself in leadership positions. In 1972, 29-year-old Joe threw himself into public service and ran to become a senator from Delaware. Not only did he win, but he was reelected five times. He followed that up with an eight-year stint as U.S. vice president, and in 2019 announced his candidacy for U.S. president.
Written by Jill Biden, Joe Biden's wife, Joey has a personal feel. The book includes family stories that are heartfelt and ring true. The book is less about politics and more about the events that shaped the presidential hopeful.
---
YOU MATTER, by Christian Robinson, Atheneum Books for Young Readers, June 2, 2020, Hardcover, $17.99 (ages 4-8)
Christian Robinson's book centers on the basic idea that you matter. No matter how big, No matter how small. Who or what you are. You matter.
The publisher's suggested age range for this book is 4-8. I disagree. I'd start reading this one young. A 2-year-old would love the Eric Carle-esque illustrations with their bold colors and interesting textures. And the text is simple enough that even though they won't understand the context within the pages, they'll understand the broader meaning.
There's a reason You Matter is a New York Times Bestseller. And it's not just because of its coincidental release date. Its universal message is one that everyone wants to share with their children and to hear applied in their own lives as well.
---
Marjory didn't intend to write about the Everglades but when she returned to Florida from World War I, she hardly recognized the place that was her home. The Florida that Marjory knew was rapidly disappearing —t he rare orchids, magnificent birds, and massive trees disappearing with it.

Marjory couldn't sit back and watch her home be destroyed — she had to do something. Thanks to Marjory, a part of the Everglades became a national park and the first park not created for sightseeing, but for the benefit of animals and plants. Without Marjory, the part of her home that she loved so much would have been destroyed instead of the protected wildlife reserve it has become today.
Author Sandra Neil Wallace's writing has an almost conversational tone to it, making it easy to read and easy to understand. She deftly moves through time while hitting on and emphasizing key moments in Marjory's life.
Illustrator Rebecca Gibbon's style perfectly captures moments in time with a stylized vibrancy that practically pops off the page.
---
IN THE HALF ROOM, by Carson Ellis, Candlewick; Illustrated edition, Oct. 13, 2020, Hardcover, $16.99 (ages 4-8)
The half room is full of half things. A half chair, a half cat, even half shoes—all just as nice as whole things. When half a knock comes on half a door, who in the world could it be? Caldecott Honor winner Carson Ellis explores halves and wholes in an ingenious and thought-provoking picture book. Ink and gouache illustrations featuring wry detail and velvety textures conjure a dreamlike mood while leaving space for imagining.
You can't go wrong with a Carson Ellis picture book, and In the Half Room is no different. From the cutout on the cover to a visitor later on, there are lots of surprises throughout. This is a book that makes little ones think beyond what they know.
---
MUSIC IS . . ., by Stephen T. Johnson, Simon & Schuster/Paula Wiseman Books; Illustrated edition, Oct. 27, 2020, Hardcover, $24.99 (ages 4-10)
Experience ten different types of music—classical, Latin, jazz, country, heavy metal, hip-hop, rock and roll, rhythm and blues, electronica, pop, and a surprise finale. Unfolding through an inventive accordion form is a masterful concert of playfully crafted singsong text in harmony with delightfully whimsical art. On the reverse side is a rich, in-depth glossary for each genre, sure to be a wonderful resource for all ages.
This innovative picture book is a great introduction into music's different genres. Bouncing text imitates the styles, giving readers a sense of what they truly sound like.
---
Discover the magical world of Carnival of the Animals in this musical reimagining of this celebrated suite for children – push the button in each breathtaking scene to hear the vivid sound of an orchestra playing from Camille Saint-Saëns' score.

One day, two brothers discover a magical animal kingdom behind their bookcase. They are greeted by the royal lion with his shaggy mane; ask for directions from an old lonely tortoise; take a ride on some lumbering elephants; topple a skeleton of dinosaur bones; and swim among a school of shimmering fish. If only they could take them all home…
I'm a huge fan of the Story Orchestra series. We have a number books from the series, and not only does my daughter love them, she actually is able to identify the music in other settings. Carnival of the Animals includes 10 extracts including The Swan, Aquarium and March of the Lion. This is a book the whole family will enjoy.
---
AGES 5 AND UP
Following World War II, Germany was divided into two sides — east and west. When Peter Wetzel was a child, he knew he lived on the wrong side of Germany. His parents knew it, too. But they had a plan — under the cover of night, they were going to fly to East Germany in a hot air balloon.
On their third attempt, the Wetzel and Strelzyk families successfully cross over to free Germany. When writing Flight for Freedom, author Kristen Fulton not only exchanged several emails with Peter's father, Gunter Wetzel, but met with him face-to-face as well. She was able to retrace the Wetzel's escape. This familiarity with the subject matter rings true throughout Flight for Freedom.
Flight for Freedom is written for 5- to 8-year-olds, and the text reflects that. And telling the story from Peter's viewpoint adds to the tension and immediacy. Torben Kuhlmann's illustrations further enhance the story. Also included are detailed maps of the Wetzel family's escape route (front and back inside covers), diagrams of their hot air balloon, further information on prior escape attempts, and information about the Cold War and the Berlin Wall.
---
In a small New England town lives Emily Dickinson, a girl in love with small things and in her words, she takes wing. From celebrated children's author Jennifer Berne comes a lyrical and lovely account of the life of Emily Dickinson: her courage, her faith, and her gift to the world. With Dickinson's own inimitable poetry woven throughout, this lyrical biography is not just a tale of prodigious talent, but also of the power we have to transform ourselves and to reach one another when we speak from the soul.
Any picture book about Emily Dickinson must live up to her poetry. This one more than fits the bill. Becca Stadtlander's illustrations are gorgeous. From expansive spreads to single-page images, each illustration is intricately imaginative. Jennifer Berne's text is equally lovely. Children are introduced to Dickinson's poetry throughout, making this entire book a triumph.
---
Young Benjamin Franklin wants to be a sailor, but his father won't hear of it. The other trades he tries — candle maker, joiner, boot closer, turner — bore him through and through. Curious and inventive, Ben prefers to read, swim, fly his kite, and fly his kite while swimming. But each time he fails to find a profession, he takes some important bit of knowledge with him. That tendency is exactly what leads him to become the astonishingly versatile genius we remember today.
A Ben of All Trades was inspired by Franklin's own autobiography, which he wrote at age 65. Franklin's book didn't provide many details or description, and that's where author Michael J. Rosen stepped in. His witty text and detailed illustrations by Matt Tavares make the famous Founding Father not only relatable but real. Two pages of end notes add greater depth and allow for further exploration.
---
Butterflies Belong Here: A Story of One Idea, Thirty Kids, and a World of Butterflies, by Deborah Hopkinson and Meilo So, follows an immigrant girl who is adjusting to life in America.
The girl knows a lot about caterpillars and butterflies, because a butterfly book helped her learn English. In the summer, the girl looks and looks for monarchs, but can't find one. There isn't any milkweed.
With the encouragement of her school librarian, the girl does more research. That research report becomes a class project, and suddenly, the girl finds herself becoming a leader. The class project takes on a life of its own, and soon, the entire community is involved.
Butterflies Belong Here is a story about perseverance and opening your heart. From the first page, you know there's something special about this book. Meilo So's gorgeous illustrations pair perfectly with Deborah Hopkinson's insightful text.
---
A Korean girl and her grandmother bond over fears and love of the natural world in The Ocean Calls: A Haenyeo Mermaid Story, by Tina Cho and Jes X. Snow.
Dayeon wants to be a haenyeo just like Grandma. The haenyeo dive off the coast of Jeju Island to pluck treasures from the sea–generations of Korean women have done so for centuries. To Dayeon, the haenyeo are as strong and graceful as mermaids. To give her strength, Dayeon eats Grandma's abalone porridge. She practices holding her breath while they do the dishes. And when Grandma suits up for her next dive, Dayeon grabs her suit, flippers, and goggles. A scary memory of the sea keeps Dayeon clinging to the shore, but with Grandma's guidance, Dayeon comes to appreciate the ocean's many gifts.
The Ocean Calls is unlike any picture book I've read. From beginning to end, there's a serenity that surrounds, even when Dayeon is nervous. That comes in part from the gorgeous illustrations by Jess X. Snow paired with Tina Cho's fluid text.
---
IF YOU COME TO EARTH, by Sophie Blackall, Chronicle Books; Illustrated Edition, Sept. 15, 2020, Hardcover, $18.99 (ages 5-8)
If You Come to Earth is a letter to visitors from outer space. It explains how there are more than 7 billion people on Earth, but everyone is different. We live in all kinds of homes, in all kinds of places and in all kinds of families. The one thing that connects us is our beautiful planet.
If You Come to Earth was inspired by the thousands of children Sophie Blackall met during her travels in support of UNICEF and Save the Children. It's engaging and thoughtful and captures the essence of what it means to be human.
This visually arresting picture book features children from all walks of life and creatures in their environments. If You Come to Earth is a book for children. It's also a book for adults. I can't help but think that if it were required reading, our society would be better for it. Blackall's illustrations are delightfully detailed and bring her sparse text to life. This is one of the best picture books of 2020.
---
WHO'S WHO IN THE MARVEL UNIVERSE, by Disney Storybook Art Team, Marvel Press; Illustrated edition, Aug. 4, 2020, Hardcover, $12.99 (ages 5-8)
The Marvel Universe is full of so many amazing heroes and villains-how do you keep track? Enter the Who's Who in the Marvel Universe character storybook, featuring over 40 key players every Marvel fan needs to know! Readers can get to know the ins-and-outs through three sections: Spider-Man, Guardians of the Galaxy, and the Avengers. Side-bar profiles are paired with adventure stories to introduce each character and their place in the universe.
---
Deep in the forest, in the warm-wet green, one almendro tree grows, stretching its branches toward the sun—in and under those branches, all sustained by one tree, thousands of rainforest creatures are living.

Count each one as life multiplies again and again in this book about the rainforest's abundant beauty, and the wonderful multiplicity of life.
This beautifully illustrated picture book features animals and math in a lovely and accessible way. This is a great option for the animal lovers in your life.
---
Join the dynamic duo as they learn to appreciate their differences: Fox and Chick don't always agree, but Fox and Chick are always friends.

With sly humor and companionable warmth, Sergio Ruzzier deftly captures the adventures of these seemingly opposite friends.
This is an always timely read that kids can easily relate to and will laugh out loud with. The graphic novel feel is inviting and helps move the action forward.
---
AESOPS FABLES, by Susie Brooks and Amanda Enright, Silver Dolphin Books, Hardcover, $17.99 (ages 5-8)
This playful retelling of Aesop's classic tales merges morals with humour and imagination! Brilliantly brought to life by Susie Brooks' magical, highly-engaging text and Amanda Enright's charismatic illustrations, it includes the following tales: The Hare and the Tortoise, The Town Mouse and the Country Mouse, The Frog and the Ox, The Fox and the Grapes, The Grasshopper and the Ant, The Lion and the Mouse, The Fox and the Crow. Ideal for bedtime stories!
Sweet illustrations bring these classic tales to life.
---
Journey back in time to the Triassic, Jurassic and Cretaceous periods with Illumisaurus, coming face-to-face with prehistory's most spectacular dinosaurs, plants and animals. Bring this lost world to kaleidoscopic life with your magic three-color viewing lens (included). With your lens in hand, discover amazing places and the creatures that roamed them many millions of years ago.
We have another book in this series — Illuminatomy — and love it! These seriously are the coolest books. My 6-year-old loves it, and so do I. In addition to the spectacular images seen through the three-color lens, there's detailed information on prehistoric plants and animals as well as dinosaur species guides.
---
ON ACCOUNT OF THE GUM, by Adam Rex, Chronicle Books; Illustrated edition, Oct. 6, 2020, Hardcover, $17.99 (ages 5-8)
How do you get gum out of your hair—a pair of scissors? Butter? The cat? Call your aunt, she'll know what to do. She doesn't? Try the fire department!

With each page turn, this situation—relatable to any family—grows stickier and more desperate.
This hilarious picture book follows the If You Give a Mouse a Cookie format, with each element building upon another. The over-the-top story and illustrations are sure to make readers smile.
---
AGES 6 AND UP
BENEATH THE WAVES, by Lily Murray and Helen Ahpornsiri, Big Picture Press, May 12, 2020, Hardcover, $22 (ages 6-9)
Come along on a journey through the oceans of the world in this beautiful book with illustrations made entirely from hand-pressed plants. Artist Helen Ahpornsiri transforms silky seaweeds, feathery algae, and bright coastal blooms into playful penguins, scuttling crabs, and schools of silvery sharks. Turn the page to explore each corner of the ocean, from hidden rock pools to the darkest depths. Marvel as plants transform into marvelous creatures, and discover the magic and beauty that lies beneath the waves.
You might remember Helen Ahpornsiri from 2018's Drawn from Nature. I consider Beneath the Waves to be an equally beautiful companion book. Again, each illustration is created from preserved flora and fauna. In this case, the art is made from seaweed, coastal flowers and a few garden plants. This book is one both grownups and children will be drawn to.
---
BUGS EVERYWHERE, by Lily Murray and Britta Teckentrup, Big Picture Press, April 7, 2020, Hardcover, $16.99 (ages 6-9)
There are bugs everywhere! Some of them live in jungles, some of them underwater, and some certainly live in your house. And all of them are fascinating! Britta Teckentrup's work will enthral budding entomologists. This nonfiction volume from a much-loved illustrator is filled with weird and wonderful facts about all kinds of creepy-crawlies.
 From its gold-embossed ladybug cover to its ant-lined back and front covers, Bugs Everywhere is a delight. Detailed drawings of insects are sure to draw readers in, and the fascinating facts are sure to keep them coming back. I had to hide this book from my daughter so I could review it before she took it as her own.
---
Ariel is a spirit of the air who can fly, ride on clouds, and glow bright as fire. When his master, the magician Prospero, is overthrown by his brother as the Duke of Milan, Ariel joins Prospero and his baby daughter on a journey that will bring them to a beautiful island ruled by the monstrous Caliban — and to a series of events that lead to a vengeful storm, confounding spells, true romance, and a master who is persuaded to give his transgressors a second chance.
Shakespeare's work can feel very foreign to young readers. The language and time so different from our own. But in this version, the story remains true, but the text more accessible. The true star of this book, though, are Jane Ray's amazing illustrations. Their stylized beauty feel like sets for a stage. This one is a delight.
---
A TRAIN JOURNEY, by Gérard LoMonaco, Thames & Hudson; 1st edition, Nov. 10, 2020, Hardcover, $24.95 (ages 6-8) 
In A Train Journey, readers will meet four iconic trains that changed the history of railroad. Each of the four picturesque pop-ups inside depicts a historic train―George Stephenson's Rocket, one of the earliest steam locomotives; the Elevated Railway in Brooklyn; the Flying Scotsman; and the Japanese bullet train or Shinkansen―in its own environment.
This beautiful pop-up book accordions out, allowing readers to see all the trains side-by-side. The back side is full of interesting information.
---
No one around seems to appreciate what Treehorn's going through, when he starts shrinking after playing a strange board game. His parents are busy, his friends laugh at him, and he even gets sent to the Principal's office for shrinking. Or was it shirking?

Clearly, the adults in his life have no clue and can't help. In the end, Treehorn figures it out on his own, and all is well. …  At least until he turns green.
Plentiful text and stylized illustrations make this a good choice for more advanced readers and readers with longer attention spans. There's a lot to love about this book, especially for fans of Edward Gorey.
---
A NATURAL HISTORY OF FAIRIES, by Emily Hawkins and Jessica Roux, Frances Lincoln Children's Books; Illustrated edition, Sept. 29, 2020, Hardcover, $30 (ages 6-10)
This illustrated natural history of fairies was compiled in the 1920s by the botanist Professor Elsie Arbour for her niece. Featuring a gold foil–embossed cloth cover, a ribbon marker, and sprayed gold edges, this volume is filled with colorful sketches and precise notes detailing the secret life of fairies and their important role in the natural world.

Inside, you will discover the wide and wonderful array of different species of fairies around the globe and explore where and how they live. Delight in this hidden world as you learn all about: The anatomy of a fairy; The life cycle of a fairyl Clever fairy camouflage; Fairies around the world; and Fairy habitats.
I had to hide this gorgeous picture book from my daughter, because I know once she got hold of it, I'd never get it back. I grew up loving the Gnomes picture book by Wil Huygen and Rien Poortvliet. This holds the same magical appeal. I can see this becoming a favorite of children and adults alike.
---
SOUND: SHHH . . . BANG . . . POP . . . BOOM!, by Romana Romanyshyn and Andriy Lesiv, Chronicle Books, Oct. 6, 2020, Hardcover, $19.99 (ages 6 and up)
Intriguing, informative, and endlessly fascinating, a book that makes visible that which we otherwise only hear and feel as vibrations: SOUND.

Award-winning authors and artists Romana Romanyshyn and Andriy Lesiv achieve a remarkable fusion of the scientific exploration of the phenomenon of sound with a philosophic reflection on its nature that will appeal to inquisitive children looking to learn more about science and nature. A stunning sequence of rich infographics provoke the reader to listen . . . learn . . . and think. Whether it's hearing noise, music, speech . . . or silence, no one will come away from these pages without experiencing sound with new ears and a fresh understanding.
---
LETTERS FROM SPACE, by Clayton Anderson and Susan Batori, Sleeping Bear Press; Illustrated edition, Sept. 15, 2020, Hardcover, $16.99 (ages 6-8)
Astronaut Clayton Anderson spent 152 days in space aboard the International Space Station–and while he didn't mail dozens of letters back to Earth (they would have burned up on reentry!), imagine if he did! These letters from space are full of weird science, wild facts, and outrageous true stories from life in space. Backmatter includes even more interesting information on space, astronauts, and living among the stars.
Wacky letters and illustrations make this a delight from beginning to end. This is a fun choice for fans of science, space or readers who just like to giggle.
---
AGES 7 AND UP
MARVELOUS MAGICIANS, by Lydia Corry, Thames & Hudson, Sept. 15, 2020, Hardcover, $19.95 (ages 7 and up)
Marvelous Magicians, by Lydia Corry, is a bold introduction to the magicians who shaped modern magic.
A great magician never reveals their secrets, but Marvelous Magicians reveals the names of eight groundbreaking illusionists, both famous and lesser-known, who shaped modern magic. 
All you have to do is look at the cover of Marvelous Magicians to know that it's something special. Bold colors pop against a black background, calling for readers to look inside the cover.
While this book is sure to be a hit with magic aficionados, it has a broader appeal. Lydia Corry's vibrant illustrations not only show detail but bring awe to each effect as well. Though geared for children, I can see this as a gift for all ages, and I would happily put it on display as a coffee table book, too.
---
Take a trip to the ends of the earth and discover the extreme environments of the North and South Poles. Find out which animals live where, what the weather and climate is like and the effect global warming is having.

Beginning with the North Pole, the book introduces the geography and climate of the Arctic. And then flip the book over and you arrive in the South Pole.
This is such a cool book! I would have loved it as a child, and my 6-year-old already does. Bold illustrations transport you to the wilderness, and digestible snippets of text make it easy to read.
---
50 Maps of the World is a fun addition to the bookshelf of any young travel lover, map maestro, or geography genius. Spanning the world from Spain to Singapore, Colombia to Canada, Turkey to Tanzania, discover all you need to know about some of the most awesome places on Earth. Natural wonders, bustling metropolises, storied pasts, and cultural icons are all presented in expert detail by a pair of experienced explorers.
50 Maps of the World Begins with a brief introduction and tips for exploring the book. Each map features a welcome box; people of not; country icons; key facts; spotlight; and moments to remember. Stylized illustrations paired with short snippets of information that are easy to digest.
---
AGES 8 AND UP
BLAST OFF INTO SPACE LIKE MAE JEMISON, by Caroline Moss and Sinem Erkas, Frances Lincoln Children's Books, March 3, 2020, Hardcover, $15.99 (ages 8-12)
When Mae Jemison was a little girl, she loved science, dancing, and dinosaurs. She watched the Apollo moon landings and wondered why none of the astronauts were women—and she just didn't buy the answers she was given… Discover how Mae Jemison became the first African American woman in space in this true story of her life. Then, learn 10 key lessons from her work you can apply to your own life.
Mae Jemison is a favorite person in our house. And even though my daughter is only 6, she was immediately drawn to this book. Fairly short chapters are enhanced by intricate cut-paper illustrations that are as out of this world as Mae when she was floating in space. It's a lovely mix of real life and imaginative art.
---
WORK IT, GIRL: MICHELLE OBAMA: BECOME A LEADER LIKE, by Caroline Moss and Sinem Erkas, Frances Lincoln Children's Books, March 3, 2020, Hardcover, $15.99 (ages 8-12)
Michelle Obama grew up on the South Side of Chicago in a little bungalow with a close-knit family. She loved going to school, and she knew that, one day, she would use her voice to empower other young girls, just like her. Young Michelle was a brilliant student and wonderful daughter. With hard work and talent, she propelled herself into the universities of Princeton and Harvard. She qualified as a lawyer and life was going smoothly…Then she met a guy named Barack. Discover how Michelle became an inspirational leader, FLOTUS, lawyer, author, and role model in this true story of her life.
I can't wait to read this one with my daughter. Michelle Obama is a great role model for young girls — smart, loving and passionate. Like the Mae Jemison book above, this Michelle Obama book is beautifully illustrated with cut-paper art.
---
FLOWER POWER: THE MAGIC OF NATURE'S HEALERS, by Christine Paxmann and Olaf Hajek, Prestel Junior, April 14, 2020, Hardcover, $19.95 (ages 8-12)
Flower Power pairs artist Olaf Hajek's paintings with author Christine Paxmann's engaging text.
Each flower gets its own spread with a full-page illustration that is full of detailed whimsy. The images are full of insects, birds, fruit, people, and even fairytales.
Flower Power is one of those books that parents will buy for their children but keep for themselves. It's great for budding gardeners/naturalists and experts alike. It's a book I would happily leave out for company to peruse, and I would love to hang some of the illustrations on my wall.
---
Pop-Up Volcano! by Fleur Daugey, Tom Vaillant, Bernard Duisit., Thames & Hudson; Illustrated edition, Aug. 4, 2020, Hardcover, $29.95 (ages 6-8)
Volcanoes explode into your living room in the bold Pop-Up Volcano! by author Fleur Daugey, illustrator Tom Vaillant, and paper engineer Bernard Duisit
The book unfolds with alternating pop-up and more heavily illustrated spreads.
Bold color throughout draws readers in, especially the neon orange utilized in the pop-ups.
Pop-Up Volcano! is one of the coolest pop-up books I've come across. Not only are the 3D images detailed and exciting, the accompanying text is informative and engaging. This is yet another good supplement for homeschool where kids can learn without feeling like their "learning."
---
Welcome to the world of Sleuth & Solve: History, a collection of 20 clever mysteries where the clues are in the details and crafty twists put readers' wits to the test. These mind-bending mini-mysteries transpire across eras and civilizations, from the Middle Ages to the Renaissance to the French Revolution and beyond. Sleuth & Solve encourages readers of all ages to practice deduction, inference, and logical reasoning to crack each case—and develop critical thinking skills at the same time.

This is a great idea. The book doesn't have to be read all at once, and the clues can be solved solo or as a group. Fun illustrations bring the entire concept to life.
---
GAMES AND PUZZLES
Play and learn with Masha and all of her friends through this interactive wooden puzzle. Each piece fits into a corresponding slot that mirrors the classic arrangement of Matryoshka dolls. After all the pieces are assembled, the result is a group of friends that can stand on their own. This unique format reinforces early learning concepts like first words, counting, size, sequencing, and hand-eye coordination.
This adorable set is worth purchasing for display purposes on its own. Add in reading, counting and fine motor skills, and this truly becomes a gem. These sweetly illustrated nesting dolls are something little ones are sure to enjoy.
---
Piece It Together Family Puzzle: Owl Aboard! is a 60-piece puzzle the entire family can enjoy. Larger, simpler pieces make up half of each charming scene, while smaller pieces make up the other half.
The beauty of this puzzle, is that it's something the entire family can enjoy. Yes, it will be easy for older children/teens/adults, but it will allow little ones to feel like they're part of the activity and give them something harder to look forward to. Owl Aboard is sweetly illustrated and offers lots of family fun.
---
Original playing cards from internationally beloved author-illustrator Taro Gomi. From Crazy Eights to War to matching games, the possibilities for play are endless. These cards feature an original cast of energetic characters in Taro Gomi's signature style.
Playing cards offer so much fun for little kids. From counting to Go Fish, these offer hours of fun. The set includes a complete card deck and 1 instruction card. I really like the storage tin with sliding lid. It's so much easier for a child to handle than a cardboard box! These make a great stocking stuffer.
---
BUILD A SKYSCRAPER, by Paul Farrell, Pavilion Children's, Sept. 8, 2020, Building Card Kit, $19.95 (ages 5 and up)
Everything needed to create an inner-city masterpiece is included: glass, concrete, windows, walls, roofs, and more. The pack contains 64 cards (4 x 2¾") of a variety of graphic designs. Clever paper engineering means cards can be slotted together, building up and out in any direction. Also included is a short booklet with descriptions of the card designs and suggestions of stacking methods. The instructions show how to build a skyscraper, but leave scope for creating imaginative constructions. Renowned illustrator Paul Farrell has designed these cards in a cool, graphic style, turning the image of a skyscraper into a work of art.
The genius behind these cards is that you can design whatever skyscraper you want time and time again. These fun cards are perfect for kids ages 5 and up. Younger children would enjoy them as well, but they probably won't hold up to rough play.