THE SNOW DANCER, by Addie Boswell and Mercè López, Two Lions, Dec. 1, 2020, Hardcover, $17.99 (ages 3-7)
The Snow Dancer, written by Addie Boswell and illustrated by Mercè López, is a beautiful blend of imagination and movement.
Sofia wakes up to a quiet, white world — it's a snow day! She makes her way outside to the neighborhood park, where a field awaits her, white and shining and open. It isn't long before the rest of the neighborhood wakes its sleepy head — and the other kids make their way to the park, scattering all of Sofia's beautiful silence. But with the help of a new young friend, Sofia is ready to show everyone what a snow dancer can do on a perfect day like this. —Synopsis provided by Two Lions
The Snow Dancer is a jubilant read. Everything about it celebrates the childhood delight that comes with a new snow. Even in that moment when the quiet is broken, there is joy.
Addie Boswell's tender story unfolds with warm text that evokes the sounds and feelings of winter.
It's clear Mercè López has a knowledge of dance. The dynamic movement. The angles. The tilt of the head. The flick of the fingers. They all ring true to anyone who has ever taken a ballet class. But it's not just the dance illustrations that shine. The facial expressions and texture of snow give the story an additional emotional punch.
This lovely read is one of my favorite recent picture books. It's published by Amazon's children's books imprint, Two Lions, and as of this post's publication, is being offered at the price of $10.99.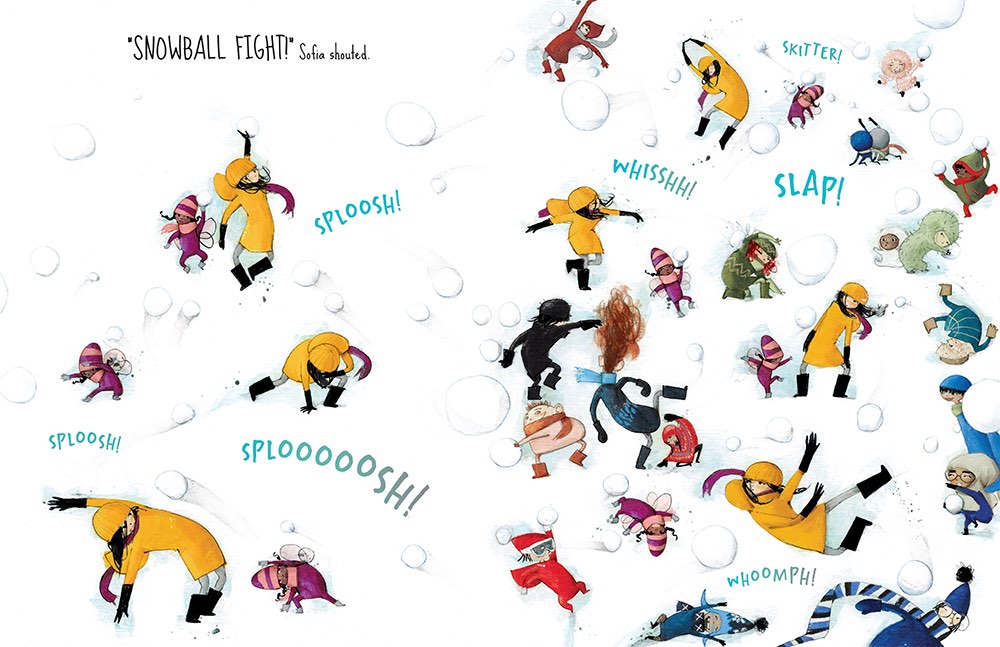 ---
About the creators
Addie Boswell
is an artist and writer living in Portland, Oregon. She specializes in murals and picture books that focus on family, community, and the creative power of children. Her recent titles include 
Go, Bikes, Go!
 and 
Go, Boats, Go!
, both illustrated by Alexander Mostov, and 
Five on the Bed,
 which she both wrote and illustrated. Her debut book, 
The Rain Stomper
, illustrated by Eric Velasquez, was the winner of the Oregon Spirit Award. Learn more about the author at 
www.addieboswell.com
.
Mercè López
is an artist from Barcelona, Spain. She holds a degree in illustration from Llotja Art School in Barcelona. Her recent title 
Lion of the Sky: Haiku for All Seasons 
by Laura Purdie Salas received multiple starred reviews and was named a Center for Children's Books Gryphon Honor Book, an NCTE Notable Poetry Book, a 
Kirkus 
Best Picture Book, and a 
Parents 
Magazine Best Kids' Book, among other accolades. Learn more about the artist at 
www.mercelopez.com
. And on Instagram: 
mercelopez.
© 2020, Cracking the Cover. All rights reserved. Unless otherwise noted, all books — digital and physical — have been provided for free by publishers in exchange for honest and unbiased reviews. All thoughts and opinions are those of the reviewer.