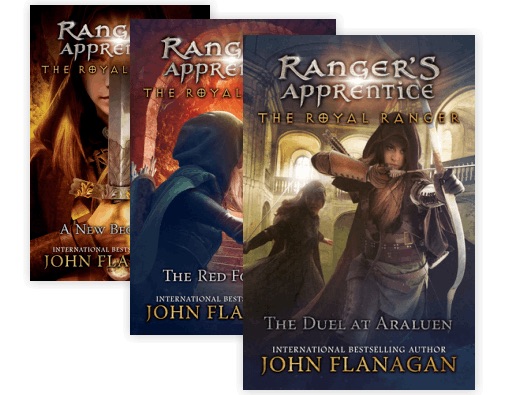 If you're looking for the perfect gift for your tween, look no further than John Flanagan's Royal Ranger series for readers ages 10 and up.
The Royal Ranger series is a spinoff from Flanagan's Ranger's Apprentice series, which follows skilled trackers, archers and warriors in the service of the King of Araluen. The apprentice is Will, an orphan who is mentored by Halt. Will is also joined by his best friend, Horace.
The Royal Ranger series introduces readers to a new apprentice; one with a royal background. (Scroll down to read synopses of the four books in the series — A New Beginning, The Red Fox Clan, Duel at Araluen, and The Missing Prince.)
At the center of the Royal Ranger is Princess Madelyn. Maddie thinks she can get away with anything, including sneaking in and out of the castle whenever she wants. Her parents never planned on Maddie becoming a Ranger, but it seems that's the only way she'll learn discipline and to think of others before herself.
Even as a privileged princess, Maddie is a likeable character, and she becomes someone you really want to root for over the course of the series so far. Will becomes more of a supporting player, but there's still depth to his character.
It's been more than a decade since I was first introduced to Flanagan's Ranger's Apprentice. I immediately fell in love with the books and gobbled them up.
Fast forward to this fall when I learned about the Royal Ranger spinoff, and I fell in love once again. These are the type of book that you open and never want to put down. Flanagan's writing style is easy and familiar. Though the books are set in a world similar to medieval Europe, they're accessible and forego pretentious prose.
My one complaint is that Book 4 feels short. Because it is. Like Books 2 and 3, The Missing Prince is only half of a story arc, and I want the whole thing! Fingers crossed the next installment will come out soon.
Though it's been a number of years since reading the original series, I never once felt lost in The Royal Ranger. There's enough recap to give background, and certainly reading all the books would add to the overall feel, but The Royal Ranger series does stand on its own. However, don't be surprised if readers ask for the original series after getting a taste of Will's previous adventures.
Will Treaty has come a long way from the small boy with dreams of knighthood. Life had other plans for him, and as an apprentice Ranger under Halt, he grew into a legend—the finest Ranger the kingdom has ever known. Yet Will is facing a tragic battle that has left him grim and alone. To add to his problems, the time has come to take on an apprentice of his own, and it's the last person he ever would have expected: Princess Madelyn, the daughter of Horace and Princess Cassandra. Will has to win the trust and respect of his difficult new companion—a task that at times seems almost impossible. —Synopsis provided by Puffin Books
---
After passing her third-year assessment as a ranger's apprentice, Maddie is called home to Castle Araluen. Forced to keep her ranger training a secret, Maddie feels trapped by her role as a princess of the realm and longs to find a way out. But there are whisperings of a new threat to the kingdom. The mysterious Red Fox Clan, a group of anarchists all donning fox masks, have threatened Castle Araluen and question Princess Cassandra and Madelyn's succession to the throne. Will they succeed in unseating Cassandra and Madelyn and take the throne for themselves? —Synopsis provided by Puffin Books
---
King Duncan and Princess Cassandra are trapped in the south tower of Castle Araluen and under near-constant attack from the Red Fox Clan. Sir Horace and Ranger Commandant Gilan are holed up in an old hill fort, surrounded by the enemy. And Ranger's apprentice Maddie is the only one who can save them all. —Synopsis provided by Puffin Books
---
THE ROYAL RANGER: THE MISSING PRINCE, by John F. Flanagan, Philomel Books, Nov. 3, 2020, Hardcover, $18.99 (ages and up)
Will Treaty and his apprentice, Maddie have been urgently summoned to Castle Araluen. When they arrive, they learn a shocking truth: the Prince of Gallica is missing — and the King of Gallica has asked for help. All reports suggest that the young prince has been taken prisoner by the dangerous and powerful Baron Joubert de Lassigny. King Duncan knows that sending troops to Gallica to rescue the prince could start a war, as could openly helping Gallica resolve internal convict. But there's another way to save the prince: the Ranger Corps.

Soon, Will and Maddie are on the road to rescue the missing prince, disguised as father and daughter jongleurs. But going undercover is dangerous — and the road presents its own hazards. Can she and Will use all their talents to save the prince, or will the arrogant Baron uncover their plans and put their lives, and their kingdom, at risk? —Synopsis provided by Philomel Books
© 2020, Cracking the Cover. All rights reserved. Unless otherwise noted, all books — digital and physical — have been provided for free by publishers in exchange for honest and unbiased reviews. All thoughts and opinions are those of the reviewer.