President's Day has come and gone, but if your kid is anything like mine, it has just served to spark more interest in the men who have led our country. That's where National Geographic Kids' Our Country's Presidents comes in. The 6th edition of this book has been updated to include the winner of the 2020 United States presidential election.
National Geographic presents the men who have led the U.S. in this up-to-date illustrated family, school, and library reference.

 Key features include:

Information about the 2021 president-elect and the 2020 election results as of the publication date
A brand-new thematic spread on the impeachment process and its history
Revised terminology around the language of slavery and analysis of early presidents who benefitted from and relied on enslaved labor
Comprehensive profiles of all the former presidents along with timelines and descriptions of crucial events during their terms
Thematic spreads covering a variety of topics from the history of voting rights to how to write a letter to the president
Full-page portraits, famous quotes, and fascinating facts to help kids get to know each leader

—Synopsis provided by National Geographic Kids
We're big fans of National Geographic Kids books at our house. They're full of photographs and illustrations and compelling information. The format is a mixture of traditional text as well as timelines and smaller, boxed-off snippets of information. This makes the book more accessible for less advanced readers or those who just want to peruse.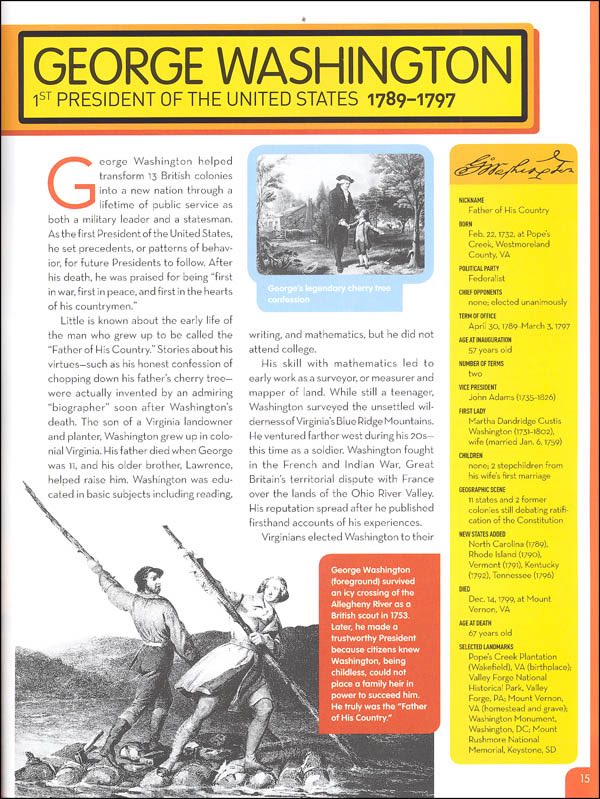 Our Country's Presidents begins with an introduction and section on how to use the book. It's then divided into six sections based on time — The Presidency and How it Grew (1789-1837; From Sea to Shining Sea (1837-1861); A New Birth of Freedom (1861-1897); America Takes Center Stage (1897-1945); Seeking Stability in the Atomic Age (1945-1989); and Pathways for a New Millennium (1989-present)
Each of those sections features multiple-page spreads on the presidents of the time and other important information like the history of the white house; vice presidents; political parties; impeachment proceedings; presidents at war; presidents who have died in office; and the electoral college.
For two years, my 7-year-old has been fascinated with Alice Provensen's The Buck Stops Here: 20th Anniversary Edition, which is a great introduction to presidents. But lately she's been wanting more and has been asking more questions. And she's been eyeing Our Country's Presidents. Even though the suggested age for it is 8-12, her reading is strong enough, and she hasn't let it go. She loves all the images and information.
President Trump and the 2020 election:
Because events of the past four years are still so fresh, this section is the one that will be the most controversial.
People who believe Donald J. Trump actually won the 2020 presidential election will not like this book. Trump contested the election, calling it "rigged." However, On Jan.7, 2021, Trump conceded saying "A new administration will be inaugurated on January 20. My focus now turns to ensuring a smooth, orderly and seamless transition of power."
Because Our Country's Presidents was published Jan. 12, 2021, it does not include the storming of the United States Capitol on January 6, 2021, or the events leading up to it. The section on the election does state that Joe Biden did win while setting "a record for the most presidential ballots ever received."
While some people might call the spread on Trump biased, it actually reads pretty fair. It notes how he approached the office of president in his own way, and continued to remain popular with his supporters. It notes his accomplishments and his failures. Like other presidents, controversies are discussed.
© 2021, Cracking the Cover. All rights reserved. Unless otherwise noted, all books — digital and physical — have been provided for free by publishers in exchange for honest and unbiased reviews. All thoughts and opinions are those of the reviewer.