There once was a girl who liked looking at the night sky. That like turned to love and then to passion. And that passion led to observations that changed the way we look at the universe. The Stuff Between The Stars: How Vera Rubin Discovered Most of the Universe, by Sandra Nickel and Aimée Sicuro, is the story behind the discovery of dark matter.
When Vera Rubin was a girl, she noticed "the stars were stirring, and something bright stirred in Vera too." Vera studied maps of the night sky and observed stars' movement. But when she'd fall asleep, she'd dream about what she'd not seen. "She dreamed about the mysteries between stars."
At 17, Vera went to Vassar College, where she was the only astronomy major in her class. She got married and had children, and continued to ask questions and research. And when Vera came to a conclusion and would present it, other astronomers — all men — said her conclusions were ridiculous.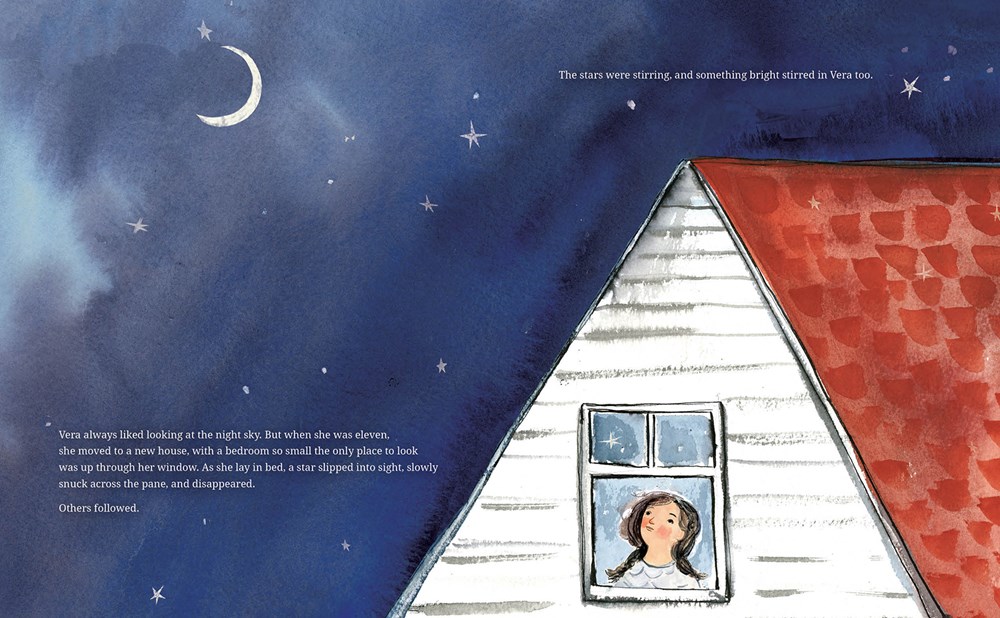 Vera stepped away from harsh words, but couldn't stop herself from asking new questions. She continued to work, earning first a master's degree and then her PhD. Even so, America's most important astronomers ignored her.
Vera kept pushing. She taught astronomy at colleges and government offices in Washington, D.C. Finally, in 1965, she became the first woman hired by the Carnegie Institution. Now, she was able to observe galaxies from high in the mountains.
By asking questions no one else was posing, Vera found answers, and more questions, to some of the universe's biggest mysteries.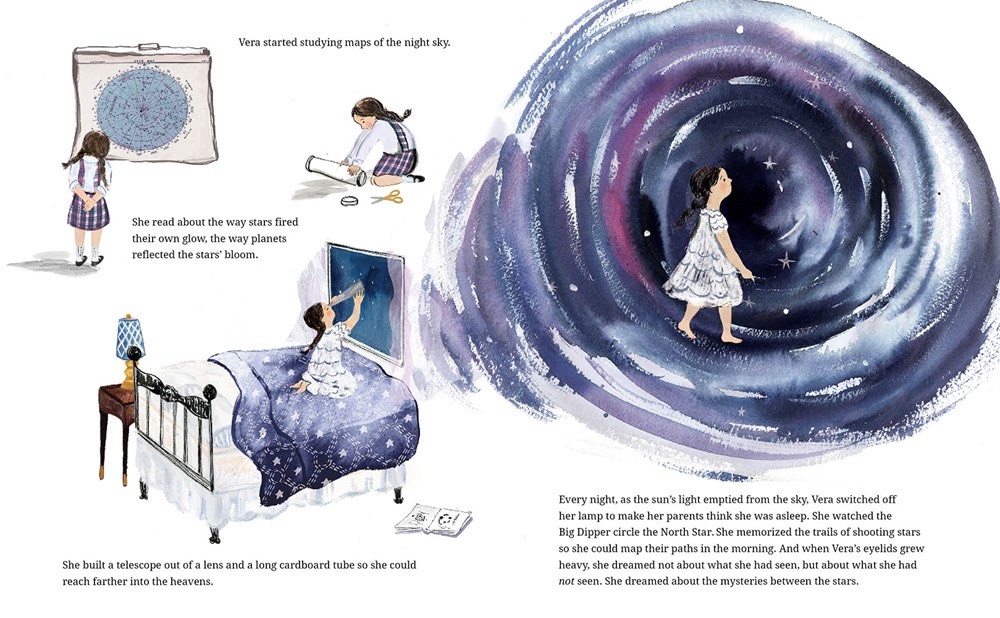 There is so much to love about The Stuff Between The Stars.
Not only is Vera's story fascinating, but Sandra Nickel's writing makes it even more so. Her ability to make complicated concepts simple enough for children to understand is commendable. And the lyrical prose through which she does so is beautiful.
Nickel's lovely writing is perfectly complimented by Aimée Sicuro's imaginative watercolor, ink and charcoal pencil illustrations. Her use of swirls, in particular, evoke the galaxies and stars Vera was so enamored with. Bold colors further emphasize and set Sicuro's work apart.
The Stuff Between The Stars is a delight from front to back. It's going to be a family favorite in my house for a long time to come.
---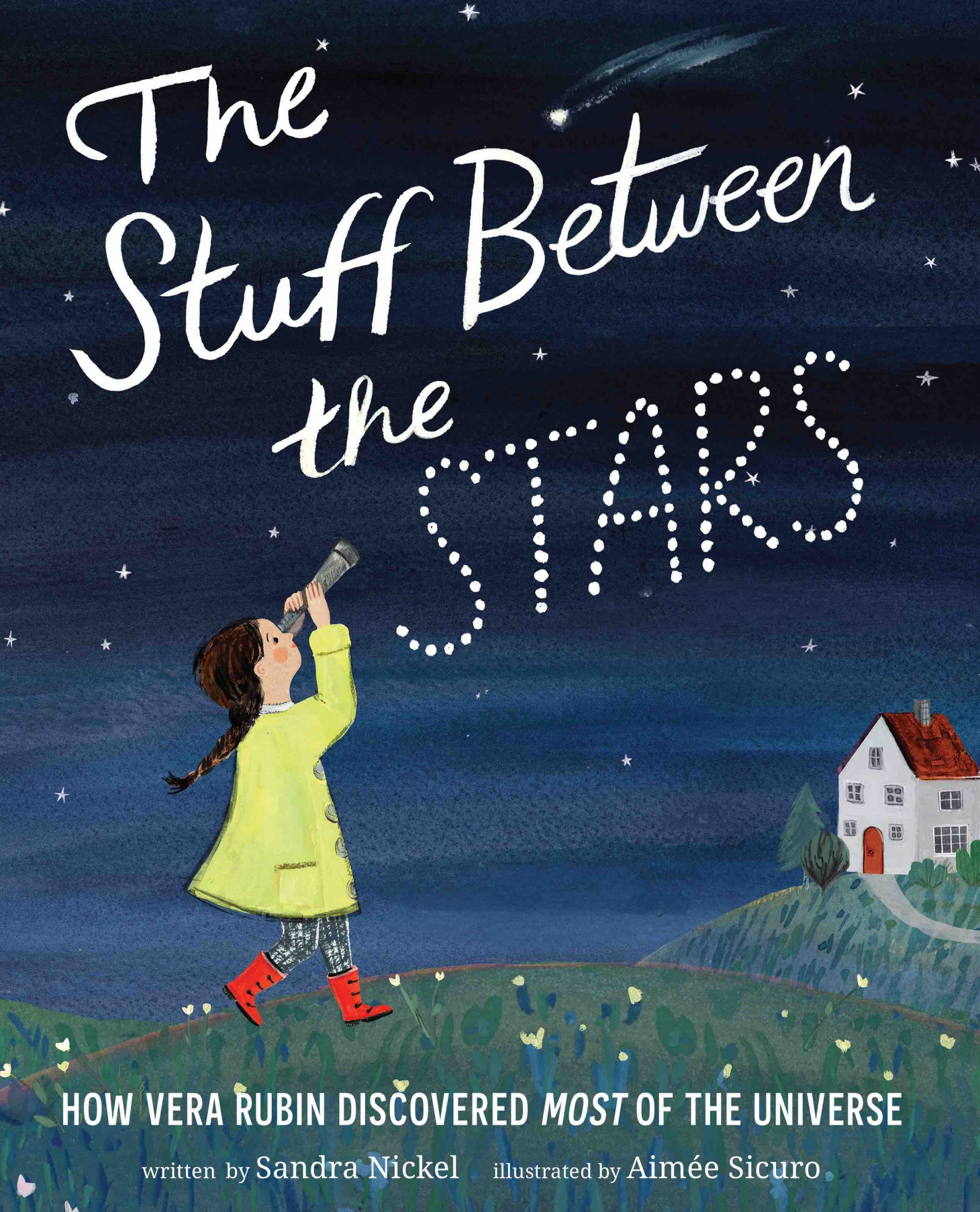 Sandra Nickel says that story ideas are everywhere; you just have to reach out and grab them.  She holds an MFA in writing for children and young adults from Vermont College of Fine Arts. Her first book, Nacho's Nachos: The Story Behind the World's Favorite Snack, was a Golden Kite Award finalist. Sandra lives in Chexbres, Switzerland, where she blogs about children's book writers and illustrators at whatwason.com. To learn more, visit her website. Connect with Sandra on social media — Twitter:  @senickel Facebook: @sandranickelbooks Instagram: @sandranickelbooks
Aimée Sicuro is an illustrator, picture book maker, and surface pattern designer who received a BFA in Illustration from Columbus College of Art and Design. She lives in Brooklyn with her husband and young sons. Visit her website to learn more. Connect with Aimée on social media — Twitter: @aimeesicuro Instagram: @aimeesicuro