As long as people have been writing, they have been writing in codes. Code Breaker, Spy Hunter: How Elizebeth Friedman Changed the Course of Two World Wars, by Laurie Wallmark and illustrated by Brooke Smart, tells the story of a woman who changed the course of history by breaking some of the hardest codes ever created.
There once was a girl named Elizebeth who loved to read, loved poetry, and was fascinated with languages.
After college, Elizebeth was asked to seek out hidden messages in William Shakespeare's plays. Though she didn't find any, she did find someone who loved codes as much as she did. Within a year, Elizebeth was married. Soon after, the couple began working for the government, decoding spy messages.
Following the end of WWI, Elizebeth decided to focus on her own writing and starting a family. It didn't take long, though, for another government agency to knock on her door. In 1925, Elizebeth went back to work full time helping the Coast Guard track down bootleggers.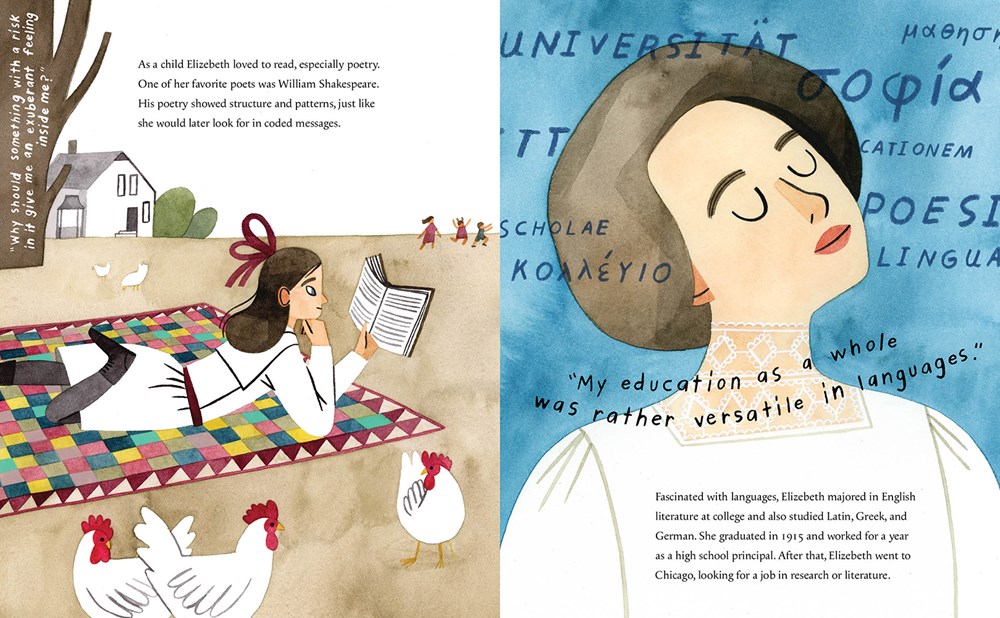 When WWII began, Elizebeth joined the fight. In 1942, Elizebeth created the cryptology department for the Office of Strategic Services (now the CIA). Her team decoded messages from all over the world and even beat the Enigma, an advanced German code-making machine.
Due to the sensitive nature of Elizebeth's work, she could never tell anyone what she did. It wasn't until 2015 — 35 years after Elizebeth's death — that the last of her secrets were declassified
Code Breaker, Spy Hunter is a fascinating look at the world of cryptology. Any kid who likes spy stuff, and let's face it, most of them do — will appreciate this book. Not only is Elizebeth's life intriguing, but the back matter — including explanations of codes and ciphers, more information on cryptology, a bibliography, a timeline, and secret messages for young readers to decode — is excellent.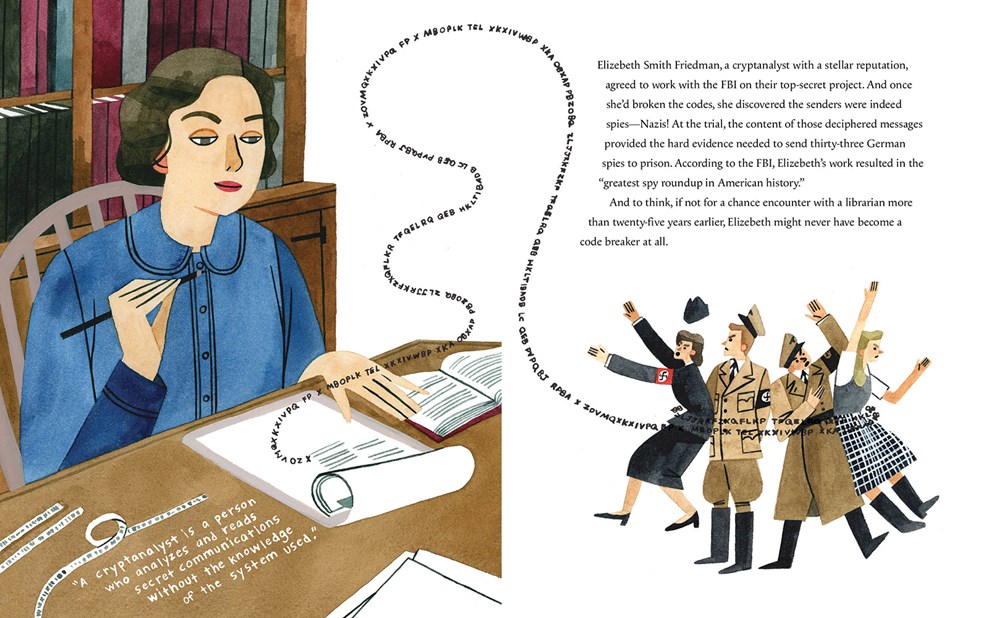 With the exception of the first page, which is an introduction of sorts, author Laurie Wallmark's text is clear and accessible. Her writing rings with excitement and confidence. Brooke Smart's stylized illustrations set the tone and bring life to elements that could otherwise be less interesting.
Code Breaker, Spy Hunter is a strong choice for any burgeoning detectives in your household.
Visit the Code Breaker, Spy Hunter book page, for a book trailer, activity sheets, and more.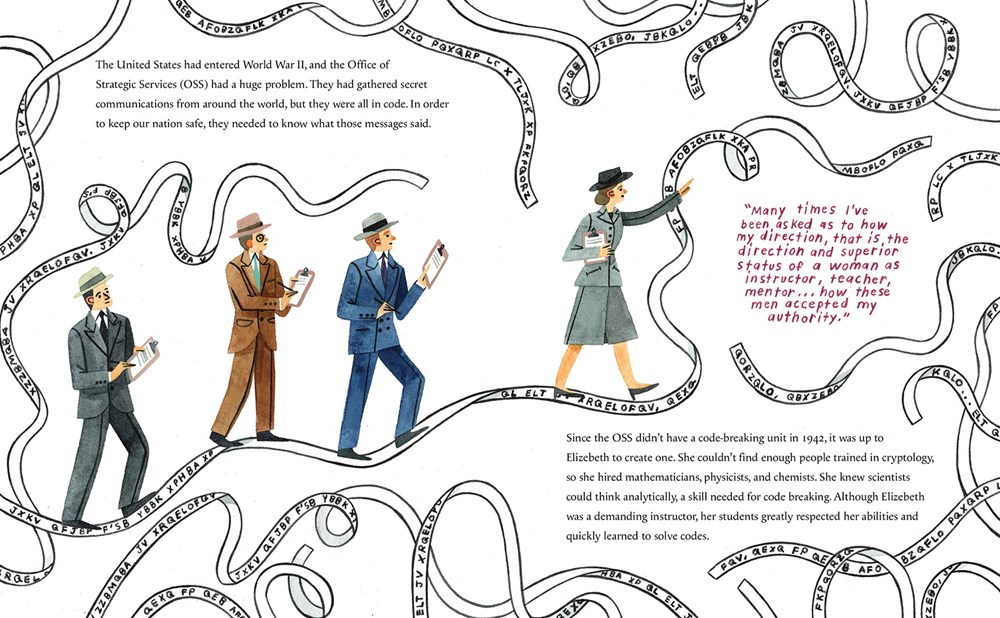 ---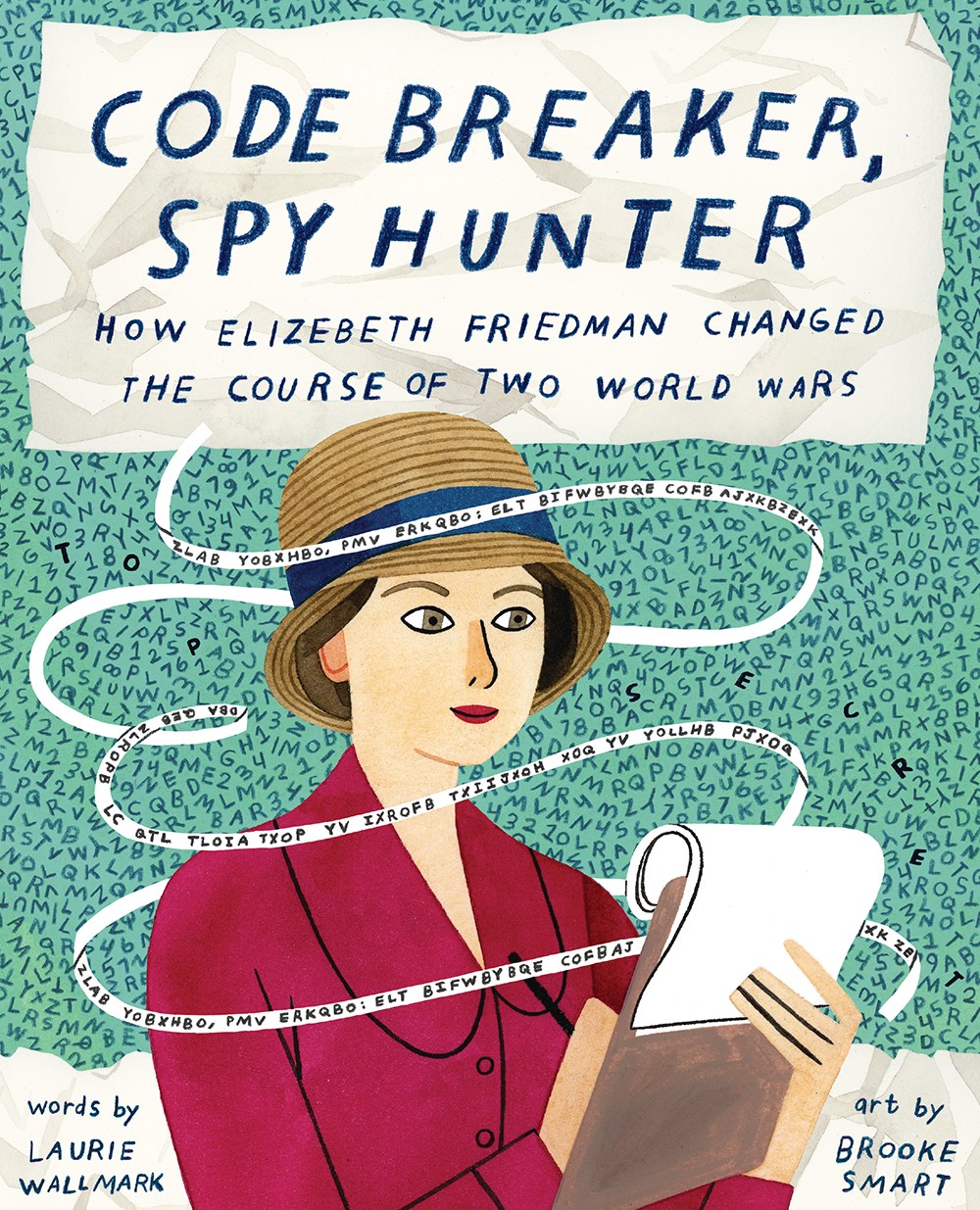 Laurie Wallmark has written picture-book biographies of women in STEM fields ranging from computer science to mathematics, astronomy to code breaking. Her books have earned multiple starred reviews, been chosen as Junior Library Guild Selections, and received awards such as Outstanding Science Trade Book, Cook Prize Honor, and Parents'; Choice Gold Medal. She is a former software engineer and computer science professor. She lives in Ringoes, New Jersey. You can find her online at lauriewallmark.com, on Twitter: @lauriewallmark, Facebook: @lauriewallmarkauthor, and Instagram: @lauriewallmark.
Brooke Smart loves telling stories through her illustrations, especially stories about brave women from history. She has always loved to read, and growing up she could be found nightly falling asleep with a book on her chest. Illustrating books as a professional artist is a lifelong dream come true. She is living the busy, tired, happy, wonderful dream in Salt Lake City, Utah, with her husband, their three kids, and their naughty cat named Sunshine. Learn more about her at brooke-smart.com and on Instagram: @bookesmartillustration