March is Women's History Month. During the month, we remember the contributions of notable and ordinary women. To help you celebrate, here are some recently released books that celebrate women's accomplishments. Synopses are in purple italics and provided by the publishers.
AGES 4 AND UP
Zora was a girl who hankered for tales like bees for honey. Now, her mama always told her that if she wanted something, "to jump at de sun," because even though you might not land quite that high, at least you'd get off the ground.
So Zora jumped from place to place, from the porch of the general store where she listened to folktales, to Howard University, to Harlem. And everywhere she jumped, she shined sunlight on the tales most people hadn't been bothered to listen to until Zora.  
The tales no one had written down until Zora. Tales on a whole culture of literature overlooked…until Zora. Until Zora jumped. —Synopsis provided by Atheneum/Caitlyn Dlouhy Books
It's easy to get swept away by Jump at the Sun. Jacqueline Alcántara's bright illustrations are full of movement and emotion. They pair perfectly with Alicia D. Williams' cinematic text. This fascinating story includes an in-depth author's note in the back matter.
---
STANDING ON HER SHOULDERS, by Monica Clark-Robinson and Laura Freeman, Orchard Books, Feb. 2, 2021, Hardcover, $18.99 (ages 4-8)
A stunning love letter to the important women who shape us — from our own mothers and grandmothers to the legends who paved the way for girls and women everywhere.
Standing on Her Shoulders is a celebration of the strong women who influence us — from our mothers, sisters, aunts, and grandmothers to the women who fought for equality and acceptance in the United States.
Monica Clark-Robinson's lyrical text encourages young girls to learn about the powerful and trailblazing women who laid the path for their own lives and empowers them to become role models themselves. Acclaimed illustrator Laura Freeman's remarkable art showcases a loving intergenerational family and encourages girls to find female heroes in their own lives. —Synopsis provided by Orchard Books
Monica Clark-Robinson's rhythmic text invites girls to explore the lives of those who came before them. Her words are paired with Laura Freeman's powerful images that share great accomplishments without specifically naming names. It's only when you reach the back matter portraits that the true extent of accomplishments becomes clear.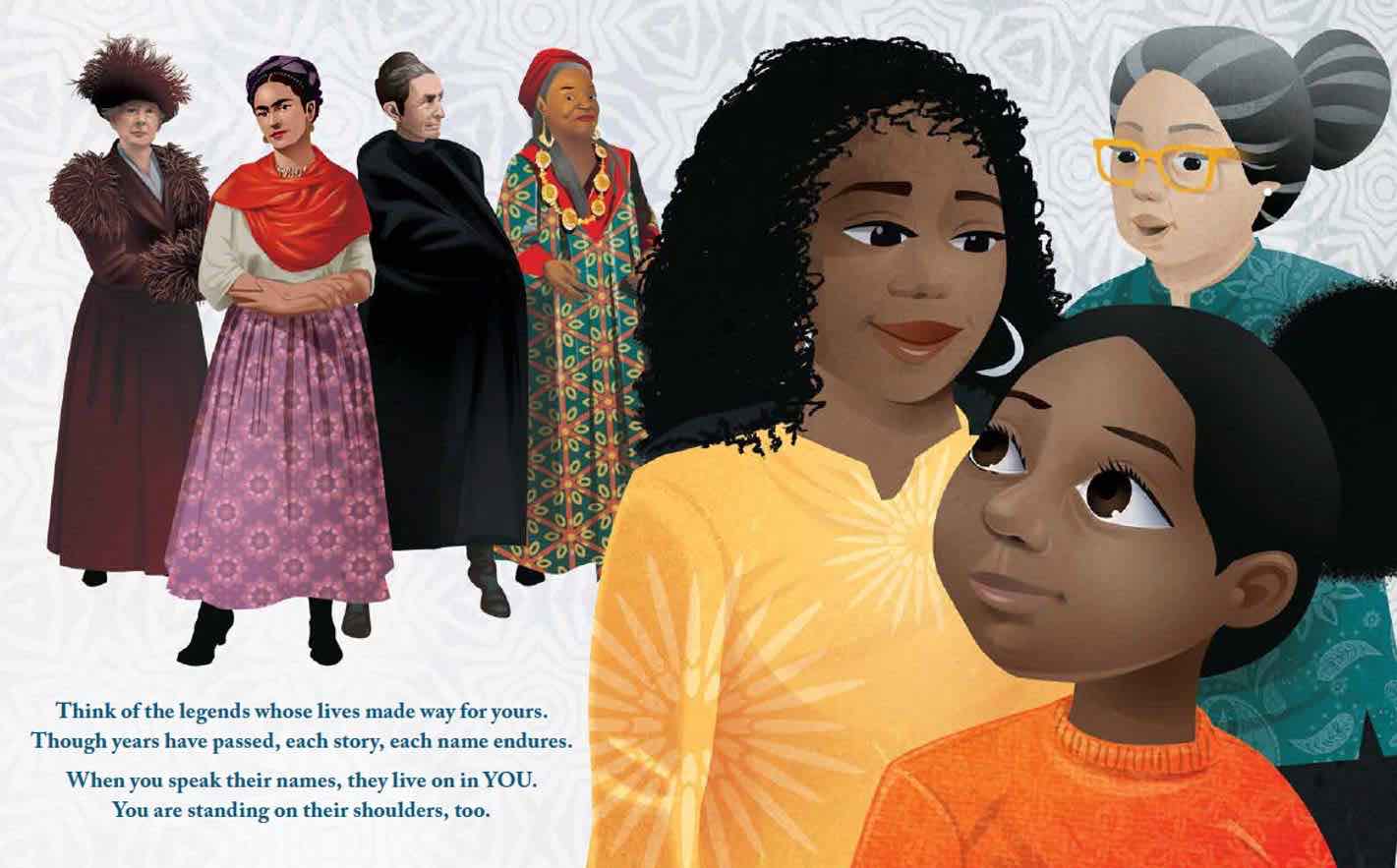 ---
AGES 6 AND UP
When Kate Kaird immigrated with her young son Jacob from Germany to America in 1882, she couldn't have predicted the surprising turn her life would take. She soon met and married John Walker, keeper of the Sandy Hook Lighthouse. They moved to Robbins Reef Lighthouse in New York Harbor in 1885 and she became assistant keeper.
At first Kate wondered if she could live in such a lonely place, but she gradually grew to love life at Robbins Reef. When her husband died several years later, she was determined to stay on. After convincing the Lighthouse Board that she could do the job alone, Kate was appointed permanent keeper of the lighthouse, becoming one of the first women on the Eastern seaboard to be put in charge of an offshore lighthouse. She lived there 34 years and was known for her many rescues. —Synopsis provided by Margaret Ferguson Books
Everyone has a story. And while Kate's story didn't start out too different from others, it certainly took a few twists she didn't initially see coming. Emily Arnold McCully's beautiful watercolor and ink illustrations bring Elizabeth Spire's clear and sprightly text to life. Back matter includes a more detailed biography and two black-and-white photographs of Kate.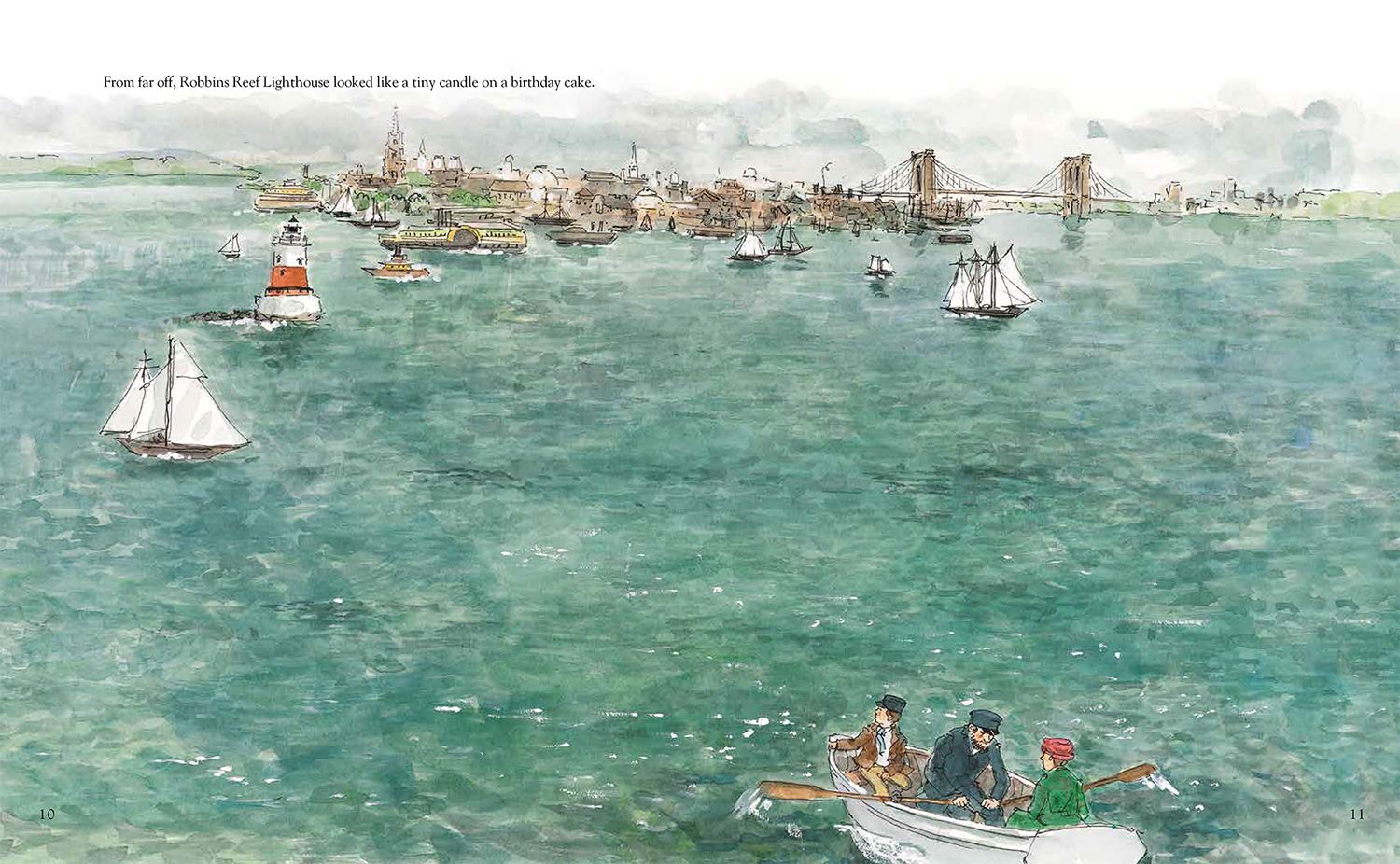 ---
Meet Shirley Chisholm. In 1968, Shirley Chisholm made history as the first African American woman elected to Congress. That same year, Shirley was voted one of the ten most admired women in the world. She also ran for president in 1972, the first African American woman to do so for one of the two big political parties.
 Shirley showed people it shouldn't matter if you're male or female or what the color of your skin is, everyone should be able to pursue their dreams. She lived out her life determined to be "unbossed and unbought" and remained a spokesperson for change. To this day she is still an inspiration to everyone who dreams of breaking boundaries. —Synopsis provided by Simon Spotlight
Simon Spotlight's You Should Meet series is a great resource for young readers, and Shirley Chisholm is no exception. Easy-to-read, large text makes this immediately accessible for readers moving into chapter books. Back matter includes an article on how voting works and a brief lesson on the three branches of US government.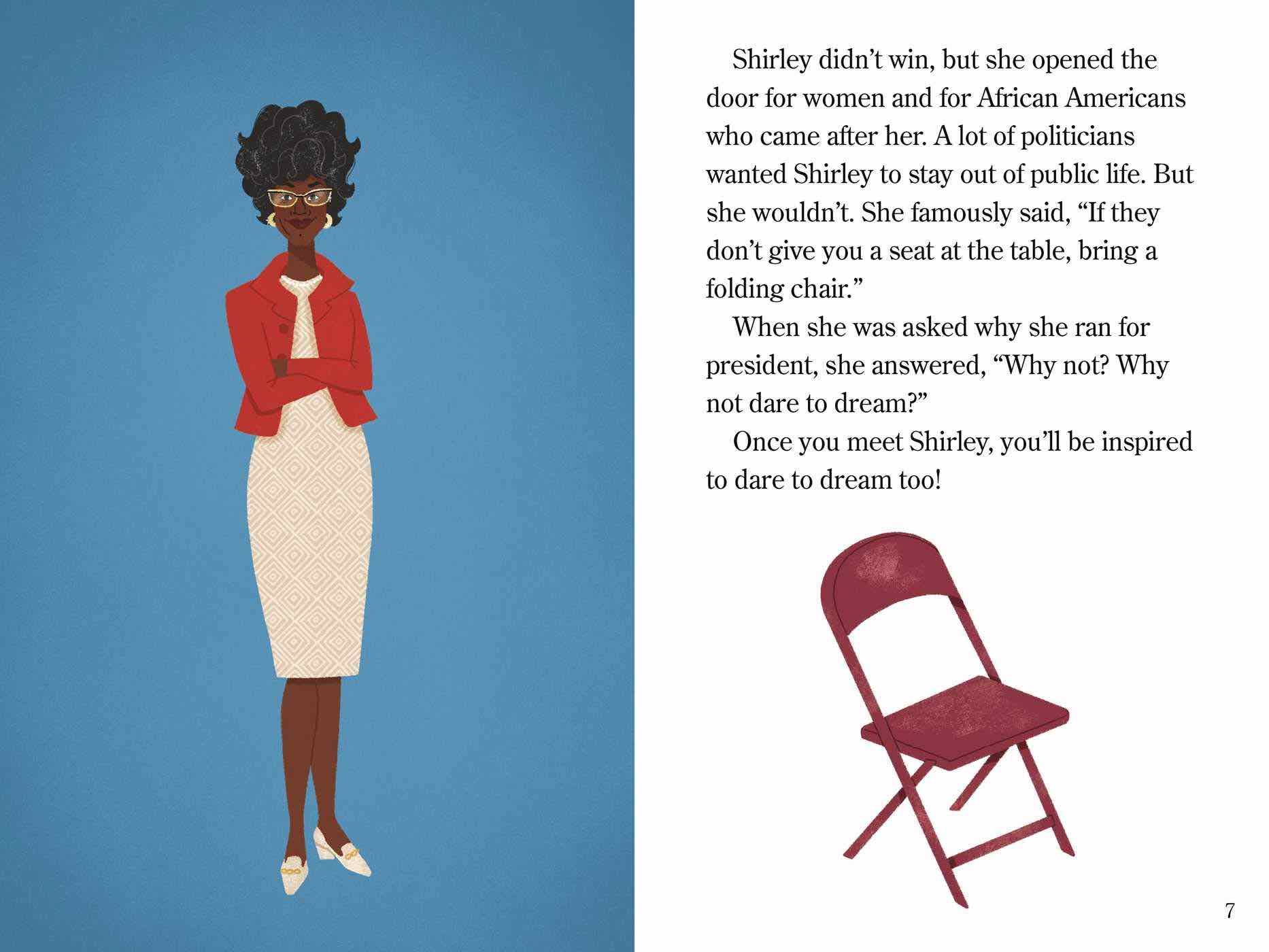 ---
From an early age in Glasgow, Scotland, June Almeida loved learning about science and nature. A good student, she was especially interested in biology and won the top science prize at her school. Creative and observant, June noticed details that others often missed. She dreamed of attending university but economic hardships caused her to leave school at age 16.
 Still, June was determined to pursue her passion for science. She was hired by a local hospital to work in its lab, using a microscope to magnify and examine cells. Her work helped doctors treat patients. June later worked in labs in London and in Toronto. Her skill in using the electron microscope to examine cells and help identify viruses earned her promotion and respect in the science community.
 When June was 34 years old, she discovered the first human coronavirus. Her groundbreaking work continues to help researchers today in the fight against illnesses caused by viruses, including COVID-19. —Synopsis provided by Sleeping Bear Press
This timely book not only celebrates June's passion for learning but also puts into perspective how long coronaviruses have been around. Lively text paired with engaging illustrations make this a joy to read. Back matter includes more about June including photographs and her work with the electron microscope. An illustrated timeline provides an excellent overview of June's life.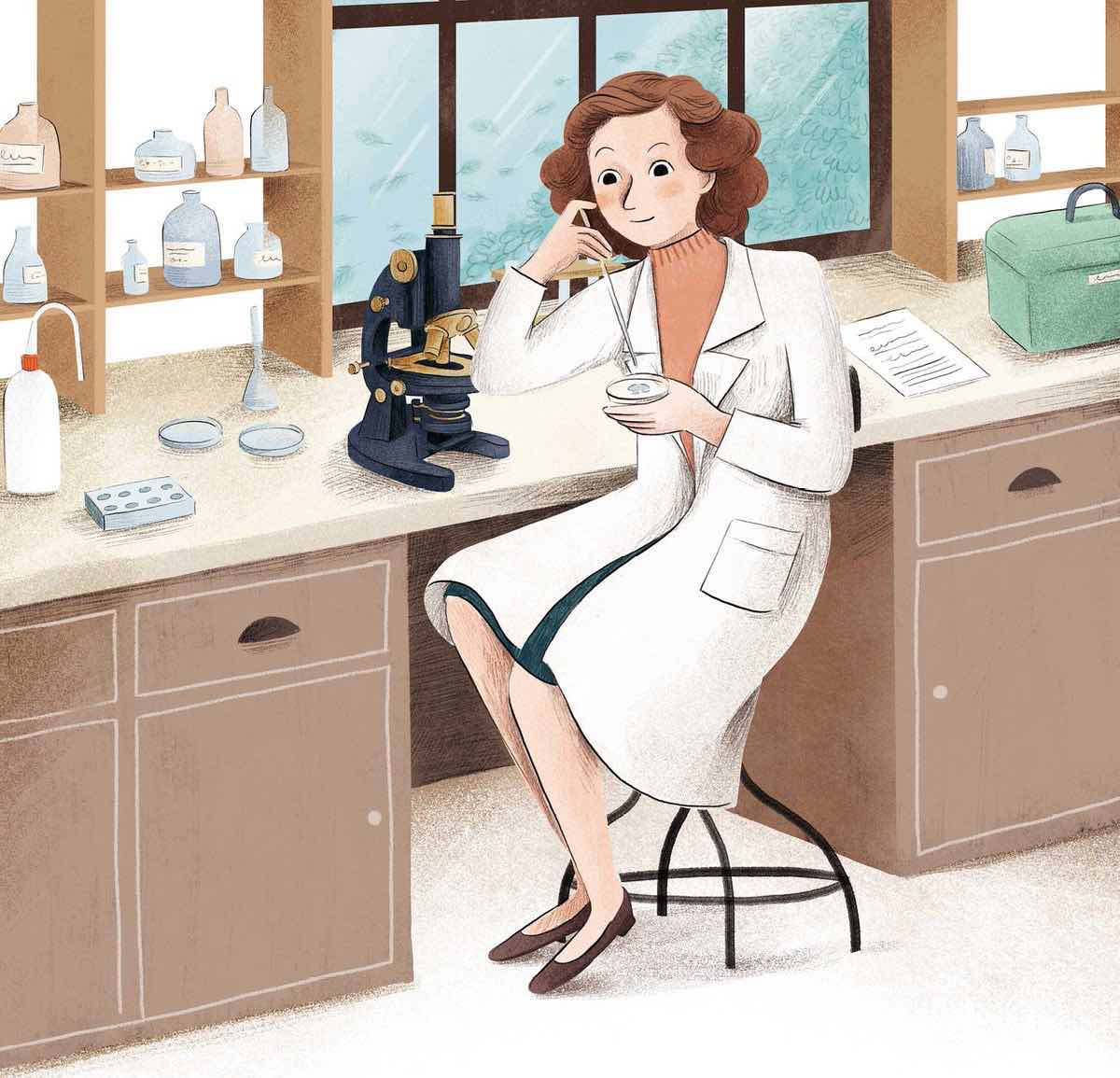 ---
AGES 7 AND UP
As a rebellious girl growing up in 1930s Harlem, Althea Gibson was too headstrong to let an opportunity pass her by, thus with her natural tennis skills and a drive to succeed, Althea became great in her sport — breaking down social barriers as an African-American women who grew to be a world-famous tennis player. —Synopsis provided by Holiday House
Long before Venus and Serena, there was Althea. Althea's story of persistence is inspiring. Elbrite Brown's multi-medium illustrations are bold and serve to move the story forward. While Karen Deans' text is strong, the layout and font make it a little harder to read aloud. Back matter includes an author's note and important dates.
---
AGES 8 AND UP
Women have always explored the globe, but their stories aren't always well-known. In We Are Explorers, fourteen intrepid women and their incredible adventures finally get their due. These fearless explorers trekked across deserts in search of the source of the Nile, crept through jungles to discover rare butterflies, journeyed into the Arctic, and so much more.
From the famed travels of Sacagawea to the lesser-known achievements of pioneers in aviation, botany, and mountain climbing, this book dives deep into the lives of women who changed the world. They hailed from places as varied as the United States, Japan, Germany, and New Zealand, but all of them followed their curiosity far from home. —Synopsis provided by Thames & Hudson
Though the publisher's suggested age for We Are Explorers is 8 and up, I've caught my 7-year-old eyeing the book, and I've already passed it on to her. Each short chapter (less than 10 pages) focuses on an individual woman and her accomplishments. Paintings, illustrations and photographs accompany each person. Back matter includes a world map and short, paragraph-long biographies of each explorer. This is a great option for those looking to learn about extraordinary women from all walks of life.