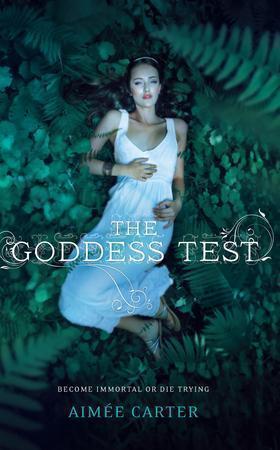 "THE GODDESS TEST," by Aimee Carter, Harlequin Teen, April 19, 2011, $9.99 (young adult)
The Greek myth of Demeter, goddess of harvest, her daughter, Persephone, and Hades, the god of the Underworld, is one dating back thousands of years and known the world over. It's the mythological explanation for winter.
Hades kidnaps Persephone, Demeter mourns her loss and the world's vegetation dries up. Hades allows Persephone to leave, but because she ate six pomegranate seeds, she must return to the Underworld for six months every year. During that time, Demeter grieves for her daughter.
Even, Kate, whose mom is dying, has heard of it. But it's just a myth. Everyone knows that. Or is it?
Mom's dying wish is to move back to her childhood home. Kate doesn't want to leave New York, but she can't deny her mom's desire. So they move to Eden, Mich., and Kate enrolls in a new high school.
Kate's whole life is her mom, and time is running out. Kate would do anything to save her, to just have more time. But is it worth it if she has to give up her own freedom in the process?
When Kate meets Henry, it seems he might be the answer she's looking for. But then tells her he's Hades, god of the Underworld. And he has a proposition — stay with him for six months out of the year and he'll keep her mother alive.
It's a bit much to swallow. Kate's pretty sure he's lost his marbles. But then he brings someone back to life, and the possibilities suddenly become endless.
The online hype surrounding "The Goddess Test" made me a bit wary. There was a lot of "I loved this book" without a lot of information to back it up. Upon reading it, I was, however, pleasantly surprised.
Using myths and fairy tales as a jumping off point is not uncommon. Often the books end up feeling like bad clones of each other. That's not the case with "The Goddess Test." It's interesting and has a unique feel to it. The pacing is fairly even, though there were a few parts toward the beginning that were a bit slow.
Author Aimee Carter's premise is believable as are her characters. I would have liked to more character development with Henry, but Kate felt spot on.
"The Goddess Test" is fun, fast read that fans of mythology and novices alike will enjoy.