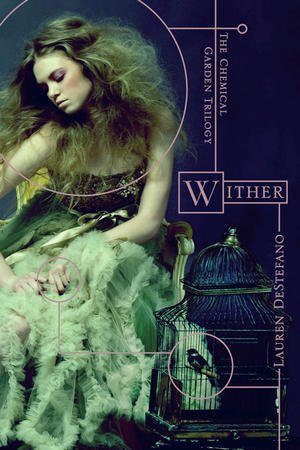 "WITHER" (The Chemical Garden Trilogy), by Lauren DeStefano, Simon & Schuster Children's Publishing, March 22, 2011, $17.99 (young adult)
One of the most buzzed about book on the Web leading up to its release, it's fairly safe to say "Wither," by Lauren DeStefano, has thus far been a success.
But with all the buzz, the question still remains — Is it good? For me, the answer is yes and no and yes. Let me explain.
"Wither" is a dystopian novel the centers on Rhine Ellery, a 16-year-old with four years left to live. Rhine isn't the only one with an impending death sentence, though; pretty much everyone is facing death at their 20th or 25th birthday.
In an effort to create a perfect race — one without illnesses or imperfections — scientists inadvertently cut the lifespans of males to 25 years and females to 20. The problem wasn't discovered until too late. Geneticists are trying to find a cure but to no avail.
With such short lifespans, the population is largely made up of orphans. Crime and poverty are a way of life, and young girls are being kidnapped and sold as second and third wives in polygamous marriages.
Everyone knows of the kidnappings, but it still comes as a surprise to Rhine when she finds herself in that very situation. Sold with three other girls as brides, Rhine vows to escape.
But things aren't black and white. Rhine's husband, Linden, is completely enchanted by her. And he's given her everything she could ever want — except freedom that is.
And then there's Linden's father, a doctor who will stop at nothing in his search for an antidote. It seems there's no one safe to trust, and the clock is ticking faster than anyone would have guessed.
The concept behind "Wither" is sound. The writing is good and the characters well developed. Lauren DeStefano has a knack for setting a scene and her descriptions helped me as a reader see her vision.
The part of "Wither" I found off-putting — and I'm sure the author intended this — was that of forcing girls into polygamous marriages. For me, it was just a little too close to home. Polygamy is still in practice, and in some cases, young girls are forced into marriages. Rhine's experiences in this department rang true.
I guess the mark of a good author is being able to make you like or dislike elements. And in that case, DeStefano excels. "Wither" is the first novel in a trilogy, but it doesn't read that way. There is a clear beginning, middle and end, giving readers a complete story they can be satisfied with.
Overall, I really enjoyed "Wither" and I'm excited to see where DeStefano takes the story.