WILLIAM SHAKESPEARE'S A MIDSUMMER NIGHT'S DREAM, by Georghia Ellinas, illustrated by Jane Ray, Candlewick; Illustrated edition, April 20, 2021, Hardcover, $17.99 (ages 6-9)
William Shakespeare's beloved comedy is retold for a younger audience in Georghia Ellinas and Jane Ray's A Midsummer Night's Dream.
If we shadows have offended,
Think but this, and all is mended,
That you have but slumber'd here . . .
There's trouble in the Fairy Kingdom. King Oberon wants to teach Titania, his proud wife, a lesson. Things heat up when four young nobles arrive in the enchanted forest from Athens. They're all in love — but with the wrong person. It's up to Puck, a playful sprite who isn't above a bit of mischief after dark, to do his master's bidding, trick Queen Titania, and dial down the drama among foolish lovers. With a certain potion at his disposal, what could go wrong? —Synopsis provided by Candlewick
This is Georghia Ellinas and Jane Ray's second foray into Shakespeare (they released The Tempest in 2020), and once again, it's delightful.
A Midsummer's Night's Dream is retold from Puck's point of view, which gives the book a nice little flair. The story has been condensed and simplified, but that doesn't mean Shakespeare is gone. Quotes from the original play are sprinkled throughout.
Ray's illustrations are magical. Though the story takes place at night, the watercolors are lush and brilliant. There's a whimsy to them that makes you smile, and their composition often makes you feel as though you are watching a play.
This is a great introduction to Shakespeare for young and old readers alike.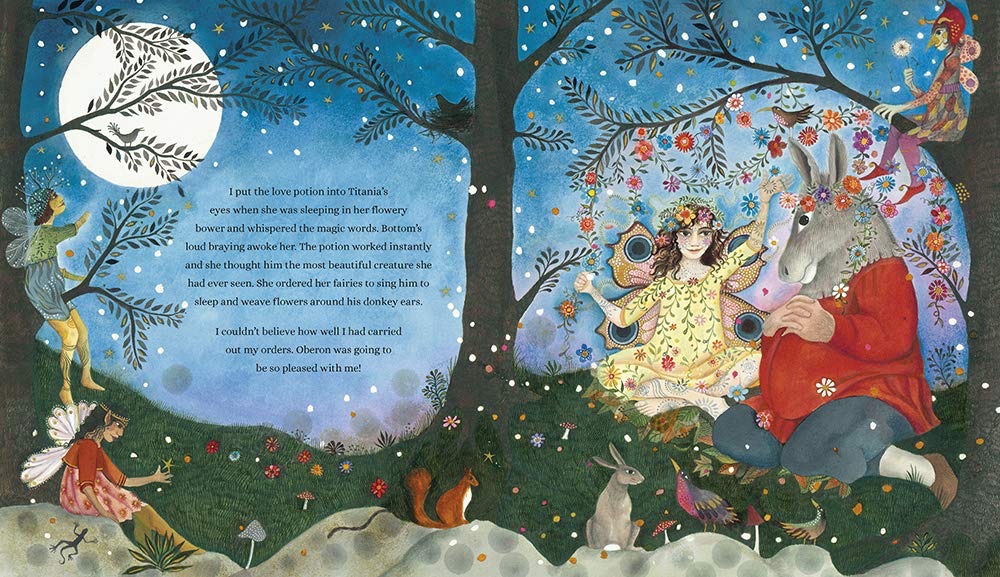 © 2021, Cracking the Cover. All rights reserved. Unless otherwise noted, all books — digital and physical — have been provided for free by publishers in exchange for honest and unbiased reviews. All thoughts and opinions are those of the reviewer.