National Geographic has become one of the go-to sources for exploration and storytelling for children. And it's no surprise. With bold illustrations and photographs, dynamic design and accessible text, kids don't want to put Nat Geo's books down. Below are three great options for summer reading.
Kids can have fun keeping up with our quickly changing world with the New York Times best-selling almanac, packed with incredible photos, tons of fun facts, adventures with National Geographic Explorers, crafts, activities, and fascinating features about animals, science, nature, technology, conservation, and more. The 2022 edition features a new Kids vs. Plastic chapter packed with ideas on how you can reduce your plastic waste. There's a whole chapter full of fun and games, including activities, jokes, and comics. Practical reference material, including fast facts and maps of every country, is fully updated. Homework help on key topics is sprinkled throughout the book. —Synopsis provided by National Geographic Kids
Though the publisher's suggested age for the Almanac 2022 is 8-12, I suggest even younger. My then-6-year-old quickly took possession of the 2020 edition and would not give it back. She's dog-eared pages, written spin-offs and underlined text. She loves having access to so many different topics in one place.
Another bonus is the size. At slightly smaller than 6" x 9" x 1" it travels well. It's perfect for road trips or as reading material for errands. The interactive elements are also an added treat. This is a book that can be read alone or as a family. It's a great way to learn about the world.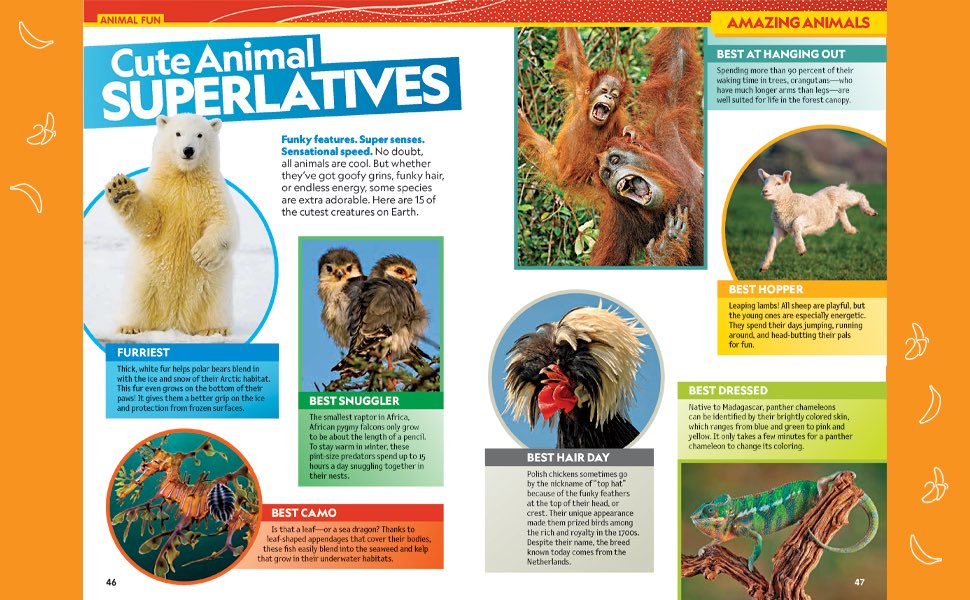 ---
MORE SURPRISING STORIES BEHIND EVERYDAY STUFF, by Stephanie Warren Drimmer, National Geographic Kids, April 6, 2021, Paperback $9.99 (ages 6 and up)
Ever wonder how haunted houses got their spooky rep; where cheese originally came from; and when and where people decided hitting a tiny ball with a long stick (ahem, golf?) was their idea of fun? Prepare to be amazed by the surprising backstories behind the things you use or do every day! From familiar foods and common clothing items to bizarre beauty regimens and quirky products, this book covers all your burning questions: Who thought of that? Where did that come from? Why is that a thing?
This riveting little treasure is jam-packed with awesome facts, fun stories, and colorful visuals. Once you know all this cool stuff about the origins of everyday stuff, you can "wow" your friends and family. —Synopsis provided by National Geographic Kids
Like the Almanac 2022, this is also suggested for ages 8-12, but can skew lower depending on your reader. Each topic is limited to a 1- to 2-page spread and features engaging artwork. There's not a lot of text, but some of it could be more challenging for 6- and 7-year-olds. At approximately 6.5" x 0.7" x 6.5" it's even more portable. I can see this becoming a jumping off point for further exploration of the included topics.
---
Upcycle, recycle, and/or repurpose your stuff and engineer your way out of all kinds of sticky situations — all while learning about science and sustainability as you do it! Make cool lantern lights for your room, discover a tried-and-true brain freeze cure, learn how to boost your memory power, and more. In this easy-to-follow guide, kids get tips and tricks for upcycling and reusing old stuff, as well as hands-on activities, fun facts, and insights from professional-grade life hackers who use their problem-solving skills to change the world.
 By the end, you'll be able to hack your way through all kinds of problems, from a messy backpack to stage fright, a drippy ice pop to smelly shoes! —Synopsis provided by National Geographic Kids
Unlike the two books above, I do suggest sticking with ages 8-12 on this book. That has less to do with the text —which is actually printed bigger — and more to do with the topics covered. An 8-year-old should have no problem accomplishing most of these "hacks" on their own, but a younger child would need supervision and wouldn't understand all of the concepts without some help. Aside from that, kids will love all the fun ideas presented here.