OUT TO SEA, by Helen Kellock, Thames & Hudson; Illustrated edition, June 15, 2021, Hardcover, $17.95 (ages 3 and up)
A young girl rides the waves of emotions that come with loss in Helen Kellock's brilliant Out to Sea.
Out to Sea follows the journey of a young girl named Lara who is so sad after the death of her grandmother that her tears flood her room, her house, her town, and eventually sweep her out to sea. Adrift, she struggles to overcome her sadness until she discovers a pearl at the bottom of the ocean that triggers happy memories of her grandmother and the times they shared. With that pearl tucked in her pocket and the realization that she's not alone, Lara finds the strength to pick up her oars and row herself back home. —Synopsis provided by Thames & Hudson
Out to Sea is the kind of book I wish I had had for my daughter when my own mother — her nana — died. Death is a hard concept, especially for young children. And memories are fleeting. It was less than a month later that my daughter said she couldn't remember Nana's voice. It's been three years, and most of the memories are gone, but we still find Nana in my daughter's smile, in our garden, in books and in our hearts.
Out to Sea explains all this in such a simple and profound way. Helen Kellock's sparse text and encompassing illustrations speak right to child's — or adult's — heart. And while exploring social and emotional issues, Kellock's use of color and movement is exceptional. I highly recommend this book for families going through the grieving process.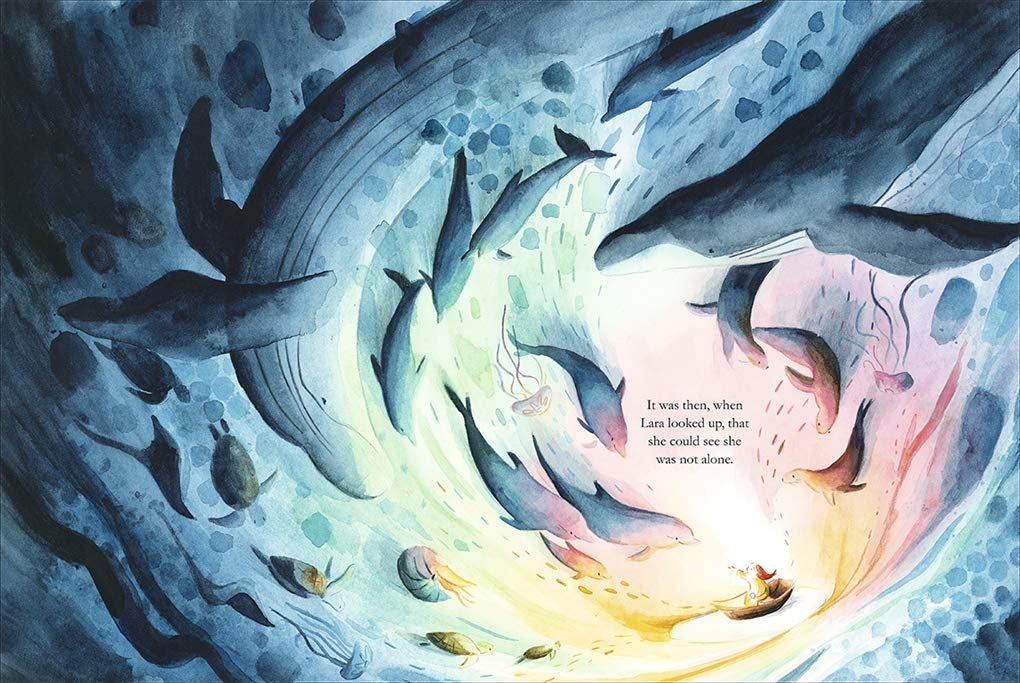 © 2021, Cracking the Cover. All rights reserved. Unless otherwise noted, all books — digital and physical — have been provided for free by publishers in exchange for honest and unbiased reviews. All thoughts and opinions are those of the reviewer.