Learn about two of the world's most influential activists in Threads of Peace: How Mohandas Ghandhi and Marting Luther King Jr. Changed the World.
A lawyer and activist, tiny of stature with giant ideas, in British-ruled India at the beginning of the 20th century.
A minister from Georgia with a thunderous voice and hopes for peace at the height of the civil rights movement in America.
Born more than a half-century apart, with seemingly little in common except one shared wish, both would go on to be icons of peaceful resistance and human decency. Both preached love for all human beings, regardless of race or religion. Both believed that freedom and justice were won by not one, but many. Both met their ends in the most unpeaceful of ways — assassination.
But what led them down the path of peace? How did their experiences parallel… and diverge? Threads of Peace keenly examines and celebrates these extraordinary activists' lives, the threads that connect them, and the threads of peace they laid throughout the world, for us to pick up, and weave together. —Synopsis provided by Atheneum/Caitlyn Dlouhy Books
Threads of Peace is a dual biography that shows that ideas of freedom and equality are universal and how each step forward builds upon the past.
The book begins with a glimpse at defining moments in both Gandhi and King's lives. Both were denied seats — one on a train, one on a bus. Little did they know how these experiences would change the course of both of their nations.
The bulk of Threads of Peace is two straight-forward biographies. These well-researched and tightly-written sections are extensive. Thoughtful discussion includes politics, events and personal emotions. Photographs, illustrations and pop-out boxes break up the text and transport readers to the center of the action.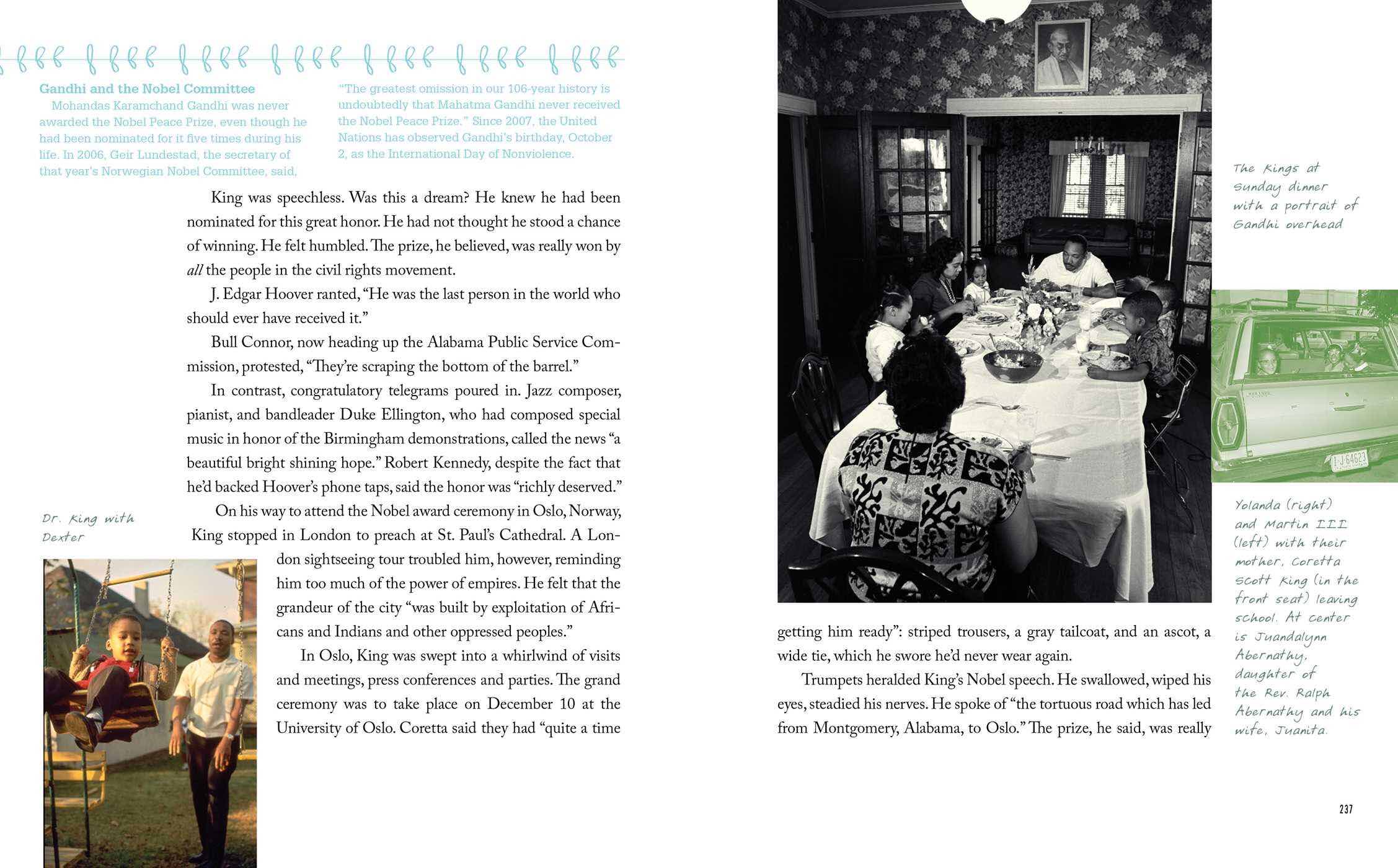 Though most people have a general idea of who these two men were, they are no doubt lacking on the finer points. I had not realized how much King was influenced by Gandhi and found the section on his visit to India particularly interesting. And I had no idea how much work Gandhi did in South Africa. I left the book with a greater respect for and understanding of both these men.
At just above 300 pages, Threads of Peace isn't the densest non-fiction MG book I've read, but it's not the lightest, either. Though the writing is smooth and accessible, it's not a one-sitting read. It is, however, a book that should appeal to readers ages 9 to 100.
---
Uma Krishnaswami is the author of several books for children including Book Uncle and Me (International Literacy Association Social Justice Literature Award, USBBY Outstanding International Book) and Step Up to the Plate, Maria Singh (Asian Pacific American Librarians Award, FOCAL Award). She was born in New Delhi, India, and now lives in British Columbia, Canada. To learn more, visit her website: umakrishnaswami.org.