Ada and the Galaxies, by Alan Lightman and Olga Pastuchiv, illustrated by Susanna Chapman, MIT Kids Press, Sept. 7, 2021, Hardcover, $17.99 (ages 4-6)
A girl dreams of stargazing in Ada and the Galaxies, by Alan Lightman and Olga Pastuchiv, and illustrated by Susanna Chapman.
Ada knows that the best place for star-gazing is on the island in Maine where she vacations with her grandparents. By day, she tracks osprey in the trees, paddles a kayak, and hunts for shells. But she's most in her element when the sun goes down and the stars blink to life. Will the fog this year foil her plans, or will her grandfather find a way to shine a spotlight on the vast puzzle of the universe . . . until the weather turns? —Synopsis provided by MIT Kids Press
Written by New York Times best-selling author Alan Lightman, in collaboration with Olga Pastuchiv, Ada and the Galaxies explores how interconnected the natural world is.
Ada is like so many children. Her focus is so much on seeing the stars, that she almost misses the wonders around her. That single-minded determination and disappointment when it doesn't come to fruition is something all parents and children will identify with.
The highlight of the book, however, is Susanna Chapman's use of photographs taken by the Hubble telescope. Layered with her watercolor illustrations, the stars truly come to life.
Ada and the Galaxies has themes of family, nature, science, and patience.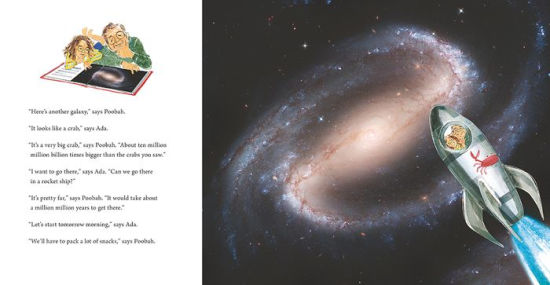 © 2021, Cracking the Cover. All rights reserved. Unless otherwise noted, all books — digital and physical — have been provided for free by publishers in exchange for honest and unbiased reviews. All thoughts and opinions are those of the reviewer.