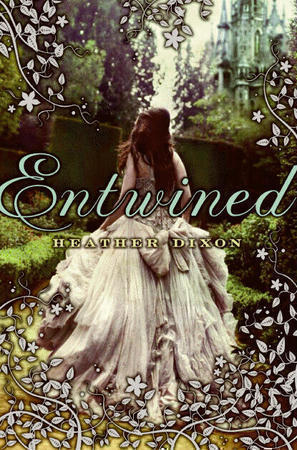 "ENTWINED," by Heather Dixon, Greenwillow Books, March 29, 2011, $17.99 (young adult)
Princesses, dancing shoes and a magic land underground — it's the perfect combination for a classic fairy tale.
So perfect, in fact, it's been revisited a number of times.
"The Twelve Dancing Princesses" has been retold for generations. And authors of all genres, including young adult, have visited it. Perhaps the most notable novel of late is Jessica Day George's "Princess of the Midnight Ball."
Now author Heather Dixon has taken on the tale with "Entwined."
As the oldest of twelve sisters and no brothers, Princess Azalea knows her future is not hers to plan. Even her future husband must be agreed upon by the leaders of the land, as her he will one day become king. The only thing that's truly her own is dancing, and then even that is taken away.
When Azalea's mother dies, the palace goes into mourning, which means wearing black, staying inside and no dancing. The princesses love to dance. Their mother loved it, and it reminds them of her.
Feeling abandoned by their father, the princesses turn to magic and each other for support. Every night, the sisters step through an enchanted passageway, making their way through a forest made of silver and arriving at a pavilion where they can dance to their hearts' content.
The magic underworld is ruled by Keeper. He, too, understands what it's like to feel trapped. He's been stuck in this secret place for centuries, and it's at his invitation that the princesses return each night.
But as with all things magic, there's a catch, and it could be deadly.
While Heather Dixon's premise is the same has Jessica Day George's the two novels are unique. Heather could have easily mimicked Jessica and probably gotten away with it. Instead, she added her own twist that makes the story her own.
Anyone who has a basic understanding of "The Twelve Dancing Princesses" will see certain parts coming, but there are also some unexpected twists here, that will keep readers interested.
Heather's writing is strong and moves at a balanced pace. She has created in Azalea a character readers can both identify with and appreciate. And the descriptions from the sisters' dancing really set the tone. "Entwined" is a perfect addition to your fairy-tale library.
© 2011 – 2013, Cracking the Cover. All rights reserved. Unless otherwise noted, all books — digital and physical — have been provided for free by publishers in exchange for honest and unbiased reviews. All thoughts and opinions are those of the reviewer.