Author/illustrator Lindsay Ward imagines a world without color in her latest picture book, Between the Lines.
A young boy who loves his community notices that as neighbors stop interacting, the colors around them slowly fade. Then a thunderstorm sweeps away the last hints of bluebird skies and lemon-Popsicle days and leaves a rift in the road that doesn't get fixed. As the adults around him move on, the boy dreams of the way life once was. He decides that he doesn't want to live in a world without color, so he sets out to change things… —Synopsis provided by Two Lions
Between the Lines seems to sort of echo the past year-and-a-half. The boy watches color slowly fade until a thunderstorm washes them away. How many things have we seen tear communities apart? And like the boy, it's often one person's small deed that drives change, that calls people to action.
Lindsay Ward's use of color — and lack thereof — is inspired. Her black-and-white line drawings practically beg to be colored in, emphasizing both what is lost and what is found.
Between the Lines is a celebration of community, friendship and reinvention. It's a book that kids — and their parents — will immediately be drawn to.
Between the Lines is available in print and digital formats, and I'd suggest splurging on the print version, which really shows off Ward's incredible work.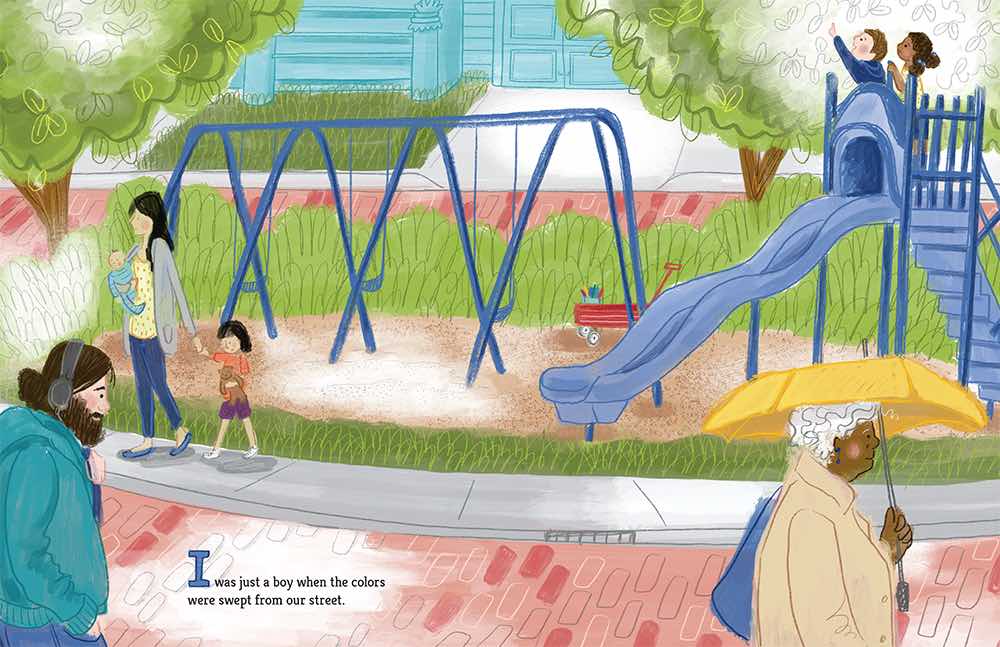 ---
Lindsay Ward is the creator of the Dexter T. Rexter series as well as Rosie: Stronger than Steel; This Book Is Gray; Brobarians; Helping Hospital; the Wheels on the Go series; Rosco vs. the Baby; and The Importance of Being 3. Her book Please Bring Balloons was also made into a play. Lindsay lives with her family in Peninsula, Ohio with her family. Learn more about her online at www.lindsaymward.com. Follow Lindsay on Twitter: @lindsaymward and Instagram: lindsaymward.
Check out a storytime for Between the Lines and other books on Lindsay Ward's website!
© 2021, Cracking the Cover. All rights reserved. Unless otherwise noted, all books — digital and physical — have been provided for free by publishers in exchange for honest and unbiased reviews. All thoughts and opinions are those of the reviewer.