A lonely doll helps a girl adjust to family changes in Book Buddies: Ivy Lost and Found, by Cynthia Lord and Stephanie Graegin.
Ivy was Anne the librarian's doll when she was a young girl. But now she has moved to Anne's library to be its newest Book Buddy — a toy that can be checked out just like a book. Ivy isn't sure she wants to be borrowed, though. She'd rather go back to just being Anne's favorite toy.
Fern, a child who visits the library with her stepfamily, also wishes things could go back to the way they were, when Fern had her dad all to herself. When Fern takes Ivy home, an unexpected outdoor adventure helps both of them find confidence and belonging in their changing worlds. —Synopsis provided by Candlewick Press
Ivy Lost and Found is the first in a chapter-book series that pairs friendly toys with child characters who need them. The book was an immediate hit with my 7-year-old, who was immediately drawn to the sweet cover. Here's what she had to say:
"It will be easy to help kids (including girls) when they are sad with this book. What I liked most is that the children can make up their own stories about the book buddies. It's pretty easy to read. It is also a kind of chapter book. It has pictures, too. They are realistic in an imaginative way. This book has kindness in it. It's the first book in a series, and I would like to read more books about it."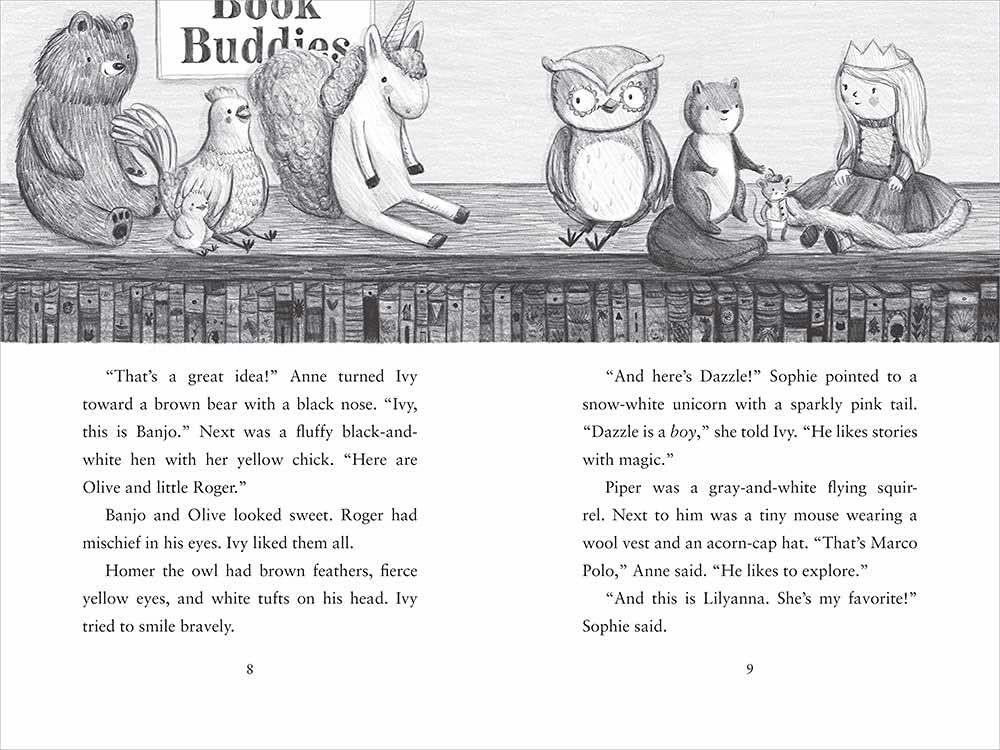 Ivy Lost and Found has a timeless feel to it. There aren't a lot of bells and whistles, just a lot of heart. The publisher's suggested age for it is 6-9, but I'd drop it to 5-8. Nine-year-olds are probably a little to "mature" for it, but I could definitely see 5-year-olds thumbing through with an adult or on their own.