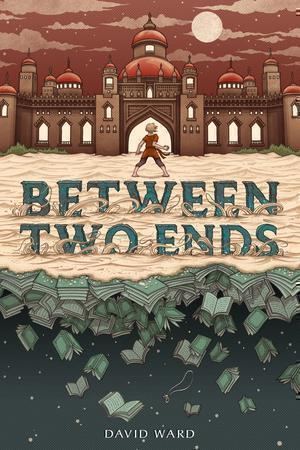 "BETWEEN TWO ENDS," by David Ward, Amulet Books, May 1, 2011, $16.95 (ages 9-12)
There are countless adventures inside the pages of books, or so the saying goes. According to it, your imagination can take you anywhere.
But what if you actually could have an adventure inside a book's pages? That's the premise behind "Between Two Ends," a new book for middle readers by David Ward.
Yeats is surprised when his parents announce a trip to his grandmother's house. He's never been there, and his parents don't seem very excited.
Creepy is the best way to describe his grandmother's house, though it's fairly interesting, too. Yeats' father has been hiding a dark secret from his wife and son, a secret that's been haunting him for years. It's his hope that by returning to his childhood home, he might find some closure and move on with his life.
When Yeats unwittingly reunited a pair of pirate bookends, he makes a magical discovery — the bookends have the power to send him into a story. Years ago Yeats' father discovered the same thing, traveling into "The Arabian Nights" with his friend, Shari. Only that trip didn't have a happy ending. Shari got left behind and hasn't been seen in 20 years.
Aided by the pirates, who live up to their swashbuckling reputation, Yeats sets out to help his father and Shari. The world of Shaharazad is new and unfamiliar and it will take all of Yeats wits and courage to make it out in one piece.
Like adventure stories of old, "Between Two Ends" transports readers to magical worlds. Author David Ward sets each scene with sights, sounds and smells so evocative of the places he's writing about.
Highlights from "Between Two Ends" include a wander through an Arabian market, a visit to the Sultan's palace and a sea of letters and words that separate the story world from our own.
This fast-paced romp holds interest from beginning to end, making it the perfect pre-summer/summer read for any daring reader.
© 2011 – 2017, Cracking the Cover. All rights reserved.