Each year, Cracking the Cover compiles a list of books that make great gifts. The following are young adult books published in and/or reviewed by Jessica in 2021. Synopsis are written by Jessica unless otherwise noted. Scroll down for the complete list or click or tap the following links to directly visit a section. CONTEMPORARY • FANTASY • ADVENTURE/MYSTERY • HORROR • HISTORICAL FICTION • NONFICTION 
CONTEMPORARY
PERFECTLY PARVIN, by Olivia Abtahi, G.P. Putnam's Sons Books for Young Readers, May 18, 2021, Hardcover, $17.99 (young adult)
Parvin Mohammadi has just been dumped. Not only is she heartbroken, she's humiliated. Enter high school heartthrob Matty Fumero, who just might be the smoking-hot cure to all her boy problems. If Parvin can get Matty to ask her to Homecoming, she's positive it will prove to herself and her ex that she's girlfriend material after all. There's just one problem: Matty is definitely too cool for bassoon-playing, frizzy-haired, Cheeto-eating Parvin. Since being herself hasn't worked for her in the past (see aforementioned dumping), she decides to start acting like the women in her favorite rom-coms.
But Parvin discovers that being a rom-com dream girl is much harder than it looks. Also hard? The parent-mandated Farsi lessons. A confusing friendship with a boy who's definitely not supposed to like her. And hardest of all, the ramifications of the Muslim ban on her family in Iran. Suddenly, being herself has never been more important. —Synopsis provided by G.P. Putnam's Sons Books for Young Readers
Perfectly Parvin is fresh, charming and a joy to read. Author Olivia Abtahi does an excellent job "introducing" Parvin's Iranian culture without it feeling like an introduction. Seeing the life of an American teenager through a different lens, particularly this one, is illuminating and heartfelt.
---
IN THE SAME BOAT, by Holly Green, Scholastic Press, July 20, 2021, Hardcover, $18.99 (ages 14 and up)
It's the eve of the Texas River Odyssey, and Sadie Scofield is finally ready for the 265-mile canoe race. It's three days of grueling, nonstop paddling, where every turn of the river reveals new challenges, but the dangers are all worth it. Sadie has spent a year training, and she's ready for anything . . . except for her brother ditching her at the last minute for a better team.
She has no choice but to team up with Cully, her former best friend turned worst enemy. Everything about him irritates her, from his stupid handsome face to the way he holds his paddle. But as the miles pass, the pain builds, and family secrets come to light, Sadie realizes she'll have to work with Cully instead of against him. Last year's race was a catastrophe, but this year's race just might change her life in ways she never imagined. —Synopsis provided by Scholastic Press
Setting a scene doesn't seem to be a problem with debut author Holly Green. Her writing has an immersive drive to it that makes you feel as if you're the one slathered in Desitin and sunscreen, baking in the sun as bugs try to eat you alive. You feel the exhaustion. You feel the victories and defeats. In the Same Boat is a great choice for those looking for an adventure they can participate in from the comfort of their favorite reading spot.
---
After Kiran Noorani's mom died, Kiran vowed to keep her dad and sister, Amira, close — to keep her family together. But when Amira announces that she's dating someone, Kiran's world is turned upside down. Deen Malik is thrilled that his brother, Faisal, has found a great girlfriend. Maybe a new love will give Faisal a new lease on life, and Deen can stop feeling guilty for the reason that Faisal needs a do-over in the first place.
When the families meet, Deen and Kiran find themselves face to face. Again. Three years ago — before Amira and Faisal met — Kiran and Deen dated in secret. Until Deen ghosted Kiran.
And now, after discovering hints of Faisal's shady past, Kiran will stop at nothing to find answers. Deen just wants his brother to be happy — and he'll do whatever it takes to keep Kiran from reaching the truth. Though the chemistry between Kiran and Deen is undeniable, can either of them take down their walls? —Synopsis provided by Quill Tree Books
It All Comes Back to You reads a bit like a soap opera crossed with a teen movie. It's chock full of drama — a role-playing game chat, flash-back texts, dance routines, secrets layered upon secrets.  Author Farah Naz Rishi has a welcoming writing style that sort of embraces you from the first. Even though Kiran and Deen's worlds are new, they feel familiar. Their characters are rooted in family and culture, and that gives them weight and believability.
---
FANTASY
LORE, by Alexandra Bracken, Disney-Hyperion, Jan. 5, 2021, Hardcover, $18.99 (young adult, ages 14 and up)
Every seven years, the Agon begins. As punishment for a past rebellion, nine Greek walk the earth as mortals, hunted by those eager to kill a god and seize their divine power and immortality. Long ago, Lore Perseous fled that brutal world in the wake of her family's sadistic murder by a rival line, turning her back on the hunt's promises of eternal glory. For years she's pushed away any thought of revenge against the man–now a god–responsible for their deaths.
Yet as the next hunt dawns over New York City, two participants seek out her help: Castor, a childhood friend of Lore believed long dead, and a gravely wounded Athena, among the last of the original gods. The goddess offers an alliance against their mutual enemy and, at last, a way for Lore to leave the Agon behind forever. But Lore's decision to bind her fate to Athena's and rejoin the hunt will come at a deadly cost — and still may not be enough to stop the rise of a new god with the power to bring humanity to its knees. —Synopsis provided by Disney-Hyperion
 Lore will appeal to a wide variety of readers, but especially to those who have an interest/knowledge in Greek mythology. While author Alexandra Bracken gives you the framework, having a foundation going into the book makes for a richer experience.
---
THE PRISON HEALER, by Lynette Noni, HMH Books for Young Readers, April 13, 2021, Hardcover, $18.99 (young adult, ages 14 and up)
Seventeen-year-old Kiva Meridan has spent the last ten years fighting for survival in Zalindov, working as the prison healer. When the Rebel Queen is captured, Kiva is charged with keeping the terminally ill woman alive long enough for her to undergo the Trial by Ordeal: A series of elemental challenges against the torments of air, fire, water, and earth, assigned to only the most dangerous of criminals.
Then a coded message from Kiva's family arrives, containing a single order: "Don't let her die. We are coming." Aware that the Trials will kill the sickly queen, Kiva risks her own life to volunteer in her place. If she succeeds, both she and the queen will be granted freedom. But no one has ever survived. —Synopsis provided by HMH Books for Young Readers
The Prison Healer is a book that sticks with you. A week after finishing it, bits and pieces are still replaying in my mind. The twist at the end, in particular, really sticks with you. Author Lynette Noni's world building is different than most. The world begins small, like Kiva's own story, limited to the infirmary. It's very insular, and you know there's more, but Noni only gives you a peak. As the story progresses, the world and magic system follow the same path. And by the end, you realize the story is only just beginning.
---
For centuries, witches have maintained the climate, but now their control is faltering as the atmosphere becomes more erratic; the storms, more destructive. All hope lies with Clara, a once-in-a-generation Everwitch whose magic is tied to every season.
In Autumn, Clara wants nothing to do with her power. It's wild and volatile, and the price of her magic is too high, despite the need to control the increasingly dangerous weather. In Winter, the world is on the precipice of disaster. Fires burn, storms rage, and Clara accepts that she's the only one who can make a difference. In Spring, she falls for Sang, the witch training her. In Summer, Clara must choose between her power and her happiness, her duty and the people she loves… before she loses Sang, her magic, and thrusts the world into chaos. —Synopsis provided by Sourcebooks Fire
The beauty of The Nature of Witches is that it's almost a contemporary YA setting, only the main characters are witches that keep the climate in check. Each witch is born on an equinox or solstice and their powers are tied to that corresponding season.
The Nature of Witches is divided into the seasons, and with each new section comes a new set of challenges. It's a clever way of pacing the novel, allowing the action to ebb and flow just as weather does in real life. Griffin's imagery is strong throughout, but excels when it comes to weather itself. Even small moments where leaves encircle someone shine bright.
---
SIX CRIMSON CRANES, by Elizabeth Lim, Knopf Books for Young Readers, July 6, 2021, Hardcover, $18.99 (young adult)
Shiori'anma, the only princess of Kiata, has a secret. Forbidden magic runs through her veins. Normally she conceals it well, but on the morning of her betrothal ceremony, Shiori loses control. At first, her mistake seems like a stroke of luck, forestalling the wedding she never wanted. But it also catches the attention of Raikama, her stepmother.
A sorceress in her own right, Raikama banishes the young princess, turning her brothers into cranes. She warns Shiori that she must speak of it to no one: for with every word that escapes her lips, one of her brothers will die.
Penniless, voiceless, and alone, Shiori searches for her brothers, and uncovers a dark conspiracy to seize the throne. Only Shiori can set the kingdom to rights, but to do so she must place her trust in a paper bird, a mercurial dragon, and the very boy she fought so hard not to marry. And she must embrace the magic she's been taught all her life to forswear — no matter what the cost. —Synopsis provided by Knopf Books for Young Readers
Six Crimson Cranes has a Shannon Hale-esque feel to it with fairy tale, characters and settings all sharing the spotlight. The story unfolds throughout the kingdom of Kiata, and because of that, readers are transported to several different climates and landscapes. You quickly find yourself in places that are weighted in reality but have a little something else, too.
---
THE WITCH HAVEN, by Sasha Peyton Smith, Simon & Schuster Books for Young Readers, Aug. 31, 2021, Hardcover, $19.99 (young adult, ages 14 and up)
In 1911 New York City, seventeen-year-old Frances Hallowell spends her days as a seamstress, mourning the mysterious death of her brother months prior. Everything changes when she's attacked and a man ends up dead at her feet—her scissors in his neck, and she can't explain how they got there.
Before she can be condemned as a murderess, two cape-wearing nurses arrive to inform her she is deathly ill and ordered to report to Haxahaven Sanitarium. But Frances finds Haxahaven isn't a sanitarium at all: it's a school for witches. Within Haxahaven's glittering walls, Frances finds the sisterhood she craves, but the headmistress warns Frances that magic is dangerous. Frances has no interest in the small, safe magic of her school, and is instead enchanted by Finn, a boy with magic himself who appears in her dreams and tells her he can teach her all she's been craving to learn, lessons that may bring her closer to discovering what truly happened to her brother.
Frances's newfound power attracts the attention of the leader of an ancient order who yearns for magical control of Manhattan. And who will stop at nothing to have Frances by his side. Frances must ultimately choose what matters more, justice for her murdered brother and her growing feelings for Finn, or the safety of her city and fellow witches. What price would she pay for power, and what if the truth is more terrible than she ever imagined? —Synopsis provided by Simon & Schuster Books for Young Readers
On its face, The Witch Haven is a book about witches. But the much deeper theme of female oppression is what sticks with you. The book has an atmospheric almost gothic feel to it. Author Sasha Peyton Smith does a great job setting the overall tone and her pacing helps amplify the overall impression.
The Witch Haven is a dark read. And there are some elements that could be triggering (attempted sexual assault, blood, murder, mutilation of corpses, alluded to child abuse, mental health issues). There are also a few plot holes and cliché's that don't need to be there. Despite the above issues, Smith's writing resonates, making for a fast and engaging read.
---
DEFY THE NIGHT, by Brigid Kemmerer, Bloomsbury YA, Sept. 14, 2021, Hardcover, $18.99 (young adult)
Apothecary apprentice Tessa Cade is tired of seeing her people die. King Harristan and his cruel brother, Prince Corrick, ignore the suffering of their people and react mercilessly to any sign of rebellion, even as a sickness ravages the land. That's why she and her best friend Wes risk their lives each night to steal the petals of the delicate Moonflower, the only known cure. But it's not enough to keep everyone she loves safe-or alive.
When Prince Corrick commits an act of unspeakable cruelty, Tessa becomes desperate enough to try the impossible: sneaking into the palace. But what she finds there makes her wonder if it's even possible to fix their world without destroying it first. —Synopsis provided by Bloomsbury YA
It's hard to say much about Defy the Night's plot without revealing some pretty major revelations, which is to say, it's got some great twists. Kemmerer is great at setting the scene. She's incredibly detailed, yet never gets lost in the details. She deftly balances emotion with plot, creating an immersive feel that nabs you from the first page and doesn't let go.
And though Defy the Night is fairly long — approximately 500 pages — it doesn't feel overly ambitious. In fact, I finished the book wanting more, which is good, because Defy the Night is the first book in a planned series.
---
ADVENTURE/MYSTERY
It's been five years since Wendy and her two brothers went missing in the woods, and only Wendy came back. Now, the town's children start to disappear, and the questions surrounding her brothers' mysterious circumstances are brought back into the light. Attempting to flee her past, Wendy almost runs over an unconscious boy lying in the middle of the road…
Peter, a boy she thought lived only in her stories, asks for Wendy's help to rescue the missing kids. But, in order to find them, Wendy must confront what's waiting for her in the woods. —Synopsis provided by Swoon Reads
It takes mere paragraphs to get caught up in Lost in the Never Woods. Author Aiden Thomas' gripping prose is as decisive as it is intentional. Emotion fairly drips from the pages as the story unfolds.
While Peter would be the obvious choice for a main character, it's Wendy who takes center stage here. Her journey — both physical and psychological — throughout the novel makes her one of the more compelling YA characters I've read in a while.
---
Samantha Knox put away her childish fantasies of archaeological adventure the day her father didn't return home from the Great War, retreating to the safety of the antique bookshop where she works. But when a mysterious package arrives with a damaged diary inside, Sam's peaceful life is obliterated.
Ruthless men intent on reclaiming the diary are after Sam, setting her and her best friend, along with her childhood crush, on a high-stakes adventure that lands them in the green hills outside Dublin, Ireland. Here they discover an ancient order with a dark purpose — to perform an occult ritual that will raise the Specter Queen, the Celtic goddess of vengeance and death, to bring about a war unlike any the world has ever seen.
To stop them, Sam must solve a deviously complex cipher — one that will lead her on a treasure hunt to discover the ancient relic at the heart of the ritual: a bowl carved from the tree of life. Will she find the bowl and stop the curse of the Specter Queen, or will the ancient order bring about the end of the world? —Synopsis provided by Disney-Hyperion
Curse of the Specter Queen is being billed as a feminist take on Indiana Jones, and it's a good comparison. Sam and her friends — Bennett and Jo — are obviously younger and less learned than Indy, but they've got the same passion for history. And the overall adventure mirrors those that Indy sets out on.
The Curse of the Specter Queen is the first book in a planned series (A Samantha Knox Novel), and I can't wait to read more. It's a fast read that transports you to a different time and place. It's pacing emphasizes the action, and it's entertaining from beginning to end.
---
When Jenny boards her flight back from New York, the biggest things on her mind are applying to Columbia and reuniting with her brand-new boyfriend. But when she and the other passengers disembark in St. Louis, they're told that their plane disappeared-twenty-five years ago. Everyone thought they were dead.
The world has fast-forwarded. Three of her grandparents are gone, her parents are old, and her "little" brother is now an adult. There's so much she's missed out on, not the least iPhones, social media, and pop culture.
When some surprising information comes to light, Jenny feels betrayed by her family and once-best friend. She's also fighting her attraction to Dylan, a cute and kind classmate who has an unusual connection to her past. And then there's the growing contingent of conspiracy theorists determined to prove that Flight 237 hides a sinister truth. Will Jenny figure out how to move forward, or will she always be stuck in the past? —Synopsis provided by Bloomsbury YA
What makes Your Life Has Been Delayed work is the focus on life after reappearing minus most of the sci-fi stuff. It reads more like a study in coping and acceptance and less about aliens and such.
Your Life Has Been Delayed is smart, funny and forces a little introspection. I particularly liked the ending, which doesn't offer all the answers. It's a bold, and deliberate move, and the book is better for it. It publishes Sept. 7.
---
Enola Holmes is the much younger sister of her more famous brothers, Sherlock and Mycroft. But she has all the wits, skills, and sleuthing inclinations of them both. At fifteen, she's an independent young woman — after all, her name spelled backwards reads 'alone' — and living on her own in London.
When a young professional woman, Miss Letitia Glover, shows up on Sherlock's doorstep, desperate to learn more about the fate of her twin sister, it is Enola who steps up. It seems her sister, the former Felicity Glover, married the Earl of Dunhench and per a curt note from the Earl, has died. But Letitia Glover is convinced this isn't the truth, that she'd know — she'd feel — if her twin had died.
The Earl's note is suspiciously vague and the death certificate is even more dubious, signed it seems by a John H. Watson, M.D. (who denies any knowledge of such). The only way forward is for Enola to go undercover — or so Enola decides at the vehement objection of her brother. And she soon finds out that this is not the first of the Earl's wives to die suddenly and vaguely — and that the secret to the fate of the missing Felicity is tied to a mysterious black barouche that arrived at the Earl's home in the middle of the night. To uncover the secrets held tightly within the Earl's hall, Enola is going to require help — from Sherlock, from the twin sister of the missing woman, and from an old friend, the young Viscount Tewkesbury, Marquess of Basilwether! —Synopsis provided by Wednesday Books
The initial lure of Enola is a strong young woman protagonist who isn't afraid to follow her heart. But the real star is Springer's prose. Enola's voice is clear and conversational. You feel as if she's recounting her tale directly to you. This makes for light and entertaining reading, balancing out darker moments.
As with any mystery, the devil is in the details. Springer could easily get lost in those, but chooses instead to dole them out in increments, allowing readers to act as sleuths in conjunction with Enola. Enola Holmes and the Black Barouche is a fast-moving mystery that leaves you wanting more.
---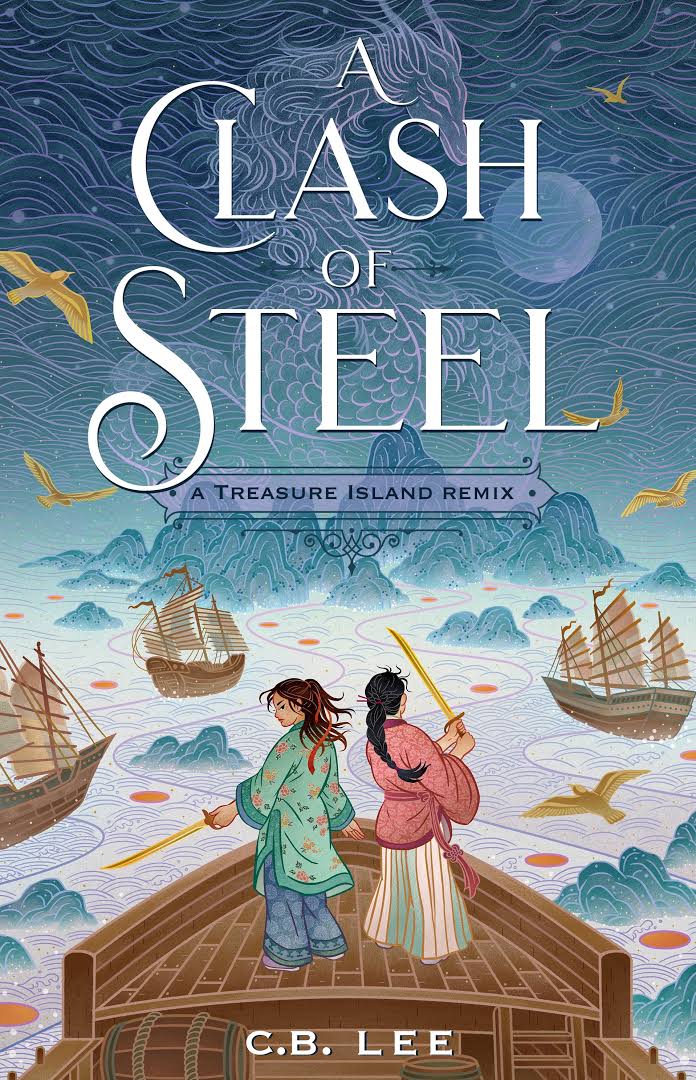 A CLASH OF STEEL: A TREASURE ISLAND REMIX , Book 1 of 4: Reclaimed Classics, by C.B. Lee, Feiwel & Friends, Sept. 7, 2021, Hardcover, $17.99 (young adult)
1826. The sun is setting on the golden age of piracy, and the legendary Dragon Fleet, the scourge of the South China Sea, is no more. Its ruthless leader, a woman known only as the Head of the Dragon, is now only a story, like the ones Xiang has grown up with all her life. She desperately wants to prove her worth, especially to her mother, a shrewd businesswoman who never seems to have enough time for Xiang. Her father is also only a story, dead at sea before Xiang was born. Her single memento of him is a pendant she always wears, a simple but plain piece of gold jewelry.
But the pendant's true nature is revealed when a mysterious girl named Anh steals it, only to return it to Xiang in exchange for her help in decoding the tiny map scroll hidden inside. The revelation that Xiang's father sailed with the Dragon Fleet and tucked away this secret changes everything. Rumor has it that the legendary Head of the Dragon had one last treasure―the plunder of a thousand ports―that for decades has only been a myth, a fool's journey.
Xiang is convinced this map could lead to the fabled treasure. Captivated with the thrill of adventure, she joins Anh and her motley crew off in pursuit of the island. But the girls soon find that the sea―and especially those who sail it―are far more dangerous than the legends led them to believe. —Synopsis provided by Feiwel & Friends
Author C.B. Lee has created a lush world for readers to escape into. Whether on land or sea, the experience is immersive. Lee's prose is smooth and her pacing spot on. There are a few predictable elements, and Lee occasionally gets too lost in the details, but it's not enough to be bothersome. Though inspired by classic literature, A Clash of Steel is fresh and exciting. The book publishes on Sept. 7.
---
HORROR
UNCHOSEN, by Katharyn Blair, Katherine Tegen Books, Jan. 26, 2021, Hardcover, $17.99 (ages 14 and up)
For Charlotte Holloway, the world ended twice. The first was when her childhood crush, Dean, fell in love—with her older sister. The second was when the Crimson, a curse spread through eye contact, turned the majority of humanity into flesh-eating monsters. Neither end of the world changed Charlotte. She's still in the shadows of her siblings. Her popular older sister, Harlow, now commands forces of survivors. And her talented younger sister, Vanessa, is the Chosen One—who, legend has it, can end the curse.
When their settlement is raided by those seeking the Chosen One, Charlotte makes a reckless decision to save Vanessa: she takes her place as prisoner. The word spreads across the seven seas—the Chosen One has been found. But when Dean's life is threatened and a resistance looms on the horizon, the lie keeping Charlotte alive begins to unravel. She'll have to break free, forge new bonds, and choose her own destiny if she has any hope of saving her sisters, her love, and maybe even the world. —Synopsis provided by Katherine Tegan Books
Unchosen fits within the familiar zombie genre, this time playing out along the Pacific Coast. I'm not a huge fan of this genre so I was glad that author Katharyn Blair chose to focus more on the survivors than the gore. Her ability to create tension is the highlight of this book. A number of strong plot twists — most of which you won't see coming — keep this a fresh read.
---
SMALL FAVORS, by Erin A. Craig, Delacorte Press, July 27, 2021, Hardcover, $18.99 (young adult)
Small Favors, a new young adult novel by Erin A. Craig, is a fresh take on the classic folk horror tale.
Ellerie Downing is waiting for something to happen. Life in isolated Amity Falls, surrounded by an impenetrable forest, has a predictable sameness. Her days are filled with tending to her family's beehives, chasing after her sisters, and dreaming of bigger things while her twin, Samuel, is free to roam as he wishes.
Early town settlers fought off monstrous creatures in the woods, and whispers that the creatures still exist keep the Downings and their neighbors from venturing too far. When some townsfolk go missing on a trip to fetch supplies, a heavy unease settles over the Falls.
Strange activities begin to plague the town, and as the seasons change, it's clear that something is terribly wrong. The creatures are real, and they're offering to fulfill the residents' deepest desires, however grand, for just a small favor. These seemingly trifling demands, however, hide sinister intentions. Soon Ellerie finds herself in a race against time to stop Amity Falls, her family, and the boy she loves from going up in flames. —Synopsis provided by Delacorte Press
Small Favors is one of those immersive novels that you don't want to put down but need to every once in a while. Author Erin A. Craig (House of Salt and Sorrows) is excellent with the details. This Gothic read is full of atmosphere and mystery. From the opening pages right to the end, you feel as if you're inside Amity Falls. The smells, sounds, and even textures envelope you.
Small Favors is a strong sophomore novel. While marketed to teens, it has a strong crossover appeal for new adults and adults, as well. I can't wait to see what Craig comes up with next.
---
HISTORICAL FICTION
North Carolina, 1863. As the American Civil War rages on, the Freedpeople's Colony of Roanoke Island is blossoming, a haven for the recently emancipated. Black people have begun building a community of their own, a refuge from the shadow of the "old life." It is where the March family has finally been able to safely put down roots with four young daughters:
Meg, a teacher who longs to find love and start a family of her own. Jo, a writer whose words are too powerful to be contained. Beth, a talented seamstress searching for a higher purpose. Amy, a dancer eager to explore life outside her family's home.
As the four March sisters come into their own as independent young women, they will face first love, health struggles, heartbreak, and new horizons. But they will face it all together. —Synopsis provided by Feiwel & Friends
So Many Beginnings is probably the most thought-provoking reimagining I've ever read. Morrow's writing is thoughtful and heartfelt. Her pacing is smooth and her scene setting perfection. Still, it's not a fast read, especially if you've read Little Women. Moments of contemplation are common while reading, and I found myself taking little breaks here and there to help things settle.
---
BEYOND THE MAPPED STARS, by Rosalyn Eves, Knopf Books for Young Readers, Aug. 24, 2021, Hardcover, $17.99 (Young Adult)
Seventeen-year-old Elizabeth Bertelsen dreams of becoming an astronomer, but she knows such dreams are as unreachable as the stars she so deeply adores. As a Mormon girl, her duty is to her family and, in a not too far away future, to the man who'll choose to marry her.
When she unexpectedly finds herself in Colorado, she's tempted by the total eclipse of the sun that's about to happen–and maybe even meeting up with the female scientists she's long admired. Elizabeth must learn to navigate this new world of possibility: with her familial duties and faith tugging at her heartstrings, a new romance on the horizon, and the study of the night sky calling to her, she can't possibly have it all…can she? —Synopsis provided by Knopf Books for Young Readers
Elizabeth's dreams resonate clear and strong. She is smart and bold. She is dutiful. But not just dutiful to her family, she's dutiful to herself. It's that strength that sticks. Though this is Elizabeth's story, the supporting characters are also beautifully explored.
Though author Rosalyn Eves' excellent character building is the star of the show, her ability to transport readers to another time and place should not be forgotten. I felt the heat and tasted the dust of southern Utah; smelled the crisp air on Pikes Peak; and felt all the bumps and bruises from wagon and train travel.
---
BLUEBIRD, by Sharon Cameron, Scholastic Press, Oct. 5, 2021, Hardcover, $18.99 (young adult)
In 1946, Eva leaves behind the rubble of Berlin for the streets of New York City, stepping from the fiery aftermath of one war into another, far colder one, where power is more important than principles, and lies are more plentiful than the truth. Eva holds the key to a deadly secret: Project Bluebird — a horrific experiment of the concentration camps, capable of tipping the balance of world power. Both the Americans and the Soviets want Bluebird, and it is something that neither should ever be allowed to possess.
But Eva hasn't come to America for secrets or power. She hasn't even come for a new life. She has come to America for one thing: justice. And the Nazi that has escaped its net. —Synopsis provided by Scholastic Press
Bluebird is a gripping thriller from beginning to end that feels like source material for an Alfred Hitchcock movie — Notorious, anyone? Its film noir feel is full of suspense, mystery and romance. But there's much more to the story. It's also an intimate look at betrayal, secrets and what truly makes us who we are.
---
NONFICTION
Talking about racism can be hard, but…
Most kids of color grow up talking about racism. They have "The Talk" with their families—the honest talk about survival in a racist world.
But white kids don't. They're barely spoken to about race at all — and that needs to change. Because not talking about racism doesn't make it go away. Not talking about white privilege doesn't mean it doesn't exist.
The Other Talk begins this much-needed conversation for white kids. In an instantly relatable and deeply honest account of his own life, Brendan Kiely offers young readers a way to understand one's own white privilege and why allyship is so vital, so that we can all start doing our part — today. —Synopsis provided by Atheneum/Caitlyn Dlouhy Books
The Other Talk is an uncomfortable read, and rightly so. It helps white readers reframe their experiences and question outcomes.
The book could easily come across as preachy or pushy, but it doesn't. Rather, author Brendan Kiely compares instances from his own life with those of color. The differences are stark and eye opening.
Kiely's writing is conversational and inviting. He asks lots of questions. He gives readers room to think and grow. Kiely makes it clear he's not an expert on race, racism and white privilege, and that's OK. Sometimes following someone else's progress is exactly what you need to start your own.
---