PLAYING WITH LANTERNS, by Wang Yage, illustrated by Zhu Chengliang, and translated by Helen Wang, Amazon Crossing Kids, Jan. 11, 2022, Hardcover, $17.99 (ages 3-7)
Learn how people celebrate Chinese New Year in northwest China in Playing with Lanterns, by Wang Yage and Zhu Chengliang.
Zhao Di and her friends are excited to go out at night with their paper lanterns and celebrate Chinese New Year. Each holding a unique colorful lantern with a lit candle inside, they admire the breathtaking colors while doing their best to avoid the wind and the sneaky boys in the village. Every night, until the fifteenth day of New Year, Zhao Di and her friends take part in this fun tradition, experiencing the thrill of nighttime in their village. And then ― it's time to smash the lanterns! —Synopsis provided by Amazon Crossing
Playing with Lanterns follows one girl's ups and downs during Chinese New Year. Many children — and their parents — will relate to the high expectations and excitement big events bring and the sometimes even bigger letdowns once they're over.
Zhao Di is a sweet little character whose emotions fairly jump off the page. The writing, which is translated from Simplified Chinese, has a more formal feel than American readers are used to. But it's that touch of formality that sets the overall tone. And lovely paintings bring the entire experience to life. An end note from the author goes into greater depth about the "smashing lanterns" folk tradition.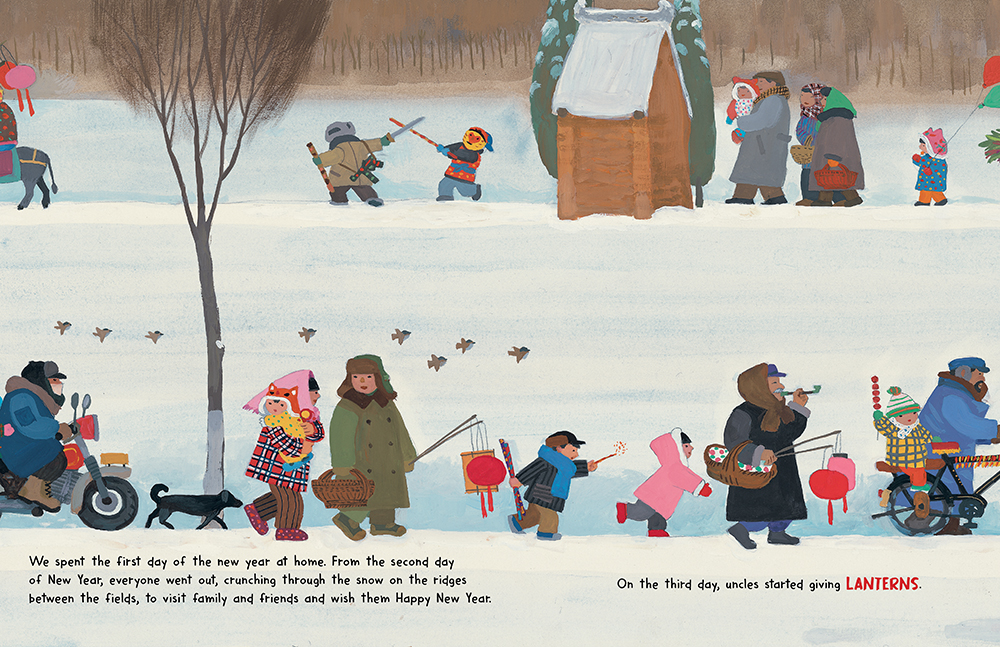 ---
About the creators:
Wang Yage was born in Shaanxi, a central and historical province of China, where the custom of playing with lanterns was once a popular Chinese New Year tradition. A doctor of classical Chinese literature, she teaches at the University of Tibet. Playing with Lanterns is her first picture book. First published in China, the book made the prestigious White Ravens international book list.
Zhu Chengliang is an award-winning Chinese illustrator. Born in Shanghai and raised in Suzhou, he studied at the Department of Fine Art, Nanjing University, and has worked as an author, illustrator, editor, and designer. He was nominated for the Hans Christian Andersen Award in 2016, which is the highest international distinction given to authors and illustrators of children's books. His books have been named one of the Ten Best Illustrated Books by the New York Times and to the IBBY Honor List.
Helen Wang is a writer and translator from the UK. In 2017 she was given a Special Contributor of the Year honor as part of the Chen Bochui International Children's Literature Awards for her work in bringing Chinese children's literature to English-speaking audiences. Wang has translated novels, picture books, and graphic novels, including Cao Wenxuan's Bronze and Sunflower, which won the Marsh Christian Award for Children's Literature in Translation.