MERMAID DANCE, by Matthew Van Fleet and Mara Van Fleet, Simon & Schuster/Paula Wiseman Books, Jan. 18, 2022, Board Book, $21.99 (ages 2 and up)
Merkids get dance lessons from their animal friends in Mermaid Dance, written by Mathew Van Fleet and illustrated by Mara Van Fleet.
Follow along with the merkids as their sea creature friends form a dance party and teach them the narwhal nod, the silly seal spin, polar bear twist, and more! Little ones can use the six sturdy pull tabs to make the characters move as they dance their way to the grand pop-up finale. —Synopsis provided by Simon & Schuster/Paula Wiseman Books
Board Books are usually pretty unexpensive — less than $10 is the going rate for a large majority. So when one with a larger price tag — $21.99 in the case of Mermaid Dance — comes along, I find myself questioning, "Is it worth the expense?" In the case of Mermaid Dance, that depends.
When you pick up Mermaid Dance, the cost is clear. The book is hefty. At 9.5 x 1.9 x 7 inches it's about double the size of a standard board book. It's heavier, too. The book features six tabs that make the mermaids and animals "dance" when you pull and push them. Everything about the book is sturdy, except perhaps the final pop-up page, which a toddler could easily tear or bend.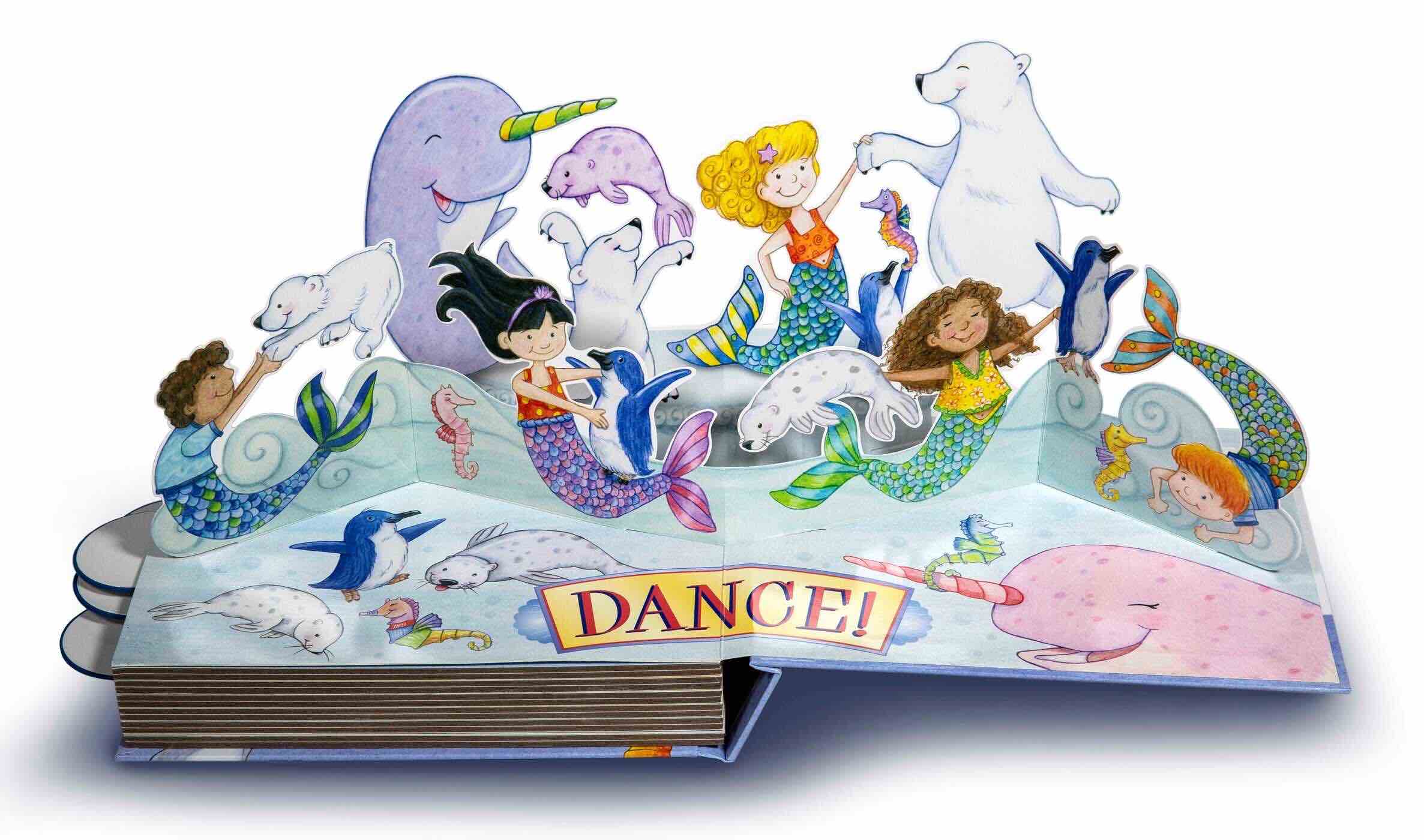 Mathew Can Fleet's peppy text has a rhythmic lilt that lends to dancing, and kids will love acting out the moves with Mara Van Fleet's sweet illustrations.
I can see toddlers who like mermaids really loving Mermaid Dance. And if I had more than one child, or planned on having more than one child, I would definitely consider the investment. Older siblings would get a kick out of reading this out loud to a younger brother or sister.