March is Women's History Month. To help you celebrate, here are some recently released picture and middle-grade books that celebrate women's accomplishments. Books are listed in order by suggested age, with the most recent releases first. Synopses are in blue and provided by the publishers. Scroll down for the complete list or click or tap the following links to directly visit a section BOARD BOOK • AGES 4 AND UP • AGES 5 AND UP • AGES 6 AND UP • AGES 7 AND UP • AGES 10 AND UP 
BOARD BOOK
STRUT, BABY, STRUT, by Amika Kroll and Ebony Glenn, Little Simon, Jan. 4, 2022, Board Book, $8.99 (ages 1 and up)
From baby to toddler to big girl to teen to young lady, and finally, a confident woman, this lyrical, rhyming story teaches little girls to reach high, be bold, and love big at any and every stage of their life. Full of inspiring life lessons every parent strives to teach their child from day one, this story, written for little girls everywhere, is about growing up, loving yourself, and embracing your womanhood. —Synopsis provided by Little Simon
This bold board book encourages big goals and resiliency. Simple text is paired with bright, bold illustrations that will appeal to little ones. Parents will appreciate the positive messages throughout.
---
AGES 4 AND UP
Harriet Lawrence Hemenway loved hats. She loved them with ribbons and flowers, embroidery and pearls. And feathers! What was better than a hat with grand, glorious feathers? But then Harriet discovered that millions of birds died so that she and her friends could soar at the height of style. A passion for fashion was one thing, but this was feather-brained!
So Harriet led the charge to take feathers out of fashion, getting laws passed that made it illegal to buy or sell wild bird feathers. In 1896, she and her fellow bird protectors founded the Massachusetts Audubon Society, which grew into a national organization that still protects birds today —Synopsis provided by Atheneum Books for Young Readers
Harriet's Ruffled Feathers is a beautifully illustrated book about a woman who saw a problem and set out to fix it. Smooth and engaging text make Harriet's story accessible and enjoyable. Strong back matter includes information about conservation, birdwatching tips, and how to make pretend binoculars. This book would be a fun addition to classroom lessons on birds.
---
In 1916, Albert Einstein had a theory. He thought that somewhere out in the universe, there were collisions in space. These collisions could cause little sound waves in the fabric of space-time that might carry many secrets of the distant universe. But it was only a theory. He could not prove it in his lifetime.
Many years later, an immigrant scientist named Gabriela Gonzalez asked the same questions. Armed with modern technology, she joined a team of physicists who set out to prove Einstein's theory. At first, there was nothing. But then… they heard a sound. Gabriela and her team examined, and measured, and re-measured until they were sure.
Completing the work that Albert Einstein had begun 100 years earlier, Gonzalez broke ground for new space-time research. —Synopsis provided by Knopf Books for Young Readers
Space-time is not the easiest topic to understand, but this book does a fine job of explaining it. Younger readers may not understand everything, but they will appreciate Gonzalez's contributions. Tender illustrations go a long way in helping readers visually understand the concepts discussed. Backmatter includes a timeline and glossary, as well as information on Einstein's Theory of General Relativity and Gonzalez's Detection of Gravitational Waves.
---
In the days when most girls were brought up to run a home, Jane Taylor had a different kind of education in the English countryside, where she was inspired by nature and the stars, and dreamed of becoming a writer. But in the late 1700s, it was not considered proper for women to be writers. Jane and other female poets were shunned, unable to use their own names when published. But Jane did write, and she never forgot her love for the beauty of nature and the glow of stars, or her desire to write for children. Her published poetry became universally known for generations to come: Twinkle, twinkle little star. —Synopsis provided by Bloomsbury Children's Books
Like a Diamond in the Sky is a lovely look at the life of Jane Taylor. Children will be stunned to learn the writer of one of their favorite poems/songs had to write under a different name. Lyrical writing paired with charming hand-painted illustrations make this one of my favorite recent biographies. Backmatter includes an author's note, more on Jane Taylor, a timeline and more.
---
As a child in Georgia, Alma Thomas loved to spend time outside, soaking up the colors around her. And her parents filled their home with color and creativity despite the racial injustices they faced. After the family moved to Washington DC, Alma shared her passion for art by teaching children. When she was almost 70 years old, she focused on her own artwork, inspired by nature and space travel. —Synopsis provided by HarperCollins
Ablaze with Color: A Story of Painter Alma Thomas is a rich picture book from beginning to end. Author Jeanne Walker Harvey's text is clear and warm as she follows Alma's life and passion. Illustrator Loveis Wise emulates Alma's abstract style, creating emotion through splashes of color and texture. Backmatter includes photos of Alma and her artwork, read an author's and illustrator's note, and find sources for further exploration. A two-page timeline helps readers place Alma's life within the context of current events.
---
Whenever young Alice Waters tasted something delicious, like the sun-warmed berries from her family's garden or a crisp, ripe apple picked straight from the tree, she would remember it for the rest of her life. Later, as she tasted many more wonderful foods, she realized what made them so good—they were fresh and ripe, grown or made the old-fashioned way.
When Alice grew up, she opened a restaurant called Chez Panisse. As part of her quest to make delicious food, Alice sought out small, local farmers to provide the meat, dairy, and produce. The restaurant made her famous, but it did much more than that — it started a food revolution. Today, home cooks and chefs alike are all discovering the simple secret to the Best! Food! Ever! This book is a celebration of food, cooking, and the woman whose curiosity and devotion to flavor kickstarted America's interest in buying local, organic food. —Synopsis provided by Simon & Schuster/Paula Wiseman Books
This book will speak to any child who has ever had a tomato or raspberry or carrot or apple straight from the garden. They will immediately understand Alice's passion for fresh ingredients. Those who have not had that experience, will likely be encouraged to seek out that same experience. This charming story features warm text and colorful folk-art illustrations. Backmatter includes more information on Alice and her food revolution, a timeline and bibliography.
---
There's an extraordinary secret hidden just beneath Ruth Mason's feet. The year is 1905, and Ruth is a prairie girl living in South Dakota. She has no way of knowing that millions of years ago, her family farm was once home to scores of dinosaurs. Until one day, when Ruth starts finding clues to the past: strange rocks and rubble scattered all across her land. They're dinosaur fossils—but she doesn't know that yet, either. It will take many years of collecting these clues, and many, many questions, but Ruth's curiosity will one day help uncover thousands of fossils all across her land. —Synopsis provided by Margaret K. McElderry Books
Based on the true story of Ruth Mason, this book will astound young readers and might encourage them to go explore their own backyards. Beautiful, bold illustrations accompany clear and inviting text. Backmatter includes more information on Ruth's life and the dinosaur known as "Ruth."
---
AGES 5 AND UP
Make way for Ruth Bader Ginsburg! Using a unique mix of first-person narrative, comic panels, and essential facts, Dean Robbins introduces young readers to an American trailblazer. The first book in a new nonfiction series, You Are a Star, Ruth Bader Ginsburg focuses on Ruth's lifelong mission to bring equality and justice to all. —Synopsis provided by Scholastic Press
This great picture book is told from RBG's perspective, giving it a personal feeling it wouldn't otherwise have. It follows her entire life with easy nuggets of information without feeling rushed or overly comprehensive. Illustrator Sarah Green's comic illustrations are full of color and feeling.
---
This volume honors 50 modern women, presented with their own words, who have dared to raise their voices and persevere through hardship and injustice to become revolutionaries and dreamers, artists and creators.
Featuring women like musical powerhouse Beyoncé Knowles; tennis star Serena Williams; Meghan, Duchess of Sussex; and activist Angela Davis, this book is perfect for any reader who is seeking grace, courage, strength, and self-love. — Synopsis provided by Denene Millner Books/Simon & Schuster Books for Young Readers
Though the publisher's suggested age range is birth and up, I'd wait until at least 5-years-old. Young readers will be drawn to the graphic, bold illustrations, but will need help with context and definitions when it comes to the text. That said, it's the perfect sort of book to flip through and spark conversation. It's an empowering read that makes you think and want to take action.
---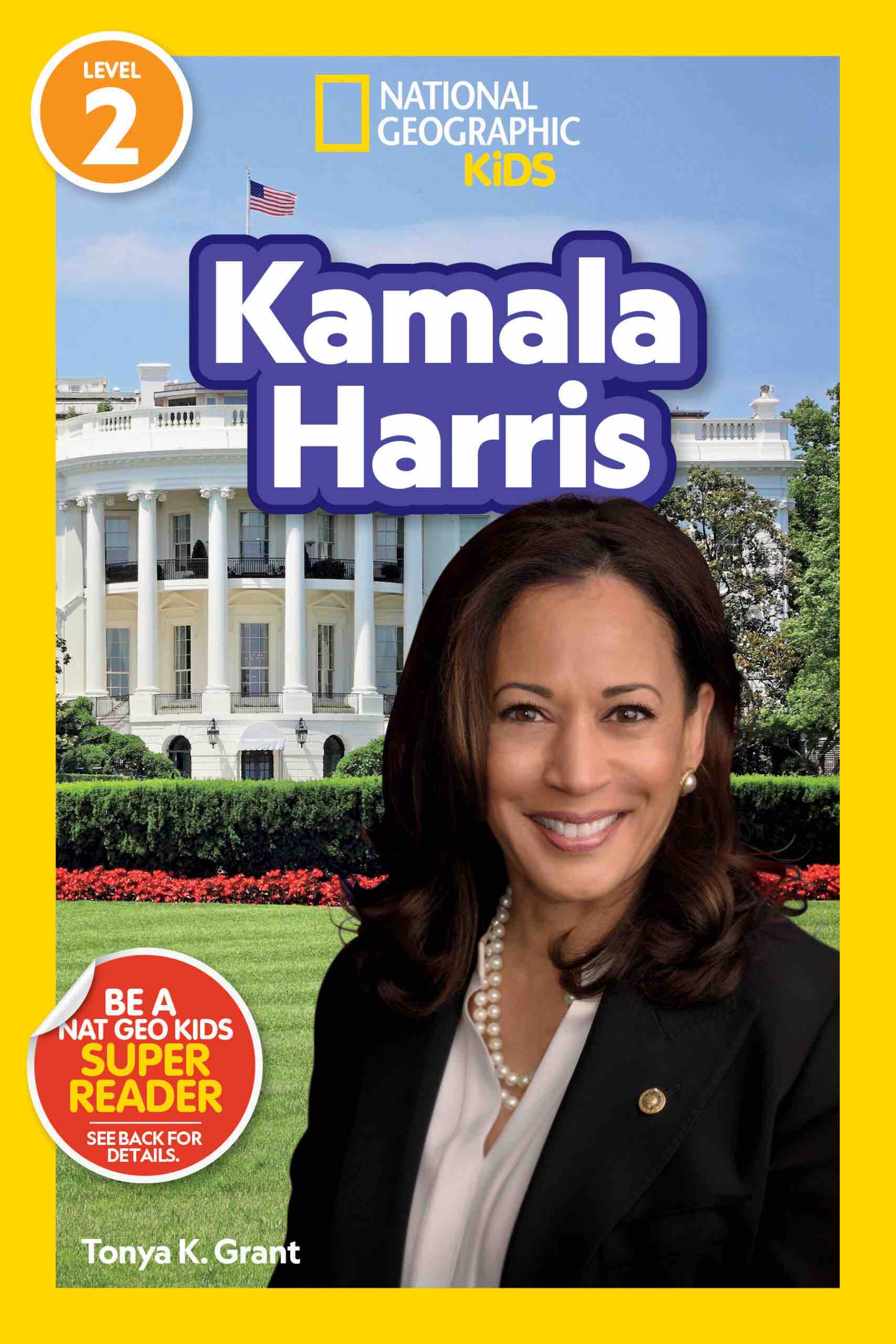 NATIONAL GEOGRAPHIC READERS: KAMALA HARRIS (LEVEL 2), by Tonya Grant, National Geographic Kids, Jan. 4, 2022, Paperback, $4.99 (ages 5-8)
Explore one of the most powerful and highest-ranking female figures in American history with this biography of Vice President Kamala Harris in this Level 2 reader.
On January 20, 2021, Kamala Harris made history. That day, she became the first woman, the first Black American, and the first South Asian American to be elected as Vice President of the United States. Young readers will learn about Harris's childhood, her early career, and her journey that led to winning the vice presidency. This early reader also explores how Harris devoted her life to helping others, from serving as the Attorney General of California, to being elected as a U.S. Senator, to working alongside President Joe Biden on the campaign trail and in the White House. —Synopsis provided by National Geographic Kids
The minute my now-8-year-old saw this book, she begged to borrow it. We watched Kamala Harris get sworn in. It was such a big moment to see a woman become vice president, and my daughter wants to know all about her. Level 2 books are fairly simple but offer chapters, a quiz and glossary, which are exciting for early readers. There are lots of pictures and pull-out facts for more visual learners.
---
Learn about the voting rights advocate and politician Stacey Abrams and her groundbreaking achievements in this appealing Level 2 reader. Young readers will find out about Abram's childhood and her early career as a city attorney and as minority leader of the Georgia House of Representatives. The reader also explores her run in Georgia as the first Black woman to be nominated by a major party for governor, and how losing that race inspired her to devote her life to making elections and the voting process more equitable for everyone. —Synopsis provided by National Geographic Kids
This is another book that caught my daughter's eye. Though she is well into novels, she's read many Nat Geo books and knows what to expect. The Level 2 books offer great introductions that often inspire further research. She was excited to learn about another woman in a leadership position.
---
AGES 6 AND UP
When Joanne Simpson (1923-2010) was a girl, she sailed her boat beneath the puffy white clouds of Cape Cod. As a pilot, she flew her plane so high, its wings almost touched them. And when World War II began and Joanne moved to the University of Chicago, a professor asked her to teach Air Force officers about those very clouds and the weather-changing winds.
As soon as the war ended, Joanne decided to seriously study the clouds she had grown to love so much. Her professors laughed. They told her to go home. But Joanne was stubborn. She sold her boat. She flew her last flight. She saved her money so that she could study clouds. She worked so hard and discovered so much that — despite what the professors said — she received a doctorate in meteorology. She was the first woman in the world to do so. —Synopsis provided by Abrams Books for Young Readers
Author Sandra Nickel expertly captures Joanne's frustrations, expectations and triumphs. The text is friendly and clear even when providing scientific information. Illustrator Helena Perez Garcia not only shows what happens to Joanne, but conveys emotion with some perfectly placed clouds, as well. Readers will be delighted to see photographs of Joanne and further information in the book's backmatter.
---
Exploring was easier said than done in Victorian England. But Isabella Bird persisted, and with each journey, she breathed in new ways to see and describe everything around her. Question by question, word by word, Isabella bloomed. First, out in the English countryside. Then, off to America and Canada. And eventually, around the world, to Africa, Asia, Australia, and more.
This dashing picture book biography about the first female member of the Royal Geographic Society takes readers around the world with a daring nineteenth-century female explorer and author. —Synopsis provided by Peachtree Publishing Company
It's not hard to get swept away by Away With Words. Lori Mortensen's accessible prose is full of action and emotion. That text is perfectly paired with Kristy Caldwell's detailed, graphic novel-inspired illustrations that fairly bring Bird's adventures to life. Back matter, an author's note, and a bibliography offer readers a chance for further discovery. I handed this one to my daughter, and she started making a list of her own future adventures.
---
AGES 7 AND UP
Elizabeth Hobbs Keckley was born in 1818, enslaved to a Virginian plantation owner. As a teenager, Lizzy was sent to work as the only slave on a small plantation, where the work was endless, and the masters treated her with unspeakable cruelty. A new master, learning Lizzy could sew, sent her to work for a tailor, who paid the master, not Lizzy, for Lizzy's work.
The beautiful gowns that Lizzy created were displayed in the tailor's window and soon attracted the attention of the wealthiest women in Virginia. Among them was Mrs. Jefferson Davis who also introduced Lizzy to Mary Todd Lincoln. Though Lizzy first had to borrow money from her wealthy patrons to buy her freedom, once she was free, she was able to earn money of her own and pay them all back. —Synopsis provided by Holiday House
Stitch by Stitch is an inspiring story of a woman who was able to use her talent to achieve freedom. Her perseverance shines through Connie Morrison's honest text. And Elizabeth Zunon's mixed media illustrations —including oil paint, paper, fabric, ribbon, embroidery, lace, and appliqué — embrace not only the book's feel, but Lizzy's gifts, too.
---
AGES 10 AND UP
At the turn of the 20th century, Lise Meitner dreamed of becoming a scientist. In her time, girls were not supposed to want careers, much less ones in science. But Lise was smart — and determined. She earned a PhD in physics, then became the first woman physics professor at the University of Berlin. The work was thrilling, but Nazi Germany was a dangerous place for a Jewish woman. When the risks grew too great, Lise escaped to Sweden, where she continued the experiments that she and her laboratory partner had worked on for years. Her efforts led to the discovery of nuclear fission and altered the course of history. —Synopsis provided by Atheneum Books for Young Readers
Jeannine Atkins is a master storyteller, and she tells her stories through verse. Lines like "Elements seem like the alphabet of the world!" and "Science becomes a need, like hunger." are just a peek at the wonderful pictures she creates with words. Hidden Powers is a fantastic read that will appeal to a large group of readers.
---
Before there was Barack Obama, before there was Kamala Harris, there was Fighting Shirley Chisholm. A daughter of Barbadian immigrants, Chisholm developed her political chops in Brooklyn in the 1950s and went on to become the first Black woman elected to the U.S. House of Representatives.
 This "pepper pot," as she was known, was not afraid to speak up for what she thought was right. While fighting for a better life for her constituents in New York's 12th Congressional District, Chisholm routinely fought against sexism and racism in her own life and defied the norms of the time. As the first Black woman in the House and the first Black woman to seek the presidential nomination from a major political party, Shirley Chisholm laid the groundwork for those who would come after her.
Extensively researched and reviewed by experts, this biography traces Chisholm's journey from her childhood in a small flat in Brooklyn where she read books with her sisters to Brooklyn College where she got her first taste of politics. Readers will cheer Chisholm on to victory from the campaign trail to the hallowed halls of the U.S. Capitol, where she fought for fair wages, equal rights, and an end to the Vietnam War. And while the presidential campaign trail in 1972 did not end in victory, Shirley Chisholm shows us how you can change a country when you speak up and speak out. —Synopsis provided by National Geographic Kids
You really can't go wrong with National Geographic books, and Speak Up, Speak Out is no exception. What does make it different from most of the Nat Geo Kids books reviewed on Cracking the Cover is the format. Speak Up, Speak Out is a true chapter book — geared toward older middle grade and young adults — with full-color illustrations pulled together in one section rather than used heavily throughout. This absorbing biography captures interest from beginning to end. Author Tonya Bolden's writing is thoughtful and clear, making this an excellent choice for readers of all backgrounds.
---
As a young girl living in a motel with her mother and her five siblings, Misty Copeland didn't have a lot of exposure to ballet or prominent dancers. She was sixteen when she saw a black ballerina on a magazine cover for the first time. The experience emboldened Misty and told her that she wasn't alone — and her dream wasn't impossible. In the years since, Misty has only learned more about the trailblazing women who made her own success possible by pushing back against repression and racism with their talent and tenacity. Misty brings these women's stories to a new generation of readers and gives them the recognition they deserve. This book delves into the lives and careers of women of color who fundamentally changed the landscape of American ballet from the early 20th century to today. —Synopsis provided by Aladdin
While Black Ballerinas: My Journey to Our Legacy may look like a picture book, it's much more. A two-page spread is dedicated to each ballerina. One page features a beautiful dance portrait and the other is full text. The print size is what you would find in a typical middle-grade novel, and the text difficulty mirrors that as well. Not only are the mini-biographies heartfelt and inspiring. But the illustrations show a true understanding of movement and technique. Budding ballerinas and ballet fans alike will be drawn to this excellent book.
---
After a childhood spent looking up at the stars, Caroline Herschel was the first woman to discover a comet and to earn a salary for scientific research. Florence Nightingale was a trailblazing nurse whose work reformed hospitals and one of the founders of the field of medical statistics. The first female electrical engineer, Hertha Marks Ayrton registered twenty-six patents for her inventions.
Marie Tharp helped create the first map of the entire ocean floor, which helped scientists understand our subaquatic world and suggested how the continents shifted. A mathematical prodigy, Katherine Johnson calculated trajectories and launch windows for many NASA projects including the Apollo 11 mission. Edna Lee Paisano, a citizen of the Nez Perce Nation, was the first Native American to work full time for the Census Bureau, overseeing a large increase in American Indian and Alaskan Native representation. And Vera Rubin studied more than two hundred galaxies and found the first strong evidence for dark matter.
This novel celebrates seven women who used math as their key to explore the mysteries of the universe and grew up to do innovative work that changed the world. —Synopsis provided by Atheneum Books for Young Readers
Now available in paperback, this fantastic biography features the stories of seven mathematicians through verse. Author Jeannine Atkins' prose is sparkling. Her ability to say so much with so little is impressive. Her words are thoughtful and precise, making all seven of her subjects come to life. This blending of math and art is as accessible as it is beautiful. This should appeal to a large swath of readers — those who love art, science, math, history and beyond.
Copyright © 2022 Cracking the Cover. Unless otherwise noted, all books — digital and physical — have been provided by publishers in exchange for honest and unbiased reviews. All thoughts and opinions are those of the reviewer.