ULTIMATE SPOTLIGHT: VOLCANOES, by Sandra Laboucarie and Pierre Caillou, Twirl, March 1, 2022, Hardcover, $16.99 (ages 5-9)
Ultimate Spotlight: Volcanoes, by Sandra Laboucarie and Pierre Caillou, is an interactive look at the inner workings of volcanoes.
Ultimate Spotlight: Volcanoes gives children a closer look at different types of volcanoes and how they form. Explore the beginnings of a volcano: Pull a tab to follow the path of magma to Earth's surface, turn a page to reveal a big pop-up of a volcano eruption, and lift flaps to see the creation of a volcanic island. —Synopsis provided by Twirl
Divided into five sections, this book begins with an overview of where volcanoes can be found and Earth's layers. That's followed by how a volcano is formed and different volcano shapes; stratovolcanoes; shield volcanoes; and volcanology. Each page features multiple flaps and tabs designed to enrich and inform.
Sandra Laboucarie's informative text is presented in small nuggets sprinkled across the page, making it accessible and the book easy to thumb through. Pierre Caillou's illustrations are simple, but effective, perfectly illustrating each element.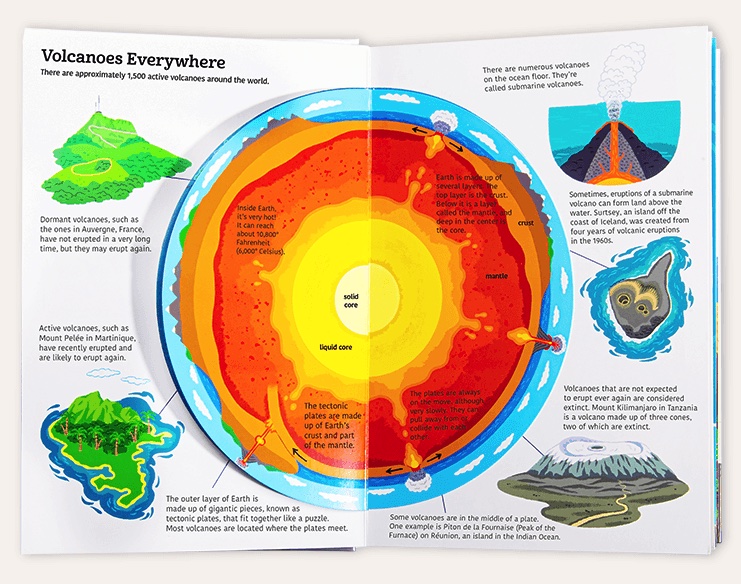 Copyright © 2022 Cracking the Cover. Unless otherwise noted, all books — digital and physical — have been provided by publishers in exchange for honest and unbiased reviews. All thoughts and opinions are those of the reviewer.