Spring is officially here. Everywhere you look, buds are popping open. Insects are starting to emerge and birds are returning. Below are some excellent books just right for celebrating the season. For even more options, check out these delightful Easter books, books about trees and Earth Day that would are sure to brighten everyone's day.
The following books were recently published. All synopsizes are italicized in blue and provided by respective publishers. Reviews are by Jessica. Scroll down for the complete list or click or tap the following links to directly visit a section BIRTH & UP • AGES 2 AND UP • AGES 3 AND UP • AGES 8 AND UP 
BIRTH & UP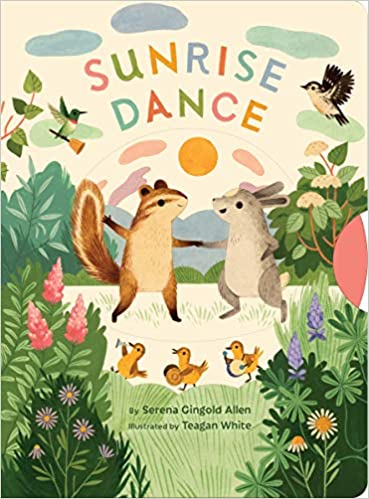 SUNRISE DANCE, by Serena Gingold Allen and Teagan White, Chronicle Books, April 5, 2022, Board Book, $12.99 (ages 0-3)
Make salmon splash and bear cubs bustle with each push of a durable novelty element in this sweet and interactive morning read-aloud.
When you wake up in the morning, playful animals are starting their day! Push and pull the sturdy tabs to make dragonflies dance and bear cubs bustle in this sweet, interactive tale of morning-time fun. —Synopsis provided by Chronicle Books
Tender illustrations and interactive wheels and pulls make this charming book a winner. Sturdy cardboard ensure it will hold up to heavy use.
---
LITTLE SEED, by Benson Shum, Little Simon, Feb. 22, 2022, Board Book, $8.99 (ages 0-5)
Little Seed has a very big wish: figure out how to hug the whole world.
So with a loving nudge from Mama Earth, Little Seed sets out on an adventure to meet and learn different ways to hug and love each new friend. But how do you hug a panda who's as soft as a cloud? And how do you hug a whale who's as big as a mountain? —Synopsis provided by Little Simon
This thoughtful book encourages little ones to look for different ways to share love. Bright, bold illustrations immediately draw you in and gentle text adds context.
---
SOFT LIKE A BUNNY, by Courtney Acampora and Dubravka Kolanovic, Silver Dolphin Books, Feb. 1, 2022, Board Book, $8.99 (ages 0-2)
From a hopping bunny to a splashing duckling, Soft Like a Bunny is a board book with rhyming text and something to touch and feel on every spread. Little ones can pet the fluffy llama, cuddle the cute kitten, and feel the sleepy deer's soft fur in this sturdy board book Children will associate a tactile element with each creature in this multisensory book full of sweet animals. —Synopsis provided by Silver Dolphin Books
Soft Like a Bunny is a tender board book that little ones will enjoy year-round. Though not specifically an Easter book, its pastel colors and pictures of bunnies, lambs and chicks make it a good choice for Easter baskets and spring celebrations. This is exactly the sort of board book my daughter would have loved as an infant/toddler.
---
AGES 2 AND UP
See the world through a fox kit's eyes in a book about finding your place in the world. Over the course of four seasons, Kit comes of age in the forest. In spring, she gambols. In autumn, she races. In summer, she sneaks and slinks. But with her mama, she will always be a little kit.
This is the second in a series of board books that pairs Kristen Tracy's text with Alison Farrell's art for an adorable treatment of everyone's favorite topic: baby animals! —Synopsis provided by Chronicle Books
Though this book covers all four seasons, animal lovers will love it any time of the year. Energetic prose is well matched with expressive illustrations that are full of movement and charm.
---
BEYOND THE BURROW, by Jessica Meserve, Macmillan Children's Books, March 4, 2021, Hardcover, $17.99 (ages 2-5)
The big, wide world can be scary, especially when it's filled with strange-looking creatures who don't eat carrots. But does giant, clawed and hairy have to mean scary? And is there a rabbit brave enough to find out? —Synopsis provided by Macmillan Children's Books
Though this story starts out about a rabbit and a carrot, it is not an Easter story. No, it's a story of adventure and bravery and exploring the unknown. Rabbit's interactions with other animals are delightful, with inviting text paired equally with engaging illustrations. This is a joy to read.
---
AGES 3 AND UP
THE STORY OF PETER RABBIT, by Beatrix Potter and Lisa McCue, Studio Fun International; Abridged edition, March 8, 2022, Board Book, $10.99 (ages 3-5)
Naughty little Peter Rabbit gets into trouble eating vegetables in Mr. McGregor's garden. First, he eats so much, he starts feeling sick, and then Mr. McGregor chases him around the garden with his rake! Peter is in such a hurry to escape the farmer that he loses his shoes and his jacket. Will he make it home? —Synopsis provided by Studio Fun International
This is an abridged version of Beatrix Potter's classic story that's illustrations give Peter a more updated look. Bold colors and expressive characters are sure to engage young readers. It's a good stepping stone to reading the original tale.
---
Juniper can't wait to audition for the First Notes of Spring, the orchestra that melts away winter and wakes up spring with its melodies. With her strong sticks, thumpity toadstool, and rowdy rhythms, she plays with all her might. BOOMEY-BOOM-BOOM!
But Mr. Moose says there's no room in the band for her loud percussion skills. Juniper is heartbroken, until she discovers other tappers, clappers, and noisemakers in the woods. As they parade through the forest playing music together, they learn that maybe their song can wake spring too. —Synopsis provided by Bloomsbury Children's Books
This is one of those books that you just have to read out LOUD. Kids will enjoy making the musical sounds and may come up with their own additions, too. With inviting text and bright, charming illustrations, it's a great introduction to the changing of the seasons.
---
AGES 8 AND UP
In our garden, can you see?
A grand adventure? And it's free!
A green delicious fantasy?
Behold our magical garden.
There's a lot more to gardens than meets the eye! In this collection of buoyant poems filled with fun facts, young nature enthusiasts and budding gardeners are called on to help solve a mystery by the compost bin, join a Wild West–style standoff between some good bugs and a few bad ones, interview the sun to find out what happens when it drinks a glass of water, and learn the fancy names of plants to spice up dinner conversation. They'll be spurred to grab their own gardening tools, drop in some seeds, encounter a few insects, gather fresh vegetables, and find a whole lot of magic. Allan Wolf's playful poems and Daniel Duncan's whimsically detailed, welcoming illustrations combine in a charming celebration of the many wonders and lessons to be learned from a school garden. For further inspiration, engaging notes on the poems and an author's note on jotting down observations can be found in the back matter. —Synopsis provided by Candlewick
Behold Our Magical Garden is a joy to read. It is a combination of art, poetry, science and so much more. Poems range in size from a few lines to an entire page, and cover all aspects of gardening — even the compost bin gets its turn in the spotlight. These poems bounce. They're fun to read aloud, and the accompanying illustrations are pitch perfect. This would be a great addition to any home or classroom. It's sure to inspire budding writers/illustrators to look at their own gardens in a new light.
Copyright © 2022 Cracking the Cover. Unless otherwise noted, all books — digital and physical — have been provided by publishers in exchange for honest and unbiased reviews. All thoughts and opinions are those of the reviewer.