THURSDAY, by Ann Bonwill and Kayla Harren, Two Lions, June 1, 2022, Hardcover, $17.99 (ages 3-7)
A girl learns to cope with her parents' divorce in Thursday, a new picture book by Ann Bonwill and Kayla Harren.
When a little girl learns about her parents' divorce on a Thursday, it ruins her favorite day of the week. But her stuffed-unicorn friend steps in to help, taking her on adventures to cheer her up and staying by her side to comfort her when feelings are hard. Then, slowly, the little girl and her unicorn friend awaken to the natural world that surrounds them as life continues to shift and change… until Thursday can become just Thursday again. —Synopsis provided by Two Lions
Thursday is a book that may be useful for families anticipating or going through divorce or for someone's child who has a friend going through one.
Author Ann Bonwill tells the girl's story through the eyes of her beloved stuffed unicorn. It's a friendly way to tell the story, but it's not clear the unicorn is the storyteller for the first five pages, so kids may need some help with that. Bonwill's text is straightforward and warm, and it's clear she wants readers to come away knowing it's OK to be sad and that things will become better over time.
Illustrator Kayla Harren's use of colored backgrounds — yellow for before the divorce, blue for time with mom, and purple for time with dad — offer visual cues for younger readers. As the book progresses, everything becomes brighter and the differentiation is more subtle (blue or purple shirts rather than the entire background). Harren's illustrations are expressive and have an overall tone of sweetness. And her unicorn is charming.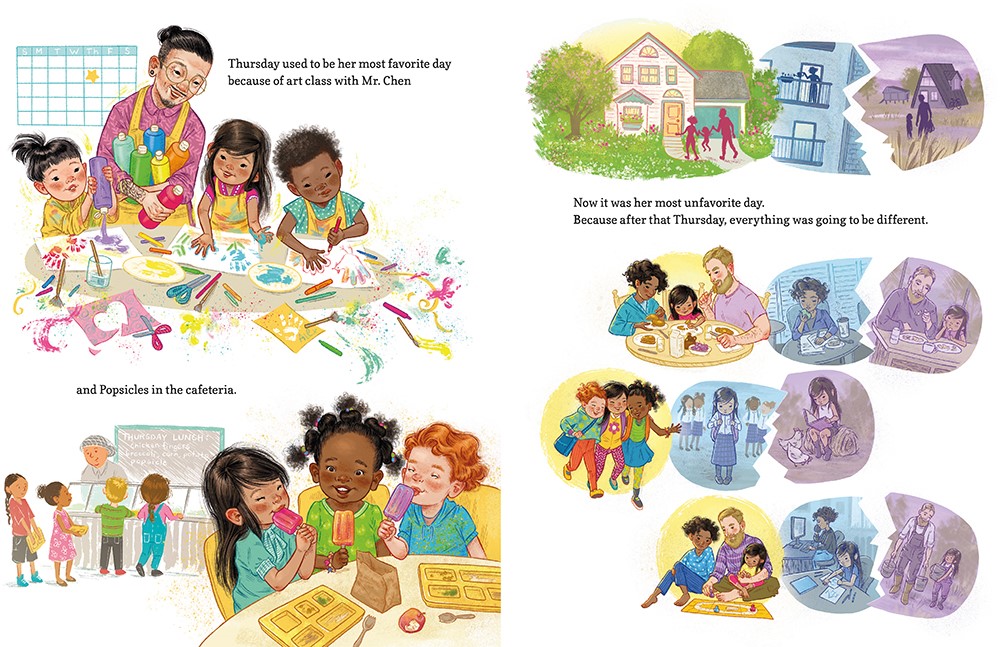 Thursday is a book that should be read together as a family and discussed. Children, especially younger ones, could come away thinking that they're supposed to feel bad on a certain day and remember that sadness each time that day comes around. I'm sure this is not the author's intention, but it could easily be taken that way.
The list price for Thursday is $17.99 but was available at the time of this publication for $9.99 as part of Amazon First Reads.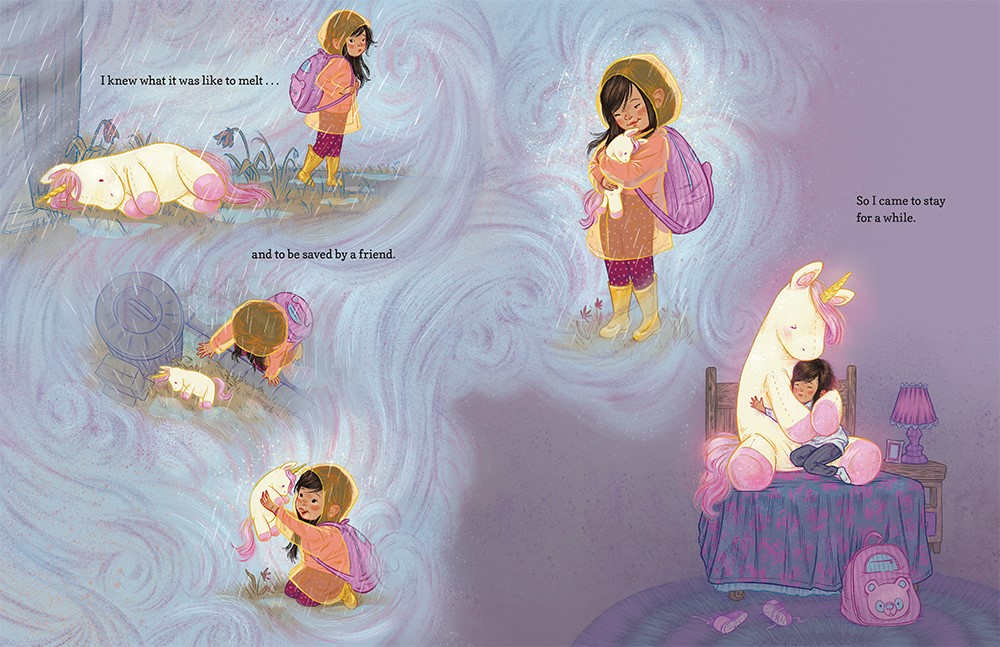 ---
About the creators:
Ann Bonwill grew up in Maryland surrounded by books. Before becoming an author, Ann worked as a clinical social worker, a Montessori teacher, and an autism therapist. She is the author of multiple picture books and nonfiction books for children, including When Mermaids Sleep, illustrated by Steve Johnson and Lou Fancher, and I Am Not a Copycat!, illustrated by Simon Rickerty. Ann has lived in many places, from Albuquerque, New Mexico to Frankfurt, Germany. She currently lives in Virginia with her family. Learn more at www.annbonwill.com.
Kayla Harren is a graduate of the School of Visual Arts in New York City with a BFA in illustration. She's an award-winning illustrator of multiple picture books, including A Boy Like You, written by Frank Murphy, and The Boy Who Grew a Forest, written by Sophia Gholz, among other titles. Her work has been featured in the Society of Illustrators, American Illustration, Communication Arts, and 3×3 Magazine, and she won the Highlights for Children Pewter Plate Award. She lives in Minnesota with her family. Learn more at www.kaylaharren.com, on Facebook: Kayla Harren Illustrator, and Instagram: @kaylaharren.