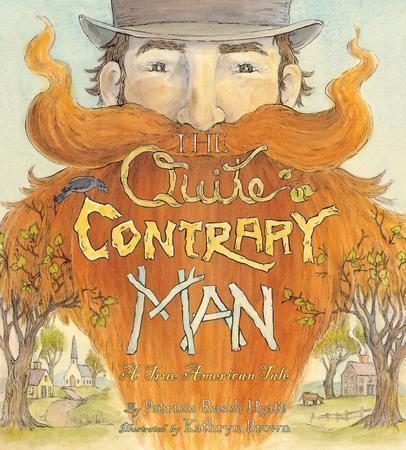 "THE QUITE CONTRARY MAN: A True American Tale," by Patricia Rusch Hyatt, illustrated by Kathryn Brown, Abrams Books for Young Readers, May 1, 2011, $16.95 (ages 4-8)
Imagine a time when men didn't wear beards. The whiskers known so well on famous figures like Abraham Lincoln, Willie Nelson and Justin Timberlake weren't always in fashion. In fact, they were at times a major faux pas.
In early 19th century New England, cleanliness was next to godliness, and that extended to clean chins as well. Joseph Palmer, a Quite Contrary Man, lived during this time.
Joseph Palmer grew up stubborn, so no one should have been too surprised that he dared to grow a beard. And he didn't just grow a small beard, rather his facial hair flowed from chin to belly button and from elbow to elbow.
It was a shocking sight for his straight-laced neighbors, but his wife and two children quite liked it. It was so bothersome to everyone else, however, that they decided to forcibly shave him.
Joseph fought back and was jailed for a whole year. While in jail, the quest to rid him of his whiskers continued. But still Joseph refused to shave. He wrote letters from behind bars and many newspapers took up his cause, making him a local sensation.
This true tale has all the makings of a tall tale, Paul Bunyan style. Children, and some parents, will be amazed that the story behind this picture book is based on fact. And the historical note on the final page helps further enforce it.
Whimsical illustrations have an old-fashioned feel to them that help set the tone. But just because they have an antique feel to them, doesn't mean they're boring. Rather there's a lot of movement and detail, especially with the beard, that will help youngsters pay attention during the longer portions of text.
"the Quite Contrary Man" encourages children to stand up for themselves and the things they believe in.