In her follow-up to This Book Is Gray, author/illustrator Lindsay Ward explores tints and shades with Pink Is Not a Color.
Pink loves her rosy world, from her pink toy dinosaur to her pet flamingo, Phil. But when she sees the Primaries and Secondaries getting ready for the Rainbow Extravaganza, she begins to wonder why she isn't in the rainbow…and if that means she's not really a color. Then she meets the Tints, and she's even more confused. Luckily, a friend shows her the many ways she spreads joy ― reminding Pink that she is truly one of a kind, rainbow or not. —Synopsis provided by Two Lions
Pink Is Not a Color mirrors the concepts from This Book Is Gray; not only touching on color concepts — tints and shades — but also exploring friendship, acceptance and self-worth. Ward explores these concepts honestly, and they come across as sincere rather than preachy. Younger readers will love all the colors, and older ones will see parallels within their own lives.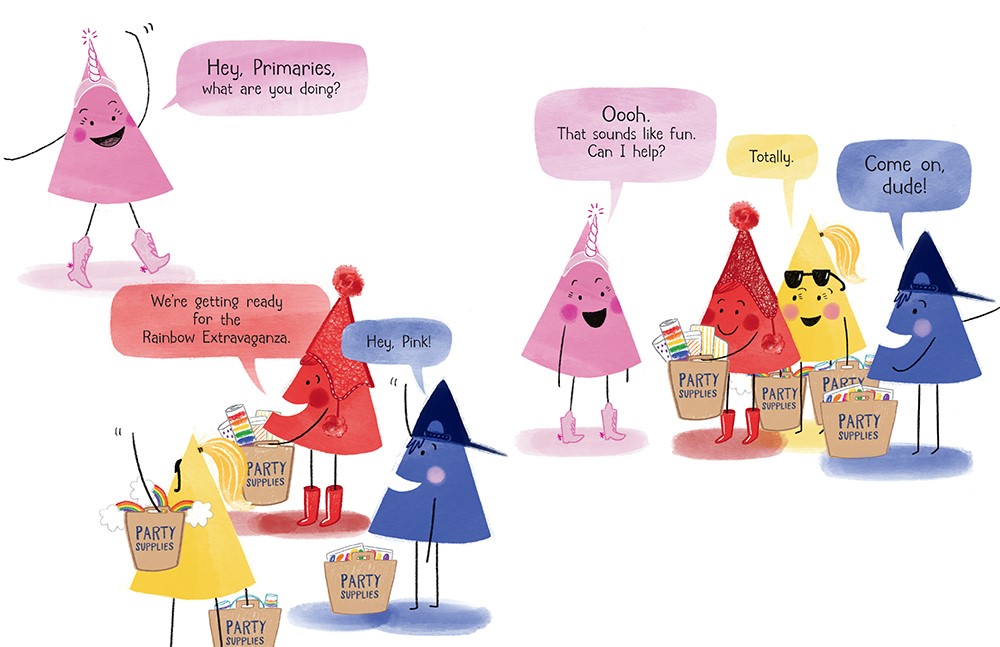 Ward's charming pictures are full of personality — who knew a triangle could be so expressive? — and her conversational text plays out in fun text bubbles.
Pink Is Not a Color should appeal to kids ages 3-7. I suggest pairing it with its predecessor to ward off any preconceived notions (i.e., pink is a girl color) and allow readers to get to the heart of the matter.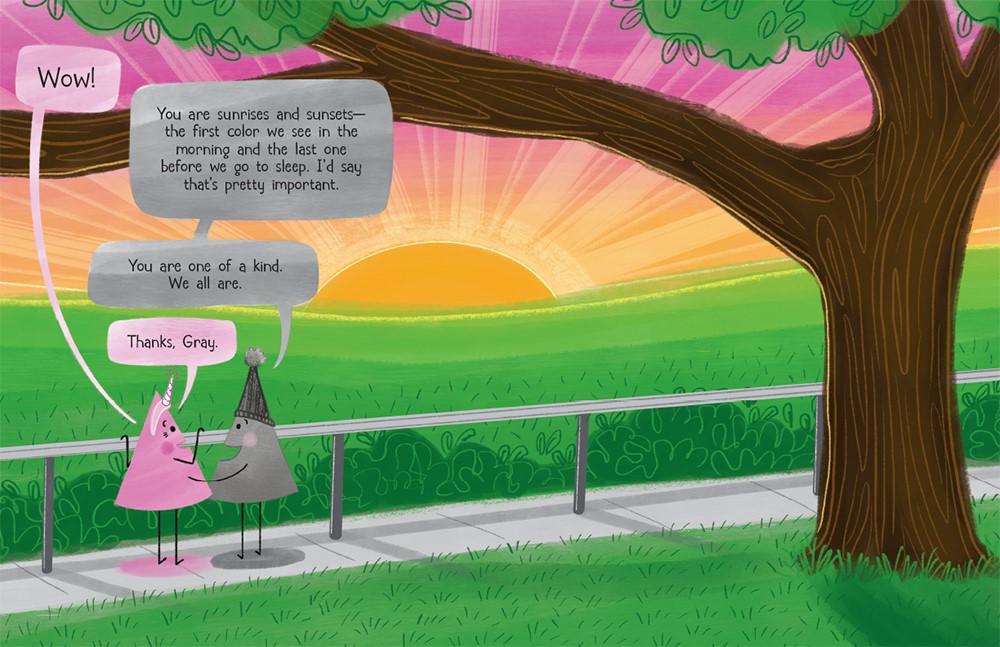 *Though its list price is $17.99, at the time of publication, Pink Is Not a Color was available for $9.99 as part of the Amazon First Reads program.
---
About the creator:
Lindsay Ward is the creator of the Dexter T. Rexter series as well as Between the Lines, Scooper and Dumper, Rosie: Stronger than Steel, This Book Is Gray, Brobarians, Rosco vs. the Baby, and The Importance of Being 3. Her book Please Bring Balloons was also made into a play. Lindsay lives with her family in Peninsula, Ohio with her husband, three boys, one dog, and eight ducks. When she's not drawing, Lindsay loves to bake. Pink-frosted cupcakes are her favorite. Learn more about her online at www.lindsaymward.com on Twitter: @lindsaymward and on Instagram: lindsaymward.
Check out activities and more here on Lindsay Ward's website.
Copyright © 2022 Cracking the Cover. Unless otherwise noted, all books — digital and physical — have been provided by publishers in exchange for honest and unbiased reviews. All thoughts and opinions are those of the reviewer.