Big and Small and In-Between, by Carter Higgins and Daniel Miyares, celebrates the extraordinary, minuscule and everything in the middle.
This wide, wonderful world contains many things. Some things are as big as a family of bears; some are as small as a reflection in a puddle. Some things are felt rather than seen.
In between it all is . . . you. What kinds of things will you collect?
This book collects the world by size. Divided into three chapters with three specially paper-engineered separations, every page encapsulates one precious moment that perfectly represents both a size and an experience. —Synopsis provided by Chronicle Books
Big and Small and In-Between is the kind of book that kids will love because it speaks directly to them, and parents will love because it transports us back to a simpler place and time. Carter Higgins' text is spot on. Phrases like:
"the DONUT
that your brother got
because you picked last
and only got the hole"
and
"the SLIVER of moon
that sneaks in through the window
and barely there BREEZE
and the DREAM DUST it brings"
evoke memories and beg you to read more.
Daniel Miyares frames his beautiful illustrations much the same as a creative arts photographer would a picture. The lens through which he looks is imaginative and playful while remaining heartfelt.
Big and Small and In-Between would make a delightful gift for child or grownup alike.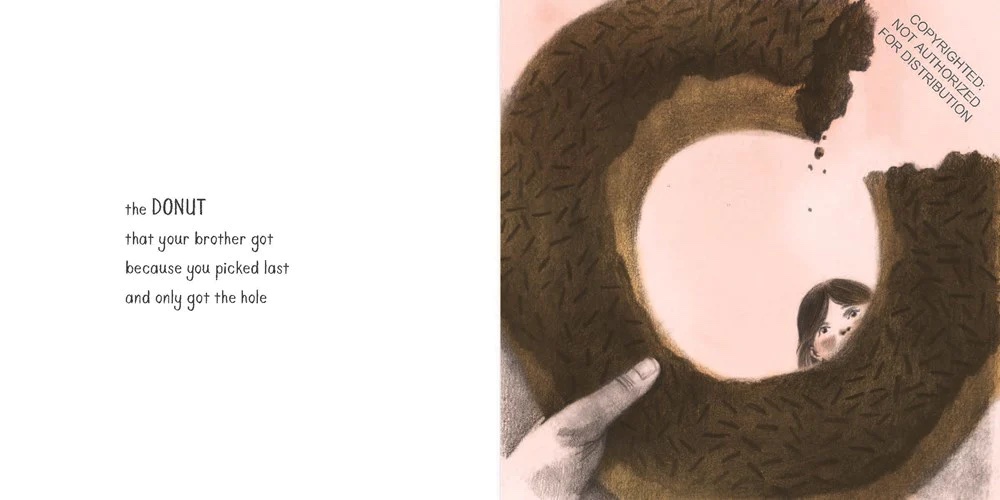 Copyright © 2022 Cracking the Cover. Unless otherwise noted, all books — digital and physical — have been provided by publishers in exchange for honest and unbiased reviews. All thoughts and opinions are those of the reviewer.