TO CHANGE A PLANET, by Christina Soontornvat and Rahele Jomepour Bell, Scholastic Press, Aug. 2, 2022, Hardcover, $18.99 (ages 4-8)
To Change A Planet, by Christina Soontornvat and Rahele Jomepour Bell, explores how humans, for better or worse, have changed the Earth.
One person.
Small, quiet,
insignificant.
But when one person,
and one person,
and one person
become many,
they can change
a planet. 
Spare, poetic text and breathtaking pictures invite readers on a journey that gently illuminates the causes of climate change as well as how our individual and collective actions can make the world better. —Synopsis provided by Scholastic Press
To Change A Planet is a book that pleads to be read out loud. Christina Soontornvat's thoughtful text needs the pauses, the emphasis that might get passed over in a silent perusal.
And yet…
Rahele Jomepour Bell's stunning illustrations beg to be explored. Each turn of the page offers a new visual feast. Her mix of simple and complex echo Soontornvat's messages of beauty and hope.
While To Change A Planet may at first seem too simple for older readers, extensive backmatter on climate change and the science behind it makes this a book that works for readers ages 4 to 8.
To Change A Planet would be an excellent resource for classroom learning from preschool to second grade.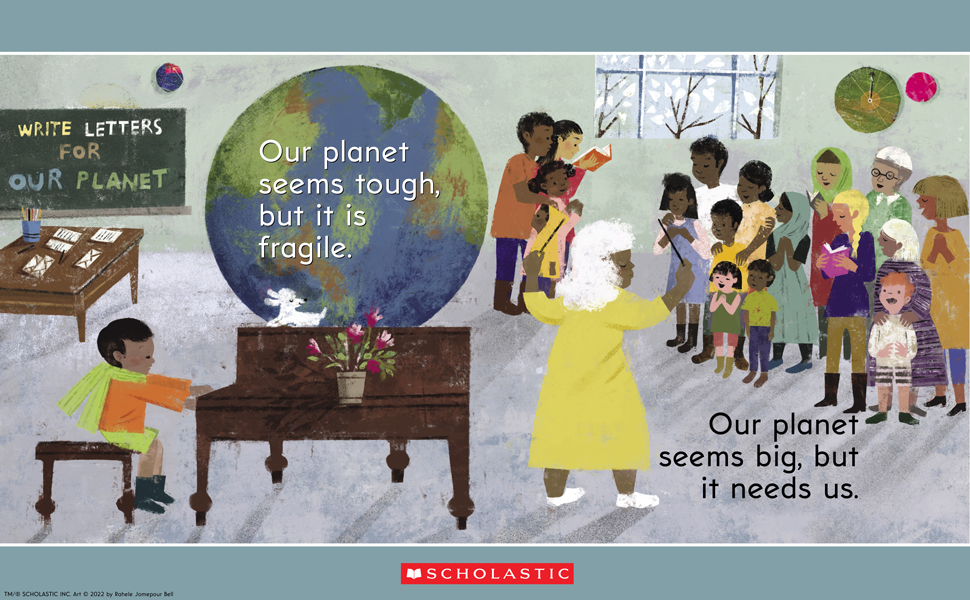 Copyright © 2022 Cracking the Cover. Unless otherwise noted, all books — digital and physical — have been provided by publishers in exchange for honest and unbiased reviews. All thoughts and opinions are those of the reviewer.