RIDE ON, by Faith Erin Hicks, First Second, Aug. 16, 2022, Paperback, $14.99 (ages 10-14)
A girl goes back to the basics in hopes of rekindling her love of horses in Ride On, a middle-grade graphic novel by Faith Erin Hicks.
Victoria has always loved horses. But riding in competitions is high stakes, high stress, and shockingly expensive. And even though Victoria's best friend Taylor loves competing, Victoria has lost her taste for it.
After a heartbreaking fight with Taylor, Victoria needs a new start ― at new stables. A place where she doesn't have to worry about anything other than riding. No competition, no drama, no friends.
Just horses.
Edgewood Stables seems ideal. There are plenty of horses to ride, and Victoria is perfectly happy giving the other riders the cold shoulder.
But can she truly be happy with no friends? —Synopsis provided by First Second
I'm not generally a fan of graphic novels. Not because they're bad. They're not. It's just that prose is my happy place. But for millions of readers — including my 8-year-old — graphic novels are their happy place. And Faith Erin Hicks' Ride On is an excellent addition to the format.
Drawn to the format or not, it's still easy to tell a good story told through well-illustrated frames and thoughtfully crafted dialogue. It's key that these elements work seamlessly together, and in Ride On they do.
Victoria and her supporting characters are all well-developed. Hicks explores each of them separately and together. I will say that Norrie is obnoxious. She grows on you, but give her time.
The publisher's suggested age range for Ride On is 10 to 14, but there's nothing objectionable should a 9-year-old want to give it a go.
I received a paperback copy for review, and I was pleasantly surprised by the quality of printing and binding. It has an overall great feel to it. Ride On is a great option for middle readers looking for a new graphic novel. It should especially appeal to fans of horses.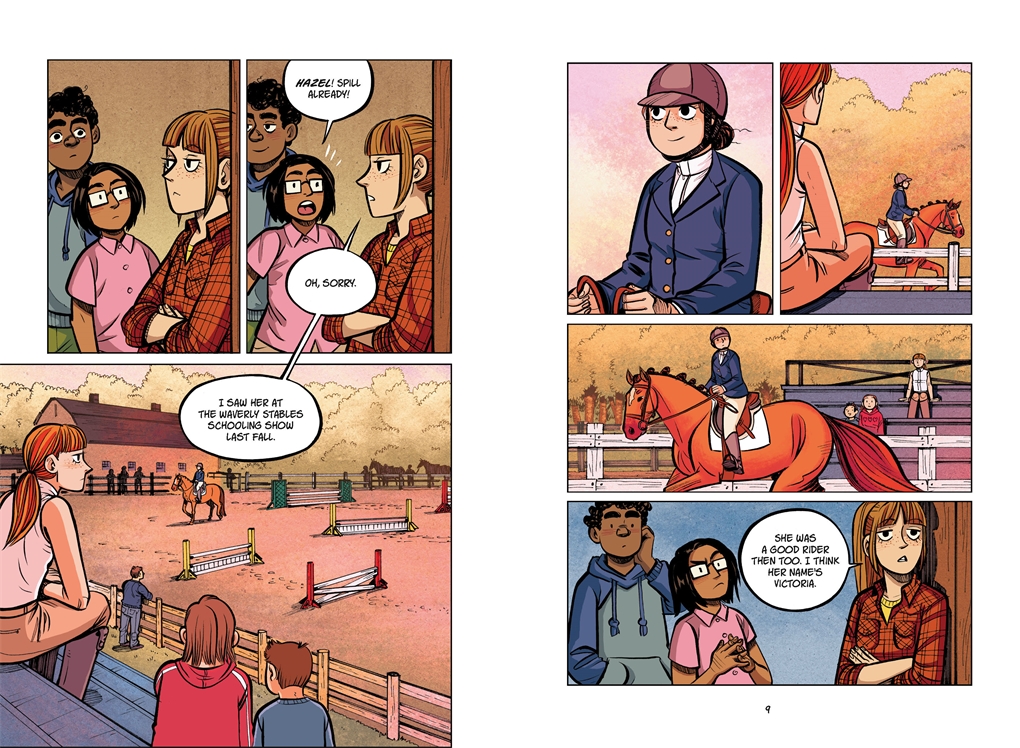 Copyright © 2022 Cracking the Cover. Unless otherwise noted, all books — digital and physical — have been provided by publishers in exchange for honest and unbiased reviews. All thoughts and opinions are those of the reviewer.