1001 FISH, by Joanna Rzezak, Thames & Hudson, Aug. 23, 2022, Hardcover, $16.95 (ages 3 and up)
Explore the oceans and the creatures that live in it in Joanna Rzezak's new picture book, 1001 Fish.
We're on an adventure with 1,001 fish! Travel along with them from the warm waters of the Caribbean to the deepest darkest part of the ocean. Visit pelicans on the shore, salmon in the ocean and the river, listen to the whales sing, and discover fish that are thirteen feet long.
1001 Fish is an engaging nonfiction book full of fascinating facts about the ocean. With lively and appealing illustrations, it's a must-have for children who are curious about sea creatures and the animal kingdom. 
Illustrated in color throughout. —Synopsis provided by Thames & Hudson
1001 Fish is one of those books that kids will immediately be drawn to. From its colorful cover to the massive octopus on the endpapers to the delightfully expressive creatures, this book is a sight to behold.
I suspect the illustrations are one reason why the publisher's suggested age starts at 3. And while a 3-year-old will definitely enjoy the images and some of the text, whoever is reading the book to them may have to pick and choose what snippets to read aloud and what snippets to skip.
This isn't a problem, though. Instead, it allows kids to grow with the book. As attention spans lengthen and reading ability grows, the reading experience will change. The text is divided into small paragraphs sprinkled across the pages. More independent readers will appreciate the format and enjoy bouncing from page to page, creature to creature.
1001 Fish is an enjoyable and informative read that has applications beyond reading at home. It would be a great resource in classroom discussions as well.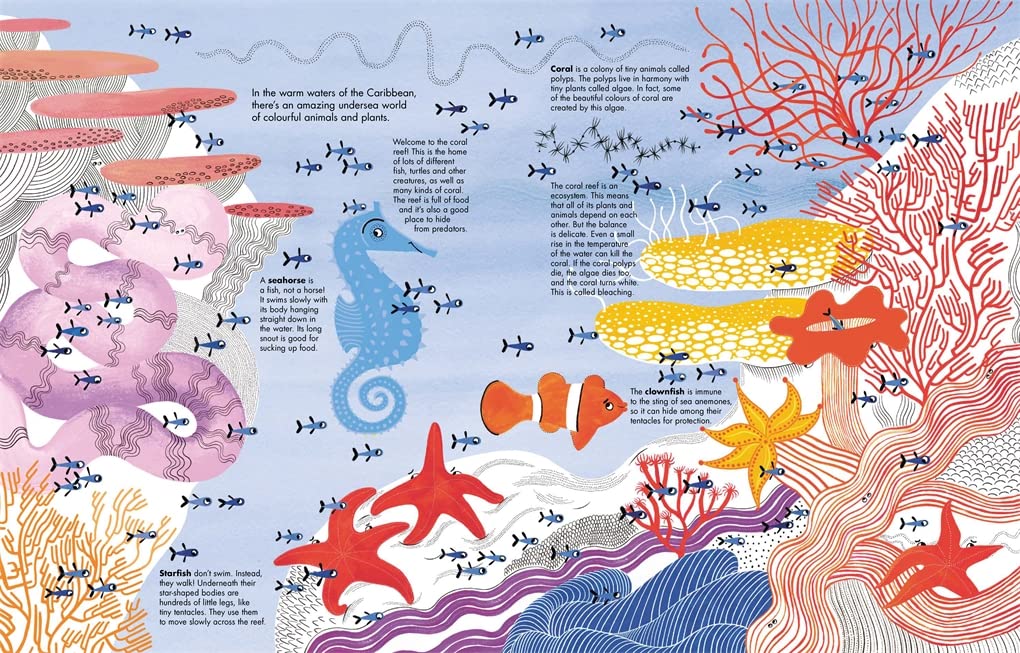 Copyright © 2022 Cracking the Cover. Unless otherwise noted, all books — digital and physical — have been provided by publishers in exchange for honest and unbiased reviews. All thoughts and opinions are those of the reviewer.