Celebrity Chef Gaby Melian offers up 70 kid-tested recipes in Gaby's Latin American Kitchen from America's Test Kitchen Kids.
¡En sus marcas, listos… fuera! Ready, set, cook!
Have you ever tried empanadas? Made cheesy arepas for your family? Or shared homemade, sprinkle-covered chocolate brigadeiros with your friends? Travel the world of Latin America with 70 recipes developed and written by Gaby Melian — all kid-tested and kid-approved by America's Test Kitchen Kids' panel of over 15,000 at-home kid recipe testers. A Spanish glossary, personal stories, and a peek into Gaby's own kitchen make this book a win for all young chefs and their families! Kids can cook from breakfast to dessert with recipes such as:
Arepas con Queso:These Colombian-style round corn cakes are cooked on the stovetop, then stuffed with gouda cheese that melts and gets gooey after a few minutes in the oven.
Ensalada de Frutas:This fruit salad is the solution to hot summer days. Add orange juice, water, and ice to the fruit, stir gently to combine, and serve with plenty of juice spooned on top of each serving—the juicier the better!
Panqueques con Dulce de Leche:A distant cousin to French crepes, these panqueques are just as delicious, and a bit more forgiving—make them as thick or as thin as you like, with a lot of browning. After cooking, they're filled with luscious, sweet dulce de leche. 
Empanadas de Pollo:Empanadas are a delicious labor of love. To make them simpler to prepare, this version uses store-bought hojaldradas-style empanada dough rounds and rotisserie chicken.
—Synopsis provided by America's Test Kitchen Kids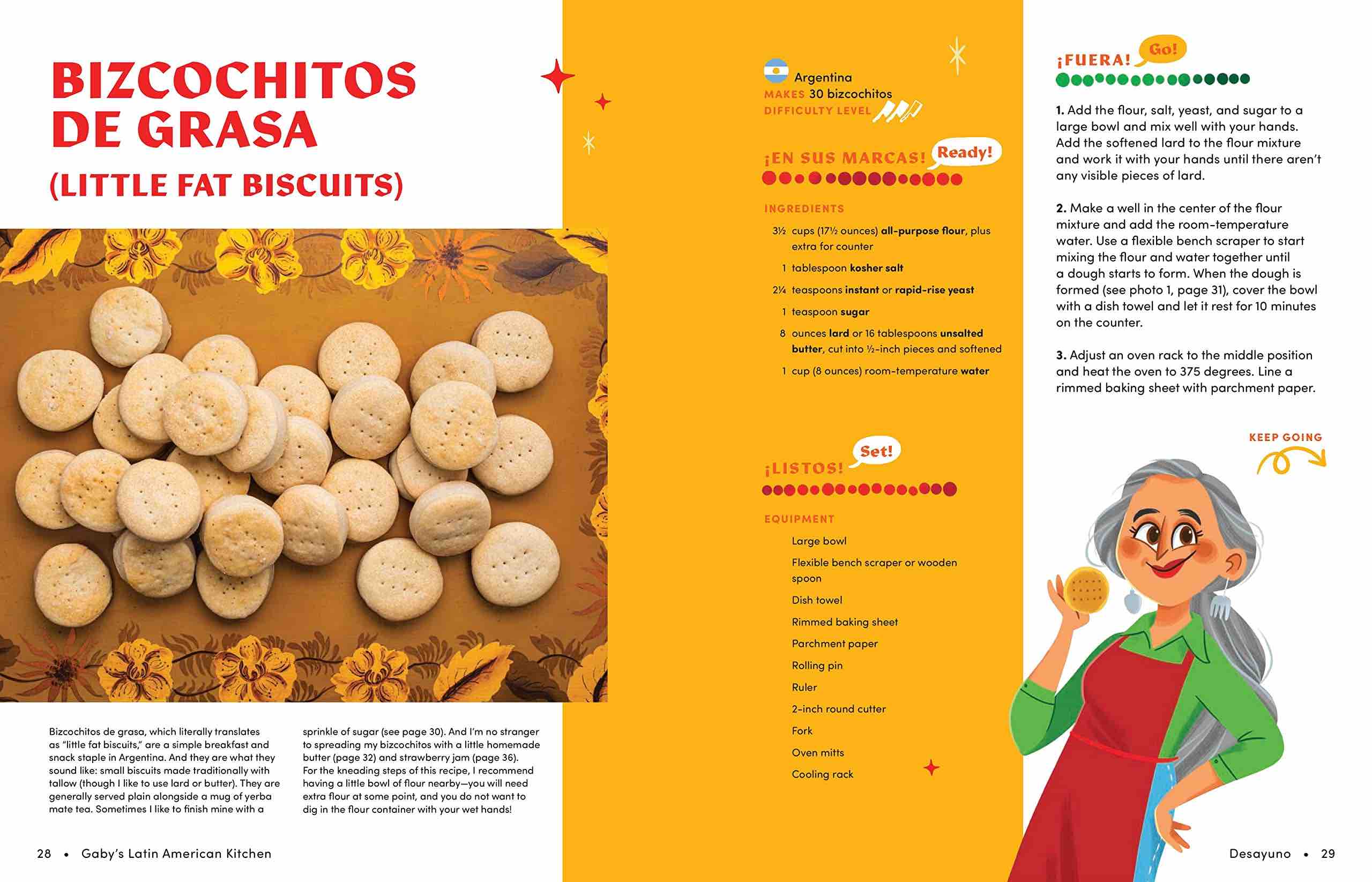 Gaby's Latin American Kitchen is exactly the sort of cookbook you want to hand your kid. It's extensive. Not only does it offer recipes, it explains where Latin America is, how to use the cookbook, offers cooking tips, lists cooking equipment, and explains how to measure and weigh. Chopping, peeling and zesting are covered, too.
The book is divided into six sections — breakfast, lunch, snacks and drinks, dinner, sides and sauces, and dessert. And each recipe is labeled beginner, intermediate or advanced. A list of ingredients and equipment precede the steps, which are clear and often accompanied by step-by-step photographs.
Gaby's Latin American Kitchen is mostly English, but recipe names and other elements include both Spanish and English. This is a fantastic addition, bringing kids a step closer to the cultures from which they are cooking.
Gaby's Latin American Kitchen is geared toward middle-graders (ages 8-12), so parents will most likely need to be involved to some degree. While the instructions are clear, there is a fair amount of text, and less advanced readers may need some help.
Gaby's Latin American Kitchen offers up accessible and delicious recipes that will be fun for kids — and their families — to make and enjoy.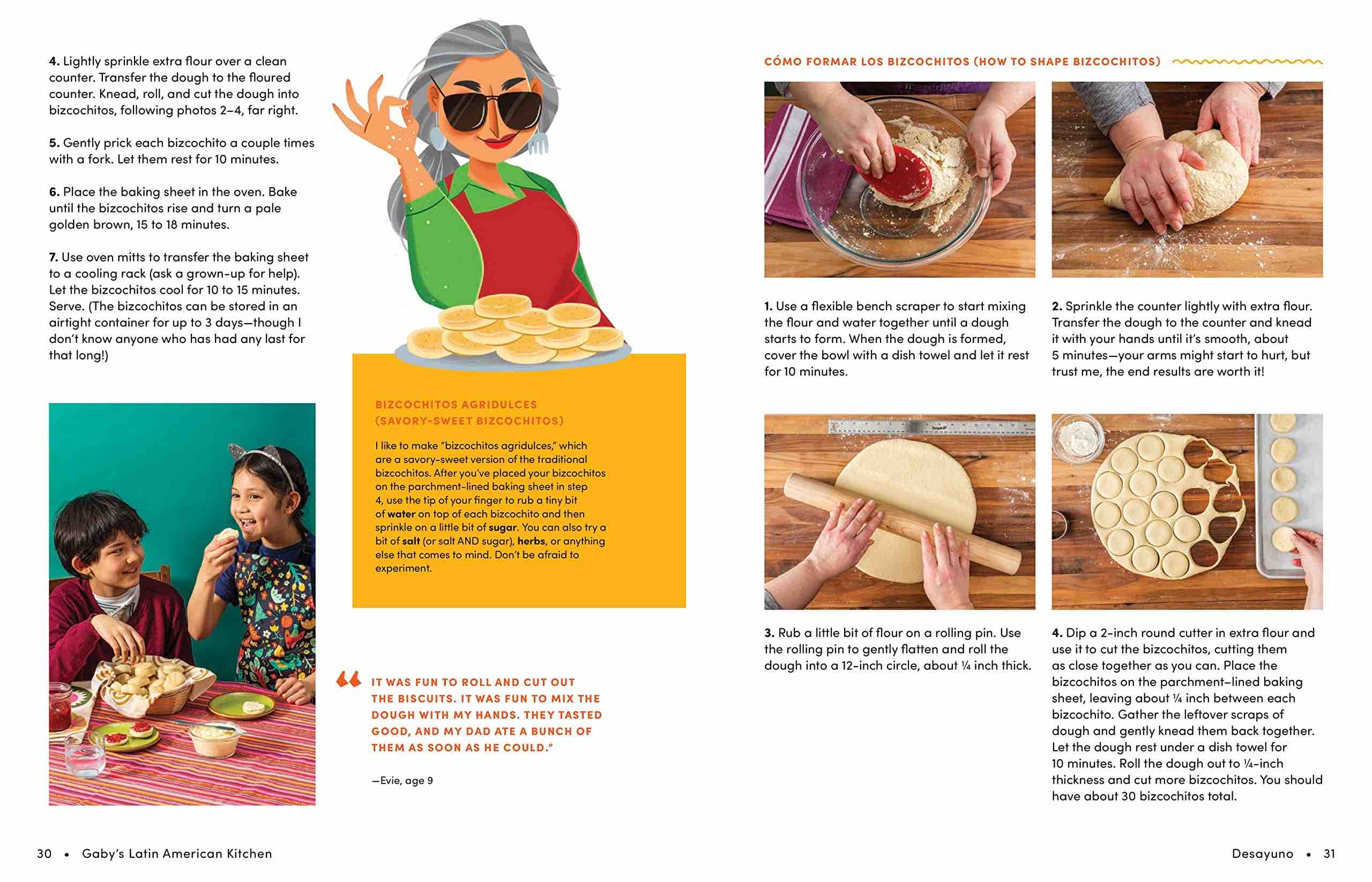 Copyright © 2022 Cracking the Cover. Unless otherwise noted, all books — digital and physical — have been provided by publishers in exchange for honest and unbiased reviews. All thoughts and opinions are those of the reviewer.