Learn the story of the woman who revolutionized women's swimming in Annette Feels Free, a new picture book by Katie Mazeika.
Annette loved to dance and twirl and pirouette. But when she got sick and had to start wearing braces on her legs, Annette stopped dancing. Until, one day, her dad took her swimming. Annette could finally dance again — in the water! She water danced her way to England, where she performed water ballets, attempted daring dives, and competed in swim races. When she competed against men (and won!), she realized it wasn't fair that women had to swim in full skirts, so she made her own swimsuit, and fought for the right to wear it. —Synopsis Beach Lane Books
I love books like Annette Feels Free: The True Story of Annette Kellerman, World-Class Swimmer, Fashion Pioneer, And Real-Life Mermaid because they expose kids — and their parents — to inspiring stories they probably have never heard about.
Such is the case with Annette Feels Free. Not only was I wowed by her story, but Katie Mazeika's illustrations really bring Annette's story to life. Mazeika's text is smooth and inviting, with a brightness running through it. And her illustrations are vibrant and expressive. I particularly like how Mazeika shows the long-lasting effects of Annette's accomplishments.
A section at the end of Annette Feels Free goes into more detail about Annette's life and features three photographs of the swimmer.
Annette Feels Free is a delightful read that is sure to inspire readers — especially young girls — to develop their talents and push for change.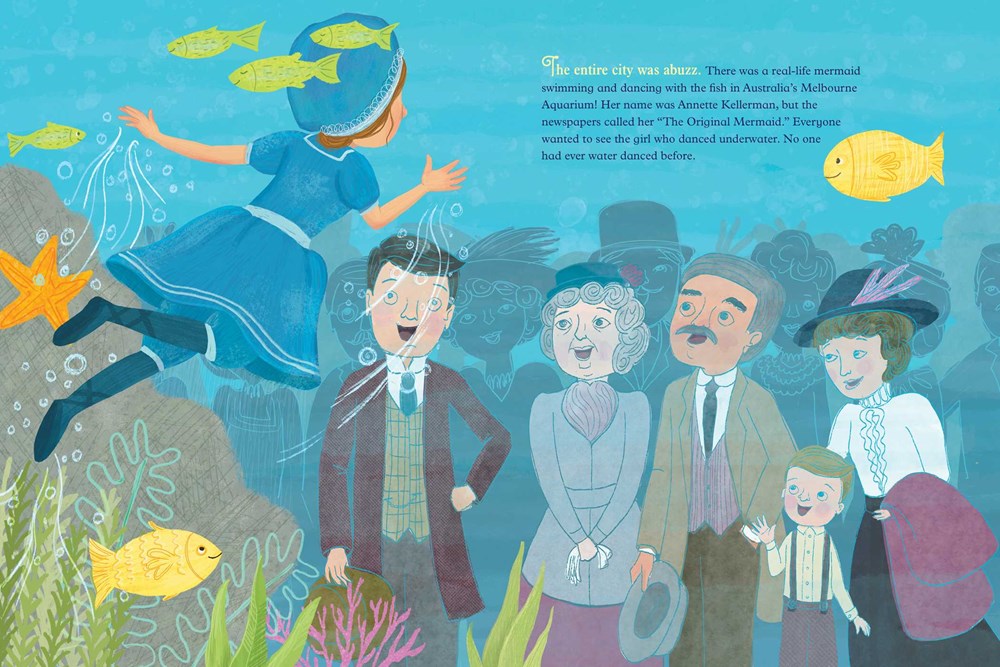 ---
About the author/illustrator:
Katherine Mazeika is an author and illustrator with a BFA from the Columbus College of Art and Design. When she isn't in the studio, she likes to spend time at the theater, in her garden, or getting lost in a good book. She lives in Ohio with her husband, two kids (Lillian and Jack), and two dogs. To learn more, and download a free curriculum guide, visit her website at katiemazeika.com on Twitter: @kdmaz, Instagram: @kdmazart and Facebook: Katie Mazeika Illustration.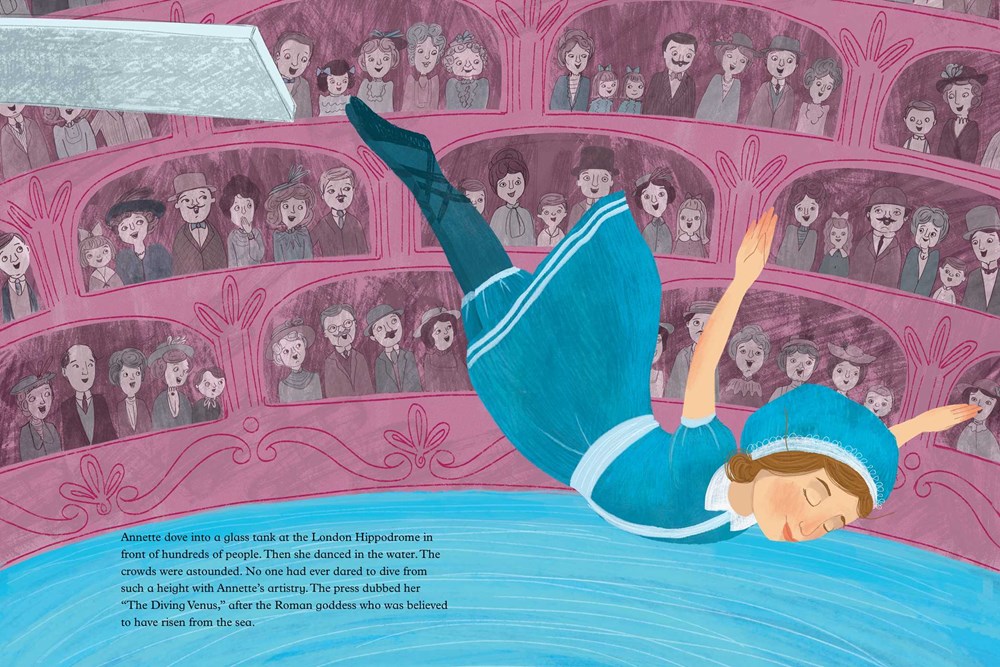 Copyright © 2022 Cracking the Cover. Unless otherwise noted, all books — digital and physical — have been provided by publishers in exchange for honest and unbiased reviews. All thoughts and opinions are those of the reviewer.