Discover the designer behind some of the silver screen's most iconic looks in Dressing Up the Stars: The Story of Movie Costume Designer Edith Head, by Jeanne Walker Harvey and Diana Toledano.
As a child in the small mining town of Searchlight, Nevada, Edith Head had few friends and spent most of her time dressing up her toys and pets and even wild animals using fabric scraps. She always knew she wanted to move somewhere full of people and excitement. She set her sights on Hollywood and talked her way into a job sketching costumes for a movie studio.
Did she know how to draw or sew costumes? No. But that didn't stop her!
Edith taught herself and tirelessly worked her way up until she was dressing some of the biggest stars of the day, from Audrey Hepburn to Grace Kelly to Ginger Rogers. She became the first woman to head a major Hollywood movie studio costume department and went on to win eight Academy Awards for best costume design—and she defined the style of an era. —Synopsis provided by Beach Lane Books
Of all the picture books we have at our house — and we have a lot — biographies are by far some of the favorites. There's just something special about books that explore real people accomplishing special things. And Dressing Up the Stars: The Story of Movie Costume Designer Edith Head is no different.
Dressing Up the Stars starts out rather quiet. Just a small girl living in a remote mining town. But it's against that quiet that Edith's story develops and begins to stand out. Jeanne Walker Harvey's warm and confident prose sets the stage for Diana Toledano's stylized illustrations. Together, these women have created art and words that work seamlessly together.
An author's note at the end of Dressing Up the Stars goes into more detail about Edith Head's life and explains the Harvey's inspiration behind the book. Two photographs show Edith at work, and one of her costume designs for Grace Kelly in Alfred Hitchcock's To Catch a Thief are also included.
Dressing Up the Stars is a fascinating nonfiction biography that will appeal to a wide selection of readers, especially those who are interested in art, film and fashion.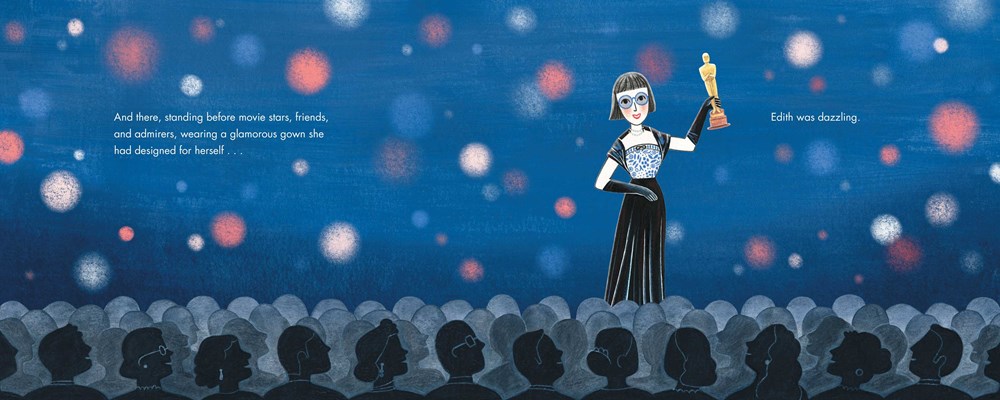 ---
About the Creators:
Jeanne Walker Harvey has had many jobs, ranging from working as a roller coaster ride operator to an attorney for high-tech companies to a writer of magazine articles to a teacher of Language Arts and writing workshops at a public middle school. She has also been a longtime docent at the San Francisco Museum of Modern Art. She is the author of several books for young readers, including the picture book biographies Dressing up the Stars: The Story of Movie Costume Designer Edith Head, Ablaze with Color: A Story of Painter Alma Thomas, Maya Lin: Artist-Architect of Light and Lines and My Hands Sing the Blues: Romare Bearden's Childhood Journey. Jeanne studied literature and psychology at Stanford University. She lives in Northern California. Visit her online at www.jeanneharvey.com on Twitter: @JeanneWHarvey and Pinterest: @JeanneWalkerHarvey. Check out the many resources here at Jeanne Walker Harvey's website.
Diana Toledano is the illustrator of picture books including One Snowy Day by Diana Murray and the Polly Diamond series by Alice Kuipers. She grew up in Spain and now lives in Sacramento with her husband and their young daughter. Learn more at Diana-Toledano.com, on Instagram: @dianatoledano, Facebook: Diana Toledano and Pinterest: Diana Toledano.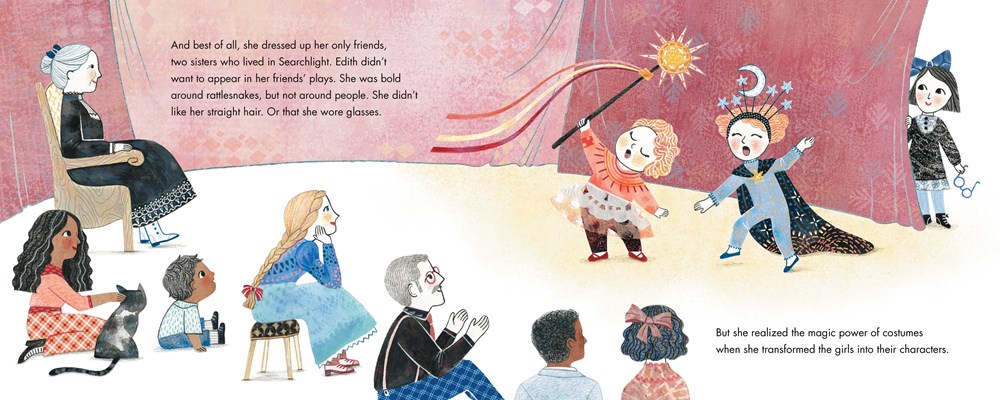 Copyright © 2022 Cracking the Cover. Unless otherwise noted, all books — digital and physical — have been provided by publishers in exchange for honest and unbiased reviews. All thoughts and opinions are those of the reviewer.