A BEAR FAR FROM HOME, by Susan Fletcher and Rebecca Green, Anne Schwartz Books, Sept. 27, 2022, Hardcover, $18.99 (ages 4-8)
A Bear Far from Home, by Susan Fletcher and illustrated by Rebecca Green, explores the life of a polar bear gifted to the king England by the kind of Norway in the 13th century.
Long ago, when kings and queens ruled much of the world, the king of Norway gave the king of England a bear.
Imagine a polar bear at ease in her natural arctic world, her only home — until trappers capture her and take her to the king of England.
Imagine a polar bear in her lonely new world, stuck in a cage. This small, enclosed space is her only home — until King Henry III decrees that she be brought to the Thames River every day to swim and fish.
Imagine now this same polar bear dipping a curious paw in the river water, then leaping in with a joyful splash. And it is here, in this unfamiliar, faraway land, in one small way, that she finds home once again. —Synopsis proved by Anne Schwartz Books
The story of King Henry III's bear is a true one, though some of the details are a bit sketchy. So, as author Susan Fletcher explains in her notes, she's based A Bear Far from Home on clear facts and "reasoned through what seems likely to have happened, and what might have been."
And what a life that bear must have lived!
A Bear Far from Home begins with the life the bear likely would have lived before the trappers came. It would have been in the wilds far from humans. Here, Fletcher's text is buoyant. That playful tone is echoed in illustrator Rebecca Green's lively illustrations.
But one day, the bear's world changed forever.
Fletcher's tone becomes a touch more somber and Green's illustrations full of emotion.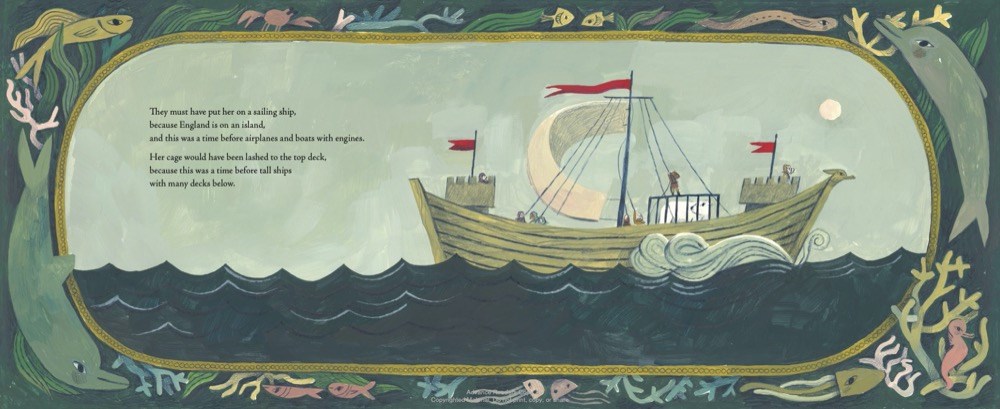 And then, a more hopeful tone as the bear gets to go outside and swim once again.
Fletcher's prose throughout is thoughtful and well-paced. And Green's art — inspired by early medieval illustrations — captures the spirit of the time while feeling fresh and new.
A Bear Far from Home is an exciting nonfiction picture book that is sure to draw interest from readers ages 4-8. It would be fun at home and in the classroom. And for families with older readers, it would be a great companion to Fletcher's middle-grade novel, Journey of the Pale Bear, which is a fictionalized look at the bear and Arthur, the bear's young keeper, as they travel from Norway to England.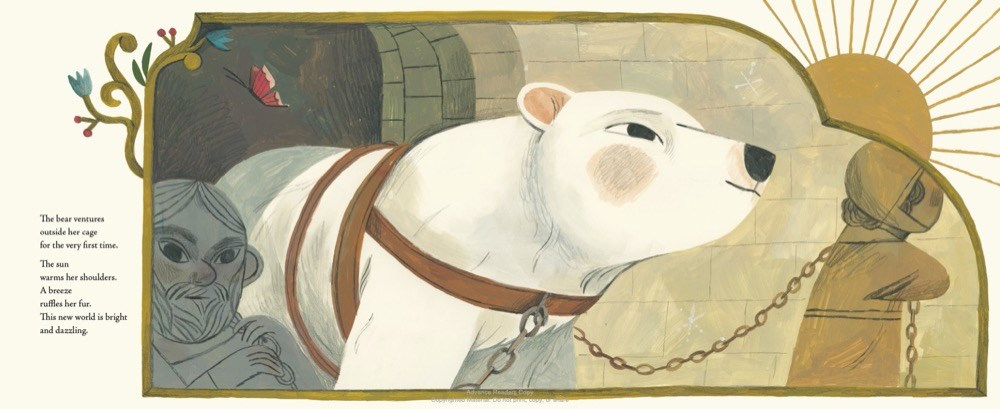 ---
About the creators:
Susan Fletcher has written numerous books for children, including the middle-grade novel Journey of the Pale Bear, which Kirkus called "a stupendous coming-of-age" novel in a starred review. Her novel Alphabet of Dreams was selected by the American Library Association as a Best Book for Young Adults. Susan is also the author of the Dragon Chronicles, composed of Dragon's Milk, Flight of the Dragon Kyn, Sign of the Dove, and Ancient, Strange, and Lovely; and Shadow Spinner, Walk Across the Sea, and Falcon in the Glass. She lives in Bryan, Texas. Visit her at SusanFletcher.com, on Instagram: susan.k.c.fletcher and Facebook: Susan Fletcher.
Rebecca Green is the illustrator of the best-selling Becoming a Good Creature, written by Sy Montgomery, as well as Loujain Dreams of Sunflowers, Madame Saqui: Revolutionary Rope Dancer and How to Make Friends with a Ghost, which she also wrote. Visit her at myblankpaper.com and on Instagram: rebeccagreenillustration.