RAISING DON: THE TRUE STORY OF A SPUNKY BABY TAPIR, by Georgeanne Irvine, San Diego Zoo Wildlife Alliance Press, Oct. 11, 2022, Hardcover, $14.99 (ages 6-10)
Follow the first year of an endangered tapir's life in Raising Don: The True Story of a Spunky Baby Tapir, by Georgeanne Irvine.
When Don the tapir was born at the San Diego Zoo, the wildlife care team was ecstatic. He was the first endangered Baird's tapir born at the Zoo in more than 30 years. But Don's mother wouldn't care for her newborn calf. So, wildlife care specialists stepped in to ensure the survival of this precious baby tapir.
Don was bottle-fed and cared for around the clock. When he was old enough, caregivers taught him how to swim, a skill that he would have learned from his mother. Don loved splashing in the water as well as getting rubdowns and back scratches. Soon, his team of human friends grew to love Don and his spunky attitude.
When it was time for Don to meet the other animals that shared his home, though, some of them weren't very friendly: they spit on him, made loud noises, and kicked at him. He just made new friends, including his best buddy, a capybara named Bristle.
This is the true story of Don the spunky tapir, who not only survived a rocky beginning to life but also learned to thrive. Don showed that with a confident, spirited attitude, anything is possible, including bringing hope to the future of endangered Baird's tapirs. —Synopsis provided by San Diego Zoo Wildlife Alliance Press
Raising Don offers readers a front-row seat at the Sand Diego Zoo. From the moment's leading up to Don's birth to his transportation to the Nashville Zoo, behind-the-scenes photographs drop you straight into the action.
And who wouldn't want to read about this cute baby animal?
Author Georgeanne Irvine sets the tone with bright, conversational text that is interesting and accessible. A section at the end of the book offers fun facts about tapirs, a map showing where tapirs live and an explanation of the threats wild tapirs face.
Raising Don is an engaging read that's perfect as a classroom supplement or just for fun.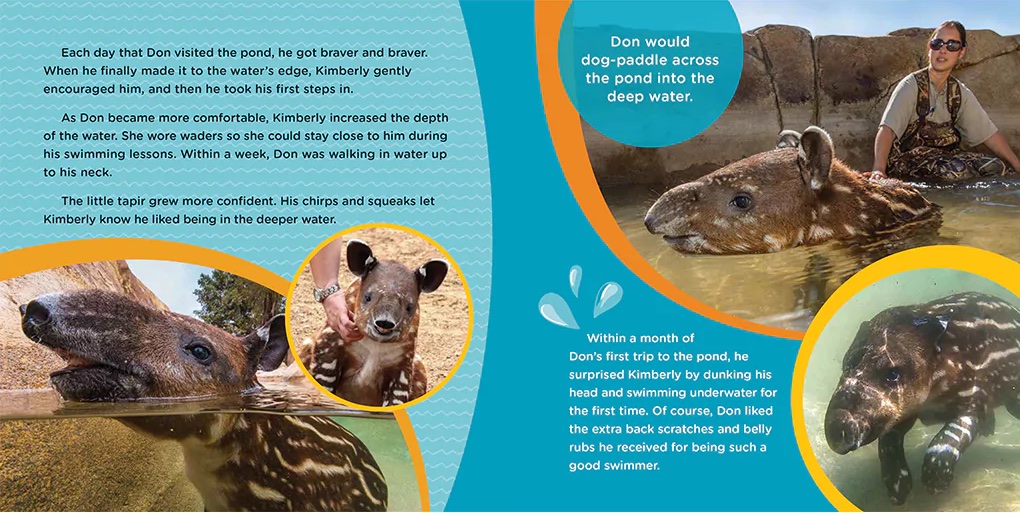 *San Diego Zoo Wildlife Alliance Press is the book publishing division of San Diego Zoo Wildlife Alliance, a nonprofit international conservation leader, committed to inspiring a passion for nature and working toward a world where all life thrives. Through its publishing efforts, San Diego Zoo Wildlife Alliance Press seeks to motivate and inspire multiple generations to care about wildlife, the natural world and conservation. 
Copyright © 2022 Cracking the Cover. Unless otherwise noted, all books — digital and physical — have been provided by publishers in exchange for honest and unbiased reviews. All thoughts and opinions are those of the reviewer.